DECEMBER 25 UPDATE: Star Wars: The Force Awakens used an estimated $47.6m global take on Thursday as the space opera reached $813.5m worldwide.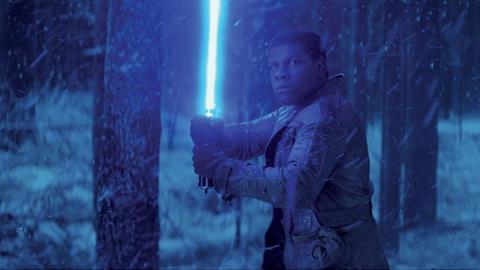 A further $27.6m in North America boosted the running total there to $391.1m, a record opening week and seven-day gross that overtook the $380.3m lifetime gross of Star Wars: Episode III – Revenge Of The Sith.
The Force Awakens has already overtaken Jurassic World's record grosses after eight and nine days set in June.
A further $20m boosted the international running total to $422.4m.
The Force Awakens remained on course to another sprint record in North America and is odds-on to cross $400m on Friday in a record eight days, an achievement that would topple the previous 10-day mark set by Jurassic World.
Disney/Lucasfilm executives will also expect a good chance of beating Jurassic World's $106.6m second-weekend record.
Star Wars: The Force Awakens
Fastest to cross $100m (one day)
Fastest to cross $150m (two days)
Fastest to cross $200m (three days)
Fastest to cross $250m (four days)
Fastest to cross $300m (five days)
Fastest to cross $350m (six days)
Highest three-day gross $247.9m
Highest four-day gross $288.1m
Highest five-day gross $325.4m
Highest six-day gross $363.5m
Highest seven-day gross $391.1m
Highest opening week $391.1m
Latest figures put the film at $82.9m in the UK, $41.3m in Germany, $36.5m in France, $29.2m in Australia and $23.8m in Japan.
Mexico has delivered $15.1m, Russia $14.9m, Spain $13.9m, Italy $12.9m, Brazil $12m, South Korea $11.5m, Sweden $8.7m and Poland coming up on $6.3m.
Disney-Pixar's The Good Dinosaur has crossed a significant threshold and stands at $100.5m internationally with the debut in Australia this weekend.