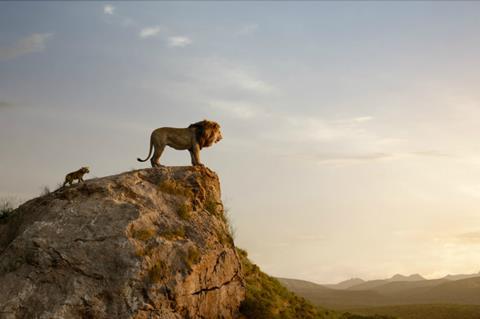 Heading into what some observers have speculated could be a $450m global weekend, Disney's The Lion King had by Friday (19) raced to $153.5m at the global box office as releases got underway in the UK, Mexico and Spain.
Jon Favreau's photo-real animated family saga has amassed $130.5m from international markets, led by China on $76.6m after seven days, and a $4.5m number two all-time industry opening day in Brazil one of the highlights from 22 debuts – all number one – on Thursday.
Two days of international debuts generated $53.9m from 41 markets, which combine with China for the current running total. France has produced $8.3m, Australia $5.5m, Germany $4.2m, Russia $4.1m after the third highest industry opening day in history, Netherlands $2.3m, and South Korea $2.2m.
Disney recorded the fifth highest industry opening day of all-time in Argentina. Wednesday brought the third highest industry opening day in Netherlands, the fifth highest in Sweden, and the third highest in New Zealand.
North America generated $23m in Thursday previews.