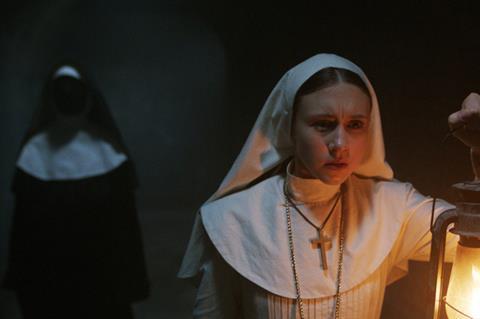 Entering its third weekend, New Line's horror hit The Nun will be the one to beat although once again it could be a close contest with Fox's action tentpole The Predator.
The Nun scraped past its rival last weekend to retain its crown and currently stands at $157m through Warner Bros Pictures International (WBPI), with new debuts in France and South Korea on Wednesday, Russia and Italy on Thursday, and Japan on Friday.
The film is coasting now, and is expected to play well in its new markets given the recent performance of The Conjuring 2, which opened in France in summer 2016 on $3.7m, South Korea on $3.4m, Russia on $1.8m, and Italy on $1m.
The opening weekend data for Japan was unavailable at time of writing, however the film finished on $647,000.
Fox International's The Predator had reached $35.7m through September 20 and ventures into 11 mostly Latin American markets this weekend, including Mexico, Argentina, Colombia, and Central America.
A solid second session for the number one North American release will see The Predator soar past $50m. Strong holds would appear to be in order and the Latin American markets typically reward action content.
Returning to WBPI, the breakout rom-com Crazy Rich Asians will cross $200m this weekend. It is currently on $193.4m, of which $41.4m hails from the international arena, and debuts in Mexico on Friday.
Animation Smallfoot featuring the voice talent of Channing Tatum, Gina Rodriguez, James Cordon, Zendaya, Common, LeBron James, and Danny DeVito arrives in Australia this weekend, ahead of the North American release on September 28. The Meg has amassed $370.5m internationally, while Teen Titans Go has grossed $19.4m.
Horror mystery The Little Stranger directed by Lenny Abrahamson and starring Domhnall Gleeson, Ruth Wilson and Will Poulter opens in the UK through Universal Pictures International and could make a splash given the presence of local regional talent.
Universal is distributing Amblin Entertainment's The House With A Clock In Its Walls starring Cate Blanchett and Jack Black in select markets and the fantasy launches through Universal Pictures International day-and-date with the US this weekend in 14 markets, when Germany, Brazil and Argentina are expected to be the heavyweights.
Johnny English Strikes Again stands at an early $4.7m and ventures into Australia and New Zealand, the Middle East, and Hong Kong, among others. Star Rowan Atkinson is well known in Australia – indeed the last time the spy spoof played there seven years ago, Johnny English Reborn opened on $2.6m. Hong Kong returned a $1.4m weekend. Adjusted for inflation, those debuts equate to $2.9m and $1.4m in real terms.
Dwayne Johnson tentpole Skyscraper opens in Japan, while BlacKkKlansman on $27.3m arrives in Belgium and Denmark. Mamma Mia! Here We Go Again has grossed $265.1m.
Walt Disney Studios Motion Pictures International's Incredibles 2 stands at $579.9m and opens in Italy this weekend where it is expected to deliver a big result. Italy was The Incredibles' sixth biggest international market after the Pixar tentpole debuted on $4.9m ($6.5m in real terms) back in November 2004. Christopher Robin arrives in New Zealand and has grossed $62.6m.
Sony Pictures Animation's Hotel Transylvania 3: Summer Vacation is the best international performer in the series on $339.5m through Sony Pictures Releasing International. The animation is flying, having overtaken the $305.1m final gross of 2015 release Hotel Transylvania 2 and far surpassed the $201.1m tally of the original.
Thriller Searching on $27.7m opens in Germany, Mexico and Brazil this weekend. The Equalizer 2 stands at $79.5m, and Studio 8's Alpha $35.5m.
Mission: Impossible – Fallout stands at $550.4m through Paramount Pictures International.