FEBRUARY 8 UPDATE: A great weekend for The Revenant in which Alejandro G Iñarritu confirmed his Oscar favourite status with a DGA win saw the film add $24.6m from 67 markets to push the running total to $176.9m.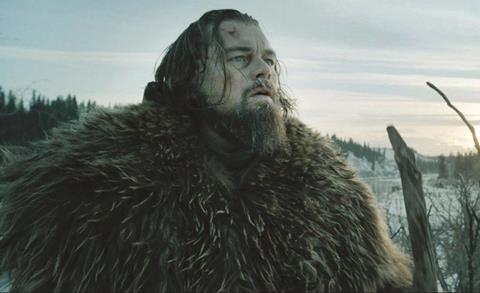 FOX INTERNATIONAL
UPDATE: The Revenant stands at $326.5m worldwide and opened top in Spain on $4m and repeated the feat in Brazil on $2.2m.
The Fox/New Regency hit added $1.9m for $21.4m after five sessions in Germany and $1.8m for $27.1m after four in the UK.
DreamWorks Animations' Kung Fu Panda 3 continues on its thunderous early run, adding $23m from seven for an early $129.7m. Russia generated $2.8m for $9.1m, while China produced $15.4m via Oriental DreamWorks for $102.2m.
Alvin And The Chipmunks: The Road Chip pulls added $12.8m from 54 for $87.8m and arrived in France on $2.5m. Joy stands at $42.1m from 29, and The Peanuts Movie $114.6m.
ASIA UPDATE
Showbox's South Korean crime tale A Violent Prosecutor grossed $19.5m.
PARAMOUNT PICTURES INTERNATIONAL
UPDATE: Daddy's Home has become the biggest Will Ferrell film internationally as $5.4m from 53 markets elevated the tally to $76.1m.
The comedy opened in Venezuela at number two on $1.8m and added $1.4m in Mexico to stay top and climb to $5.2m. Brazil has delivered $1.4m after two.
The Big Short added $3.5M from 52 for $47.9m and has reached $5.8m in the UK after three weekends and $4.2m in Australia after four.13 Hours stands at an early $3.2m.
WARNER BROS PICTURES INTERNATIONAL
Creed grossed $4.3m from 45 markets as the tally climbed to $58.5m. The drama scored the biggest debut for a Sylvester Stallone film in Argentina as it arrived in second place on $323,000. It stands at $2.2m in Mexico after two sessions and has amassed $11.1m in France, $8.3m in the UK, and $6m in Italy.
Point Break has grossed $19m from 11 Warner Bros markets.
THE WEINSTEIN COMPANY INTERNATIONAL
The Hateful Eight grossed $9m for $76m and opened top in Italy on $1.3m and stayed top in its second weekend in Germany on $2.4m for $7.7m. The UK has generated $10.4m.
SONY PICTURES RELEASING INTERNATIONAL
The 5th Wave took $7.7M from 69 total markets for $58.5m and added $1.4m for $4,4m after two weekends in France.
Goosebumps added $6.5m for $61.5m including Village Roadshow markets and opened top in the UK on $3.8m including previews.
WALT DISNEY STUDIOS MOTION PICTURES INTERNATIONAL
Star Wars: The Force Awakens added $7m for $1.102bn and has reached $2bn following a $905.9m North American run.
The Disney/Lucasfilm smash is the biggest North American release in history, the fourth biggest international release and the third biggest global release.
The UK has generated $177.8m, China $124.5m, Germany $107.9m, Japan $87.4m and France $87.2m
The Finest Hours grossed $2.8m for an early $5.8m.
LIONSGATE INTERNATIONAL
Point Break added $4.6m from licensees to reach $93.5m including the Warner Bros markets. France deivered a $1.7m debut.
UNIVERSAL PICTURES INTERNATIONAL
UPDATE: Ride Along 2 crossed $100m at the worldwide box office on Sunday as $3.2m from 29 territories boosted the international haul to $23.1m.
British TV sitcom adaptation Dad's Army opened second in the UK on $2.9m.
Italian comedy L'abbiamo Fatta Grosso ranks second in its second session in Italy where $2.3m elevated the running total to $6.7m.
The Danish Girl stands at $28.9m, Steve Jobs $15.2m, and Room, which Universal is distributing in 20 territories, haS taken $575,000 from the opened territories so far.
SIERRA/AFFINITY
Spotlight added $3.5m for $12.3m and has grossed $3.95m in the UK.
STUDIOCANAL
StudioCanal reported that Youth added $182,957 for $820,640 while Room used $70,937 to climb to $237,927.