Momentum's horror adaptation records highest ever opening for a Hammer film in the UK.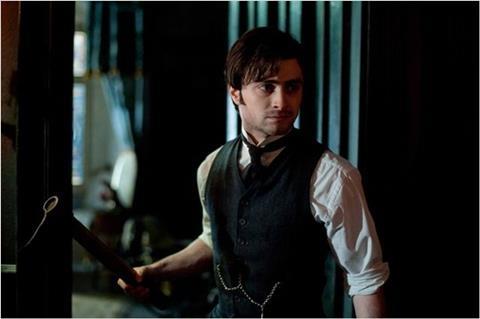 James Watkins' adaptation of Susan Hill's novel The Woman In Black exceeded expectations in the UK with an excellent $4.9m (£3.1m) estimated debut to land top of the UK chart.
The horror, starring Daniel Radcliffe in his first major role since the end of the Harry Potter series, defeated heavyweight opposition in the form of The Muppets after recording a strong $11,845 (£7,500) average over its 412 locations. It is the biggest ever debut for a Hammer film in the UK and follows its superb $21m opening in the US last week (it now stands at $35.5m).
Simon Oakes, president & CEO of Hammer and vice chairman of Exclusive Media commented: "We are delighted The Woman In Black has performed so well here and in the US. This is Hammer's first ghost story and we're delighted UK audiences have embraced it with so much enthusiasm and shows that British audiences enjoy intelligent genre which are the types of films Hammer is known for."
Walt Disney's long awaited return of The Muppets had to settle for second place but still took a decent $4.1m (£2.6m) from its 537 locations, the biggest opening for a film this year that hasn't landed it the number one spot. The half term should see it post strong numbers throughout the week, especially with a lack of direct family competition opening this week.
The 3D re-release of Fox's Star Wars: Episode I - The Phantom Menace showed the force is still strong in the UK, after grossing $2.3m (£1.5m) from its 380 locations. Its opening is lower than the recent 3D re-release of The Lion King which roared its way to a $4.3m (£2.8m) debut on its way to $19.5m (£12.4m) in the UK, but it's worth noting that The Phantom Menace was more maligned on its original opening than Disney's much-loved classic.
Sony's romantic drama The Vow followed its chart-topping $41.7m US debut to take a very respectable $1.7m (£1.1m) to debut fourth. The opening is down on Channing Tatum's most recent romantic offering Dear John, which took $3.2m (£2.0m) from more locations than The Vow (402 compared to The Vow's 323), but is three times bigger than the opening of The Notebook and is already close to overtaking that film's overall $1.9m (£1.2m) tally.
Rounding off this week's top five is last week's number one Chronicle. Fox's sci-fi fell only 36% on its way to $1.6m (£1.0m) for $6.4m (£4.1m) to date.
This week sees saturation releases for Warner Bros.' 9/11 drama Extremely Loud And Incredibly Close and eOne's 3D sequel Ghost Rider: Spirit Of Vengeance.