MAY 26 UPDATE: Avengers: Age Of Ultron grossed $45.8m from 91 territories in its fifth weekend to reach $859.8m internationally and $1.263.9bn globally.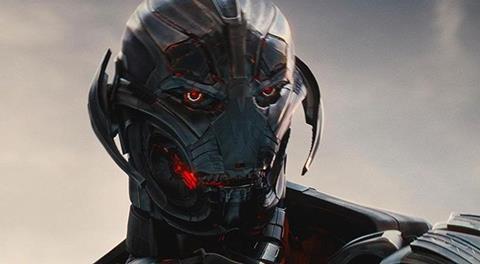 WALT DISNEY STUDIOS MOTION PICTURES INTERNATIONAL
China leads the way on $210m after 12 days, pushing Ultron to rank as the industry's fourth biggest release of all time so far. South Korea has generated $80.8m, followed by the UK on $68.4m, Mexico on $48.3m, Brazil on $44.5m, Russia on $33.2m and France on $32.1m. Ultron is set to open in Japan on July 4.
Brad Bird's Tomorrowland starring George Clooney and Britt Robertson arrived day-and-date with North America and grossed $26.7m from 65 territories in its opening weekend.
The action-adventure debuted at number one in Russia on $3.6m and topped the table in Mexico on $2.8m. Disney executives said it finished the weekend as the number one release across much of Asia, including Hong Kong, Indonesia, Malaysia, Singapore and Thailand.
The international Imax gross for Tomorrowland amounted to approximately $1.7m.
Cinderella continued its strong run in Japan to rank as the highest grossing Western film in the market for the fifth weekend and the highest grossing release for the year-to-date on $37.3m. The live-action release has amassed $71.1m in China, $30m in the UK and $328.5m internationally. The global haul has reached $526.3m.
WARNER BROS PICTURES INTERNATIONAL
UPDATED: Mad Max: Fury Road soared past the $100m milestone as $39m from 69 markets boosted the running total to $133m and the worldwide tally to $212m.
In a string of notable second weekend holds, the action reboot held on to number one in South Korea as $6.1m from 607 venues elevated the tally to $17.2m.
In the UK the film added $4.1m from 1,179 for $16.3m to rank second, while $3.3m from 473 in Australia pushed the haul to $10m and $3.5m from 807 in France ensured a number one hold and propelled the overall gross to $11.6m.
Russia added $2.8m from 2,224 screens for second place and a $10.5m running total, while Fury Road took $2.4m from 916 in Brazil for number one and $7.3m.
The film added $1.7m from 786 in Germany for second place and $5.3m and $1.5m from 1,210 in Mexico for $6m. Spain and Italy stand at $2.6m and $2.5m, respectively.
Fury Road generated approximately $1.8m via 137 Imax screens as the global running total reached $7.7m.
UNIVERSAL PICTURES INTERNATIONAL
UPDATED: Pitch Perfect 2 grossed $15.5m from 37 territories to climb to $64.6m internationally and $190.4m worldwide.
The film opened top in Spain on $960,000 from 301 sites and top in Norway on $269,000 from 83. A $4.1m number one hold in the UK on 528 boosted the score to $16.2m (£10.6m) after two sessions as box office overtook the original's £6.5m after just six days in release.
Germany generated $1.9m from 620 for $7.3m after two and Australia $2.5m from 259 for $18m after three weekends.
Fast & Furious 7 has reached a worldwide total of $1.502bn to rank as the fourth biggest release of all time behind Avatar on $2.8bn, Titanic on $2.2bn and The Avengers on $1.519bn.
It also bears the distinction of being the biggest release ever in China, where the film has completed its run on $390.5m.
The international weekend gross of $3m boosted the haul to $1.154bn, slotting Fast & Furious 7 into number three in the international pantheon behind Avatar on $2bn and Titanic on $1.5bn.
FOX INTERNATIONAL
UPDATED: Spy starring Melissa McCarthy launched in the Asia/Pacific region, grossing $12.7m from 1,810 screens in 10 markets.
The comedy spoof excelled, scoring a string of number one debuts as it took $4.8m from 664 in South Korea, $2.9m from 259 in Australia, $1.3m from 124 in Taiwan and $797,000 from 217 in Malaysia. The film arrives in North America and 52 further markets over the weekend of June 5.
Poltergeist took $8.3m from 36 markets as the UK generated $2.2m from 778, Brazil $2m from 630, Argentina $725,000 from 227 and Spain $656,000 from 533.
DreamWorks Animation's Home added $4.8m from 54 for $193m, The Maze Runner used a $1.6m Japanese debut from 344 screens to climb to $241.1m overall and The Longest Ride added $1m from 19 markets for $19.8m.
SONY PICTURES RELEASING INTERNATIONAL
Chappie grossed $1.9 from seven territories to reach a middling $70.5m and opened in Japan on $750,000 from 267 screens to rank sixth. The sci-fi added $1.1m in its third session in China to reach $15.8m. The final market will be Argentina on June 4.
Paul Blart: Mall Cop 2 grossed $800,000 from 1,100 screens in 48 territories and stands at $33.1m.