APRIL 27 UPDATE: The Marvel Studios tentpole signalled an early indication of its global potential, while Fast & Furious 7 crossed $1bn for Universal in a mammoth box office session.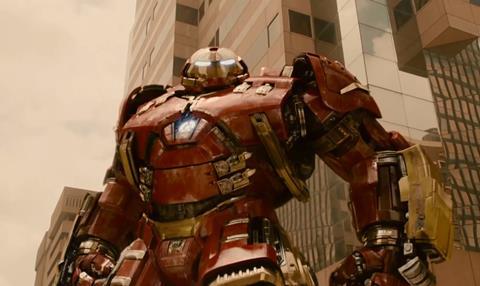 WALT DISNEY STUDIOS MOTION PICTURES INTERNATIONAL
UPDATE: Disney unleashed Avengers: Age Of Ultron in its first international foray and while this was not a blanket release – 44 territories represents 55% of the marketplace and the film debuts in North America this week – it demolished the competition.
Fast & Furious 7 continued its glorious run via Universal Pictures International, adding $69.7m in the fourth weekend to become only the third film to cross $1bn internationally on $1.001bn and reach $1.321bn worldwide. Fox's Kingsman: The Secret Service crossed $425m at the global box office.
Universal's Fast behemoth is the fifth biggest global release of all time. The Avengers ranks number three in the pantheon and there is the sense Marvel's sequel will usurp its predecessor.
Avengers: Age Of Ultron tore out of the gate and opened number one in every territory and tracks roughly 44% ahead of the 2012 original compared to the same bucket of territories when adjusted for inflation.
The eleventh release in the Marvel Cinematic Universe scored the biggest Western debut and the industry's second biggest debut in South Korea on $27.9m, claiming 91% market share.
In the UK $27.2m delivered the biggest opening of a superhero film, biggest April debut, biggest launch in 2015 so far and biggest Imax opening ($2.1m from 32 screens).
Russia's $16.7m was being touted as possibly the biggest opening weekend in history although final figures will confirm whether it beat the previous arrival of Fast & Furious 7.
Debuts in Brazil and Australia resulted in the industry's second biggest opening ever and a new record for a Disney/Marvel release in Brazil on $13.6m and the industry's third biggest opening in Australia on $13.4m.
In other notable achievements, Ultron scored record industry opening weekends in Philippines ($7.7m) and Hong Kong ($6.8m) and the second biggest industry debut in India ($7.7m), Argentina ($4.7m), Singapore (estimated $3.6m) and Vietnam.
France generated $12.4m, while $9.4m from Germany produced the biggest debut in the Marvel Cinematic Universe. Italy delivered $9.1m and Malaysia $5.9m.
Ultron rewrote the record books for the release of a superhero adaptation in Scandinavia. The tentpole opens this week in Mexico and Spain and a further 20 territories. China is set for May 12 and Japan July 4.
Imax registered a record for the largest non-China international opening of all-time on $10.4m from 175 screens with a $60,000 per-screen average. Interstellar set the previous mark on $7.19m.
There were record Imax debuts in the UK as reported earlier, South Korea on $1.6m from 15 screens, Philippines on $650,000 from eight, Hong Kong on $420,000 from four, Brazil on $410,000 from 11, India on $170,000 from four and Indonesia on $165,000 from four.
Cinderella grossed $8.5m to surge to $284m following a $4.8m number one debt in the final market of Japan. China remains the top market by a wide margin on $71.1m, followed by the UK on $27.4m and Italy on $16.5m.
UNIVERSAL PICTURES INTERNATIONAL
UPDATE: As reported above, Fast & Furious 7 used a $70m fourth session from 67 territories to reach $1.001bn and in so doing become Universal's first and the industry's third film to cross the milestone at the international box office behind Avatar on $2.027bn and Titanic on $1.528bn.
The $1.321bn worldwide box office means Fast & Furious 7 ranks fifth behind Avatar on $2.8bn, Titanic on $2.2bn, The Avengers on $1.5bn and Harry Potter And The Deathly Hallows: Part 2 on $1.341bn.
The action hit became the biggest release ever in China as roughly $35m for the weekend elevated the tally to $325.8m after 15 days, overtaking the previous $319m mark set by Transformers 4.
Elsewhere the UK has generated $51.6m, Mexico $49.2m, Brazil $40m, Germany $35m, Russia $31.2m, Australia $30.9m, France $28.3m, Venezuela $24.9m, India $24.4m Taiwan $24.5m, South Korea $23.5m, Argentina $23m, Italy $19.5m and the Middle East $18.2m.
Fast & Furious 7 ranks as the highest grossing film of all films all time in Argentina, Colombia, Ecuador, Uruguay, Indonesia, Malaysia, South Africa, United Arab Emirates, Vietnam and Trinidad.
It is already Universal's highest grossing film of all time in 37 territories, among them China, Australia, Russia, Brazil, Mexico and Argentina.
Ex Machina stands at $7.9m and Fifty Shades Of Grey has reached $403.4m internationally and $569.5m worldwide. Shaun The Sheep has grossed $55.8m including non-Universal distributors and stands at $1.4m after two weekends in Spain. German comedy Half Brothers (Halbe Brueder) has grossed $1.9m fom German-speaking Europe.
ASIA BOX OFFICE UPDATE
Enlight Pictures' drama The Left Ear ventured out for its first weekend and grossed $27m. Alec Su directed Ou Hao, Yang Yang and Hu Xia in the Chinese rites of passage story.
FOX INTERNATIONAL
UPDATE: Kingsman: The Secret Service crossed $400m worldwide. The spy caper added $2.2m internationally to reach $275.2m and combines with $153.8m in North America for approximately $429m globally.
DreamWorks International's Home added $15m from 60 markets for $148.5m, while Fox International Productions' Dragon Ball Z: Resurrection F held well in Japan on $3.9m to climb to $15.3m after two sessions. FIP title Mr. X stands at $5m in Indian after two weekends.
The Longest Ride used a $1.1m weekend in 39 to reach an early $8.1m. The Second Best Exotic Marigold Hotel has reached $48.6m.
WARNER BROS PICTURES INTERNATIONAL
UPDATE: Liam Neeson thriller Run All Night grossed $3m from 46 markets for $33.3m. The thriller has grossed $3.2m in the UK, $3.1m in France, $2.8m in Mexico, $2m in South Korea and $968,000 in in director Jaume Collet-Serra's native Spain. It opens this week in Italy and Brazil.
SONY PICTURES RELEASING INTERNATIONAL
UPDATE: Paul Blart: Mall Cop 2 added $5.7m from 46 territories for $18.3m and stands at $3.8m in Mexico after two weekends and $1.9m in the UK after three. The comedy opened in Spain at number four on $455,660 from 203 screens and arrived in second place in Peru for a record Kevin James debut on $383,263 from 101 screens.
LIONSGATE INTERNATIONAL
UPDATE: Insurgent grossed $2m from 61 markets to reach $145.8m. France leads the way on $16m, followed by Brazil on $12.1m, the UK on $11.8m, Mexico on $9.2m and Australia on $9.2m as well.
PARAMOUNT PICTURES INTERNATIONAL
The SpongeBob Movie: Sponge Out Of Water stands at $148.4m and heads to India on May 8 and Japan on May 16.