UPDATED MAY 11: Marvel's early summer tentpole once again ruled the international marketplace and has the $1bn worldwide target within sight as it prepares to open in China on Tuesday.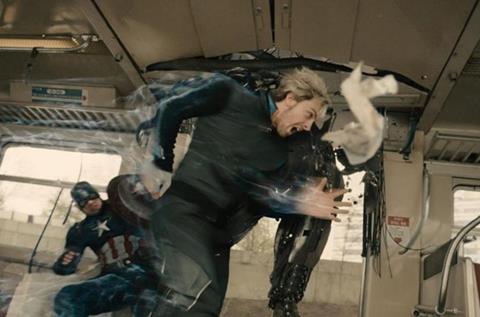 WALT DISNEY STUDIOS MOTION PICTURES INTERNATIONAL
UPDATE: Marvel's Avengers: Age Of Ultron brought in an estimated $68m from 90 territories as the running total surged to $562m.
The tentpole is showing signs of deceleration in its third weekend but that should all change when it opens in China on Tuesday.
South Korea remains the lead market on $74m, the UK on $61.3m, Mexico on $38.8m, Brazil on $37.2m, Russia on $30.4m, France on $28.3m, Australia on $26.9m and Germany on $24.4m.
Italy has generated $16.9m, Taiwan $16.3m, Hong Kong $16.2m, India $16m, Philippines $13.1m, Malaysia $12.7m, Argentina $10.8m, Thailand $10.5m, Spain $8.9m and Singapore $8.4m. Ultron opens in Japan on July 4.
Overall the international running total is tracking approximately 20% ahead of the 2012 original in local currency terms.
It has overtaken the final totals of Captain America ($194m), Iron Man ($265m), Thor ($268m), Iron Man 2 ($310m), Thor: The Dark World ($439m), Guardians Of The Galaxy ($441m) and Captain America: The Winter Soldier ($455m).
The $875.4m worldwide running total has already overhauled the lifetime performances of Captain America ($371m), Thor ($449m), Iron Man ($583m), Iron Man 2 ($622m), Thor: The Dark World ($645m), Captain America: The Winter Soldier ($714m) and Guardians Of The Galaxy ($774m).
Ultron grossed $9.5m worldwide in Imax at the weekend to boost the running total to $57m. It took $3.1m from 220 international screens for $28m.
The film opens in China on the large screen format at 12.01am on Tuesday. The majority of Imax shows have sold out and more than half of the sites have added 3am shows.
Cinderella added $4m to reach $316.9m internationally and $513.1m worldwide. China, the UK and Japan are the top three markets on $71.1m, $29.8m and $28.3m, respectively.
UNIVERSAL PICTURES INTERNATIONAL
UPDATE: Pitch Perfect 2 dethroned Ultron to score number one debuts in Australia and New Zealand that produced a mighty $9.2m overall.
The $7.9m opening weekend in Australia delivered the fourth biggest of 2015 so far behind Ultron, Fast & Furious 7 and Fifty Shades Of Grey and claimed 60% market share, tracking 348% ahead of the 2012 original.
In New Zealand the film grossed $1.2m for the third biggest launch of the year-to-date behind Fast & Furious 7 and Ultron. It claimed 52% market share and tracked 310% ahead of the first film.
The film debuts day-and-date with North America in a further 27 territories this week including the UK, Germany and Russia.
Fast & Furious 7 added $20.2m from 67 territories for $1.129bn internationally and $1.468bn worldwide.
Unfriended stands at $9m internationally.
SONY PICTURES RELEASING INTERNATIONAL
Chappie arrived in China on $9.7m to dethrone Fast & Furious 7 in its fifth weekend. The film took $9.8m overall from 11 territories and stands at $63.2m.
Paul Blart: Mall Cop 2 grossed $3m from 53 territories to reach $28.9m and opened in Malaysia on $220,000 from 75. Venezuela has produced $3.1m after four sessions and Germany $4.8m after five.
FOX INTERNATIONAL
UPDATE: DreamWorks Animation's Home grossed $6.3m from for 35 markets to reach $180.4m and stands at $25.5m in China after three sessions.
Far From The Madding Crowd added $1.4m from four for $6.1m and has amassed $5.4m in the UK after two weekends.
The Longest Ride used a $2.3m weekend in 28 markets to surge to $15.2m. The Second Best Exotic Marigold Hotel has reached $51.2m.
Fox International Productions' Dragon Ball Z: Resurrection F grossed $1.1m in its fourth weekend in Japan to reach $27.4nm.
WARNER BROS INTERNATIONAL
UPDATE: The Reese Witherspoon-Sofia Vergara comedy Hot Pursuit ventured into 21 markets and delivered an early $1.7m. It opened in UAE in second place on $434,000 from 36 screens and arrived in Taiwan on $155,000 from 69.
Run All Night added $1.5m from 46 for $40.5m and stands at $3.6m in Mexico, $3.2m in the UK, $3.1m in France, $2.3m in Germany and $2m in South Korea.