APRIL 18 UPDATE: Tentpole to cross $500m international, $600m worldwide on Tuesday.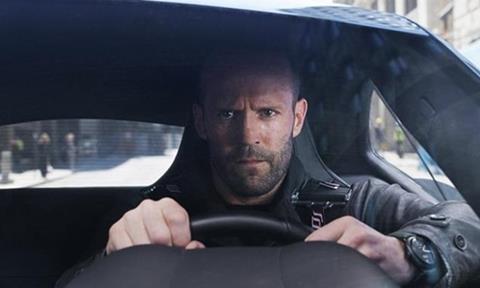 UNIVERSAL PICTURES INTERNATIONAL
UPDATED: The Fate of The Furious roared out of the blocks in a record $437.2m international debut that ranked number one in all 63 territories, led by China on a stunning $192.1m that nearly doubled the North American debut.
By Tuesday, the international and global running totals had climbed to $492.1m and $599.4m, respectively.
Vin Diesel, Dwayne Johnson, Tyrese Gibson, Michelle Rodriguez, Jason Statham, Ludacris and Charlize Theron blew away the previous mark of $316.7m set by Jurassic World.
Combined with $98.8m in North America, the $536m worldwide opening weekend comfortably overtook the $529m mark established by Star Wars: The Force Awakens in December 2015 to rank as the biggest in history.
Universal crossed $1bn at the international box office on Friday, becoming the second studio to reach the milestone in 2017. This is Universal's 11th year in a row to accomplish the feat and its second fastest past the mark behind 2015.
The Fate Of The Furious scored all-time opening weekend records in 19 territories. China led the pack and the eighth episode in the action series delivered the biggest three-day and Hollywood debuts, and the second biggest debut of all time behind local hit The Mermaid, which included four days of previews over Chinese New Year.
In other highlights the film grossed $17.7m in Mexico, $17.5m in the UK, $14.2m in Russia, $13.6m in Germany, $12.8m in Brazil, $10.7m in India, $10.6m in South Korea, and $9.9m in the Middle East.
Australia generated $9.5m, Taiwan $9.3m, France $9.2m, Argentina $9m, Indonesia $8.5m, Italy $6.7m, Malaysia $6.3m, Spain $6.1m, Colombia $4.9m, Thailand $4.9m, and Panama $4.8m.
The film becomes the biggest Universal release in 27 territories and the biggest in the franchise in 36. It will debut in three additional territories including Poland this week, followed by Japan on April 28.
Illumination and Universal Pictures' Sing grossed $1.2m in 15 territories for $354.1m. Combined with the North American total of $270.2m, the worldwide gross is $624.3m. Japan ranked third in its fifth weekend on $1.1m for $38.5m.
Writer-director Jordan Peele's Get Out, from Universal and Blumhouse, stands at $1.1m in 20 territories for a total of $16m internationally and $183.5m globally and has no new openings. The UK is the top holdover in sixth place on $568,000 for $11.1m.
M. Night Shyamalan's Split, another Universal and Blumhouse collaboration, generated $583,000 in 25 territoriesfor $135.9m internationally. When combined with the North American total of $137.8m, the film starring James McAvoy has amassed $273.8m worldwide. The horror film gets its final debut in Japan on May 12.
FOX INTERNATIONAL
UPDATED: Dreamworks Animation's The Boss Baby added $37m from 62 markets for $171.4m, buoyed by a $4.3m number two debut in Spain and a $4.5m hold in the UK for $20.6m after two sessions. The comedy animation opened in Hong Kong in second place on $2.8m and arrived in second place in Argentina on $1.7m.
Logan stands at $381.5m, and Hidden Figures $58.6m.
WALT DISNEY STUDIOS MOTION PICTURES INTERNATIONAL
UPDATED: Beauty And The Beast, which last week became the 14th Walt Disney Studios release to cross $1bn at the global box office, added $22.8m for $589.2m and will cross $600m this week. The film dropped 41% internationally, and just 21% across Europe.
The live-action smash stands at $1.043bn worldwide to rank as the 22nd biggest film of all-time, having passed this weekend The Hobbit, Zootopia, Alice In Wonderland, Star Wars: Episode 1 – The Phantom Menace, Finding Dory, and Jurassic Park. It is the 12th highest grossing film of all time in North America.
The film starring Emma Watson and Dan Stevens opened on $1.1m including previews in South Africa, making it the second-highest Disney opening weekend ever there.
In Europe, the $242m haul has surpassed that of Secret Life Of Pets, Finding Dory, The Jungle Book, Deadpool, Zootopia, Batman v Superman, Captain America: Civil War and Suicide Squad, making it the third highest grossing film of the past 12 months in Europe behind only Fantastic Beasts and Rogue One.
China remains the top market on $85.8m, followed by the UK on $81m, Brazil on $38.3m, South Korea on $35.6m, Australia on $30.7m, Mexico on $29.4m and Germany on $29m.
Italy has generated $21.9m, Spain $21.2m, France $18.8m, Russia $14.6m, Philippines $13.4m, and Argentina $11.6m. Disney's live-action adaptation will open this week in Japan.
Moana added $15m from seven active territories for a total of $389.2m internationally and $637.8m worldwide.
SONY PICTURES RELEASING INTERNATIONAL
Smurfs: The Lost Village grossed $22m from 58 markets as the international running total climbed to $42.1m. The family film opened in Brazil on $2.2m, France $1.9m including previews, Mexico $1.6m, Germany $1.5m including previews, and Italy $1m.
Life added $5.8m, from 56 for $36.6m and arrived in South Korea on $2,4m including previews. The sci-fi horror opens this week in France and Brazil.
CHINA UPDATE
The re-release of A Chinese Odyssey Part Two: Cinderealla added $12m for $16.8m
PARAMOUNT PICTURES INTERNATIONAL
Ghost In The Shell grossed $7.9m from 54 markets to reach $114.7m through Paramount Pictures International, rising to $115.1m through all distributors.
China has generated $28.2m after two weekends, France $6.5m after three, the UK $6.4m after three, Japan $5.9m after two, and Germany $5.2m after three.
WARNER BROS PICTURES INTERNATIONAL
UPDATED: Heist comedy Going In Style grossed $4.5m from 39 markets for $12m and opened in Germany on $991,000 and in Spain on $492,000. The film added $619,000 in the UK for $2.2m after two weekends and arrives this week in Australia and Mexico.

Warner Bros and Legendary's Kong: Skull Island added $3.1m from 66 for $390.9m, while The LEGO Batman Movie used $1.4m from 44 to climb to $130.8m.
LIONSGATE INTERNATIONAL
The Shack grossed $4.1m from 27 markets, for an early $12m and stands at $7.3m in Brazil after two sessions, $1.1m from Mexico after two, and the same amount in Poland after six.
Power Rangers added $2.7m through licensees as the running total reached $47.7m. The film has delivered $6m in Mexico, $5.7m in the UK, $5.1m in Brazil, $2.8m in Malaysia, and $2.7m in Australia.