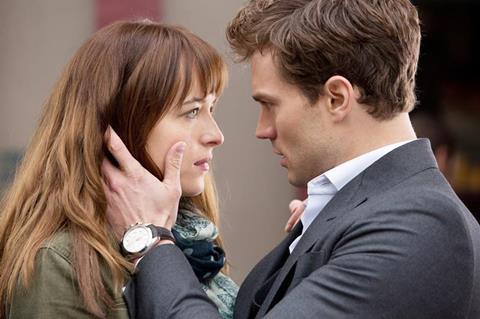 FEBRUARY 12 UPDATE: Universal's erotic franchise finale opened in grand style at the weekend, grossing $96.5m. Pixar's Coco crossed $500m internationally through Disney.
UNIVERSAL PICTURES INTERNATIONAL
UPDATED: Erotic drama finale Fifty Shades Freed starring Dakota Johnson and Jamie Dornan arrived emphatically with a $96.5m debut that demolished the competition and combined with the $38.8m North American number one debut for $135.3m worldwide.
The film was estimated to have debuted top in 54 of its 57 markets, led by Germany on $10.4m, and the UK on $8.2m, powered by the third highest opening day of all time for an 18-certified release behind the two franchise predecessors.
France delivered $8.9m, Italy $7.3m for the fourth biggest opening weekend in history, Russia $6.9m, and Brazil $6.3m.
Spain generated $5.1m (five times bigger than Fifty Shades Darker in 2017), Australia $4.7m, Poland $2.9m, and Mexico $2.7m for the fourth highest R-rated debut in the market.
Fifty Shades Freed opened in the Netherlands on $2.5m for the biggest 'ladies night' debut and the third biggest industry debut ever behind the two previous instalments. Sweden, Denmark and Belgium generated $1.9m apiece, Argentina $1.8m, Norway $1.6m, and Venezuela $1.3m for the biggest opening weekend and biggest opening day of all time.
Darkest Hour has reached $72.8m following a $4m weekend and stands at $124.3m worldwide. The UK was the top holdover on $1.3m for $28.5m after five weekends.
FOX INTERNATIONAL
UPDATED: Maze Runner: The Death Cure added $23.6m from 84 markets to reach $180.2m, led by a $5.6m number three debut in France, while China delivered $3.2m for $44.3m after three sessions.
The Greatest Showman grossed $8.9m from 55 $167.9m and brought in a further $2.6m for $35.1m in its seventh weekend in the UK.
Three Billboards Outside Ebbing, Missouri used a $5.8m haul from 43 to stand at $55.6m and stands at $14.2m after five in the UK and $6.9m after six in Australia. Ferdinand stands at $193.6m following a $4.1m weekend and has reached $24.9m after four in China, and $12.5m after five in Brazil. The Shape Of Water stands at $24.4m
WALT DISNEY STUDIOS MOTION PICTURES INTERNATIONAL
Pixar's Coco crossed $500m as $7.8m boosted the tally to $508.1m and the worldwide score to $714.2m. The lead markets are China on $183.5m and Mexico on $57.8m – the highest gross for any film in the territory. Coco overtook Inside Out on $502m and The Secret Life Of Pets on $507m on to rank as the 14th highest grossing animation internationally.
SONY PICTURES RELEASING INTERNATIONAL
UPDATED: Jumanji: Welcome To The Jungle added $8.2m from 90 territories for $517.6m and $881.8m worldwide. China remains the lead market on $76.1m. Insidious: The Last Key has amassed $94.8m following a $2.6m weekend and launched in Australia on $688,000. Call Me By Your Name stands at $11.1m.
THE POST
Amblin Partners and Fox's Pentagon Papers drama The Post added $6.2m through Amblin's network and Universal territories to reach $50.2m. The film stands at $5.1m in Italy via Leone Film Group after five weekends, and the same amount in Australia via eOne after five.
WARNER BROS PICTURES INTERNATIONAL
UPDATED: Clint Eastwood's 15:17 To Paris opened on $5.7m in 23 markets led by Italy on $1.5m, France on $1.4m despite snow and cinema closures in Paris, the UK on $408,000, and Australia on $349,000.
STX INTERNATIONAL
Gerard Butler action thriller Den Of Thieves grossed $4.3m for $16.1m and opened in four territories, led by a $1m debut in Russia. The film added $827,000 in its second session in the UK for $3.1m. In other second weekends, Den climbed to $1.8m in Australia, $1.7m in German-speaking Europe, and $1.4m in the Middle East. All The Money In The World stands at $21.1m including the UK, where Sony distributes.
LIONSGATE INTERNATIONAL
UPDATED: Julia Roberts-Jacob Tremblay drama Wonder added $4m from 51 to reach $154.6m and $285.9m worldwide. War film 12 Strong starring Chris Hemsworth grossed $1.5m for $11.6m.
SIERRA/AFFINITY
I, Tonya added $1.1m for $6.2m and has reached $4.8m in Australia through Village Roadshow after three weekend. Molly's Game grossed $959,000 for $24.7m and stands at $1.8 in Australia through eOne after two weekends.