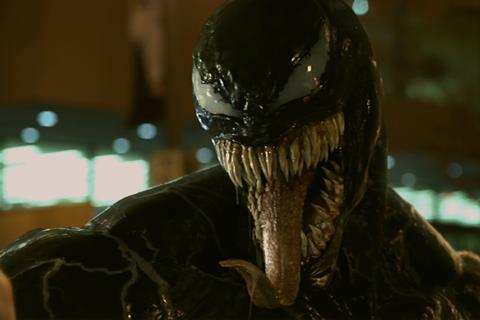 OCTOBER 15 UPDATE: The appetite of Sony/Marvel's Venom to rule the world showed little sign of abating as the comic book adaptation gobbled up the competition for a second straight weekend thanks to an estimated $106.1m haul that brought the running total to $378.1m after 12 days in release.
Warner Bros' A Star Is Born grossed $20.2m to boost its early tally to $41.2m, while Universal's First Man touched down in its initial wave of markets and took $8.6m, powered by a $3.1m number four debut in the UK. Hong Kong crime thriller Project Gutenberg added $22.3m.
SONY PICTURES RELEASING INTERNATIONAL
UPDATED: Sony/Marvel's anti-hero tale Venom starring Tom Hardy ranks number one in 54 markets including five new arrivals following a $69.7m international session that boosted the early tally to $236m.
The tentpole is tracking 32% ahead of Ant-Man And The Wasp and 12% ahead of Doctor Strange from the same group of markets at the same stage, according to according to Sony Pictures Releasing International (SPRI) executives. Venom opened top in France on $7m including previews, and debuted at number on in Vietnam on $2.2m including previews, and top in Thailand on $2.1m.
Russia led the second weekend holdovers on $5.7m for $23.8m, followed by Brazil on $4.8m for $11.5m, Mexico on $4.5m for $17.9m, South Korea on $4.4m for $25.4m, the UK on $3.9m for $17.9m, Australia on $2.9m for $11.3m, Germany on $2.7m for $9.7m, Spain on $2.1m for $7.3m, and Italy on $1.9m for $7.4m. All were number one holds. All in all the tentpole is active on more than 20,100 screens in 65 markets and debuts in Japan on November 2. The China release date is yet to be announced.
Goosebumps 2: Haunted Halloween opened in early select markets day-and-date with North America, grossing $3.7m from 16 territories. The 2015 original finished on $70m internationally. Mexico led on a $1.7m number two debut and the adventure comedy arrives this week in the UK and Italy. Hotel Transylvania 3: Summer Vacation crossed $350m internationally as $2.8m from 36 markets pushed the tally to $350.8m, and $517.8m worldwide. The family animation debuted in Poland on $2.1m including previews.
ASIA UPDATE
Hong Kong crime thriller Project Gutenberg added $22.3m to reach $138.6m. Zhang Yimou's historical epic Shadow added $8.2m for $80.2m, Lost Found $8.1m for $22.1m, and South Korean thriller Dark Figure Of Crime $4.9m for $17.5m.
Mistaken identity comedy Hello Mrs Money from Mahua FunAge is falling away fast and added $4m for $82.6m, while Bao Beier's cop comedy Fat Buddies added $2.5m for $34.3m. Hindi-language comedy drama Hichki grossed $3.9m for $14.2m.
WARNER BROS PICTURES INTERNATIONAL
UPDATED: Fuelled by strong debuts in Latin America, Asia, and Italy, Bradley Cooper's A Star Is Born remake grossed $20.9m from 65 markets to reach an early $42m, and $136.6m worldwide. The romantic drama debuted in first place in Italy on $2m, $1.5m in Brazil in second, and $1.3m in Mexico for third as well. In Asia, South Korea produced $1.2m, while Taiwan delivered $1.1m in second.
The UK led second-weekend holdovers on $4m following an impressive 6% to claim top spot and reach $12.5m. France produced $1.9m at number three for $4.7m, Germany $1.2m for $3.6m, Spain $804,000 for $2.1m, and Russia $449,000 for $1.5m. A Star Is Born opens this week in Australia, and arrives in Japan on December 21.
Smallfoot grossed $14.7m from 67 to stand at an early $53m, with a $3m number five debut in the UK the weekend highlight. The family animation opened in second place in Spain on $1.6m, and debuted on $775,000 in Germany.
Decent holds saw Smallfoot bring in a further $1.1m at number four in Brazil for $4m after three sessions, $996,000 at number three in Australia for $8.6m after four, $9239,000 in Mexico on $7.8m after three, and $419,000 in Italy for $1.5m after two weekends. It opens this week in France and China, followed by Russia on October 25.
Horror smash The Nun stands at $359.2m worldwide and boosted the international running total by $3.6m from 76 markets to reach $243.3m. Mexico is the lead market on $22.2m, then Brazil, the UK and Indonesia on $18.6m, $14.6m, and $13.8m, respectively. Spain has delivered $12m and India $8.7m. Crazy Rich Asians stands at $58.8m, while The Meg has reached $384.4m and $527.1m worldwide.
UNIVERSAL PICTURES INTERNATIONAL
UPDATED: Spy spoof Johnny English Strikes Again added $11.9m from 56 for $82.7m. Debuts resulted in $1.1m for third place in Italy, and $848,000 in France for fifth place. Predictably Rowan Atkinson continues to energise the UK, where the comedy added $3.8m to rank a close third behind A Star Is Born and Venom according to weekend estimates and crossed $10m on Sunday to reach $10.9m heading into half-term holidays. After four sessions, Australia has produced $8.7m, Spain $4.1m, and Netherlands $3.2m. Agent English ventures into Germany this week.
First Man launched in its first wave, touching down in 22 territories for $8.6m as the early global tally reached $24.6m. Leading the way on Damien Chazelle's Neil Armstrong moon landing drama starring Ryan Gosling was the UK, which delivered a $3.2m debut in fourth place.
Australia generated $1.7m for number two, Spain $1m for number four, and Russia $571,000 for fifth place. First Man landed in Hong Kong at number three on $350,000, India at number two on $330,000, Indonesia at number three on $286,000, and New Zealand at number three on $269,000. In other debuts, the drama arrived in Sweden in third place on $219,000, Norway in fifth on $167,000, Czech Republic in third on $139,000, Finland at number eight on $87,000, and Slovakia in third on $56,000. First Man opens this week in France, South Korea, and Brazil.
Comedy Night School with Tiffany Haddish and Kevin Hart added $2.2m from 23 for $15.4m and stands at $75m worldwide. It added $470,000 in the UK for $4.9m after three weekends, and stands at $3.6m after three in Australia. Netherlands delivered a $329,000 debut in fifth place, and Sweden $118,000 for number eight. The comedy arrives this week in Spain.
Amblin Partners' The House With A Clock In Its Walls grossed $2.9m from 23 for $17.5m through Universal, rising to approximately $5.6m for the weekend for a $39.6m international running total including Amblin markets, and $101.9m worldwide overall. The fantasy opened in Japan on $1m at number three.
FOX INTERNATIONAL
UPDATED: Ensemble mystery thriller Bad Times At The El Royale starring Chris Hemsworth, Dakota Johnson, Jeff Bridges, Cynthia Erivo and Jon Hamm debuted in 37 markets on $3.9m, day-and-date with North America. Russia led the way on $898,756, while Hemsworth's home turf Australia generated $874,139, and the UK delivered $643,319. The Predator added $1.1m from 51 for $75.1m and arrived in Italy in fourth place on $597,556. La Sombra de La Ley opened in Spain on $745,665, while El Potro debuted in Argentina on $352,026.
WALT DISNEY STUDIOS MOTION PICTURES INTERNATIONAL
Incredibles 2 added $4m from 17 territories to reach $620m and $1.228m worldwide. The Pixar smash has taken $72.8m in the UK, $54.7m in China, and $43.8m in Japan.
LIONSGATE INTERNATIONAL
Crime caper A Simple Favor with Anna Kendrick and Blake Lively grossed $1.9m for $31m to reach $83m worldwide. Australia is the top market on $6.7m after five weekends, followed by the UK on $6.5m after four, Mexico on $2.2m after three, Russia on $2m after four, and France on $1.3m after three weekends. It opens this week in Norway, followed by Germany on November 8.
STX INTERNATIONAL
Jennifer Garner action release Peppermint used a $545,000 session from 46 markets to climb to $10m, and $45.2m worldwide. Mark Wahlberg in action thriller Mile 22 added $374,000 from 60 for $27.9m internationally and $64m worldwide, while Melissa McCarthy vehicle The Happytime Murders grossed $375,000 from 47 for $5.1m, and $25.8m globally,