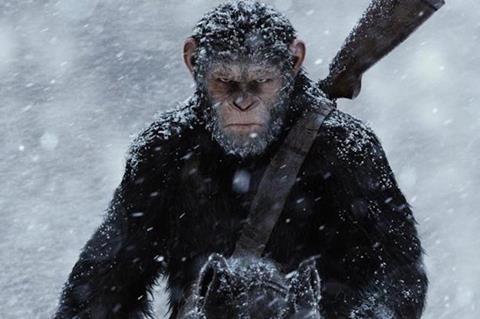 Fox's War For The Planet Of The Apes becomes the latest Hollywood film vying to storm the Chinese box office following the end of the summer blackout. Meanwhile, It stands on the cusp of $100m and Spider-Man: Homecoming, fuelled by $86.4m to date in China, surges past The Amazing Spider-Man 2's international total. IT eyes $100m.
Sony and Marvel's Spider-Man: Homecoming has reached $511.9m internationally. China has generated $86.4m to date, propelling the latest Peter Parker incarnation past the $506.1m international haul of 2014's The Amazing Spider-Man 2. Homecoming is also on track to exceed the $94.4m The Amazing Spider-Man 2 grossed in China.
Sony Pictures Releasing International's Baby Driver has reached $102.2m and debuts in South Korea, Thailand and Hong Kong this weekend, while Idris Elba and Matthew McConaughey adaptation The Dark Tower has grossed $58.4m and gets no new openings. Sony's animated offering The Emoji Movie debuts in Australia this week and stands at $88.4m.
New Line's horror remake It – a sensation in many places including North America, where it scored the biggest September debut of all time and the third biggest launch of the year-to-date – stands at $90.5m through Warner Bros Pictures International (WBPI) and debuts in Sweden and Mexico this weekend.
The Stephen King adaptation debuted last weekend to the tune of $66.3m from 46 markets and set a number of records for WBPI, including the biggest opening ever for a horror film, the biggest September opening ever, excluding China, and the biggest Warner Bros opening in 2017 in ten markets, including Russia, Australia, Brazil, and Spain.
Andy Muschietti directs the horror remake based on Stephen King's novel, which sees Bill Skarsgard don the iconic makeup of homicidal clown Pennywise.
Another New Line horror from the stable, Annabelle: Creation has grossed $187m through WBPI, exceeding the lifetime international gross of 2014's Annabelle, which reached $117.2m. The horror sequel has no new openings this week. Meanwhile, Christopher Nolan's Second World War action drama Dunkirk has crossed the $300m international mark to reach $315.8m after two months in release. Warner Bros and DC's Wonder Woman has amassed $404.6m internationally. The film by Patty Jenkins, who has signed on to direct a sequel, has no new openings this week.
Fox International's War For The Planet Of The Apes stands at $222.9m as it prepares to debut in China this weekend, two months after its North American debut. The late dating outside summer season, due in part to China's annual summer blackout of non-local films, could potentially deliver diminishing returns in the market. Matt Reeves' action film lags far behind the international performance of its predecessor, 2014's Dawn Of The Planet Of The Apes, which earned $502.1m, with $107.4m of that total coming from China. 2011's Rise Of The Planet Of The Apes earned significantly less in China – $30.8m.
Family animation Captain Underpants: The First Epic Movie enters the weekend on $30.9m with no new openings. Meanwhile, Geremy Jasper's Sundance hit Patti Cake$ will debut in Australia and New Zealand, and currently stands at $585,000. Elsewhere, Alien: Covenant has amassed $158.8m and is set to debut in Japan on September 15. Also from Fox, Gifted stands at $13.7m and will debut in France, while American Assassin will debut in Sweden day-and-date with its North American launch.
Illumination's Despicable Me 3 has reached $749.5m through Universal Pictures International, while Charlize Theron spy thriller Atomic Blonde has reached $25.7m and gets no new releases this session. Universal continues to roll out Tom Cruise starring vehicle American Made with debuts in 12 additional territories, including Brazil, France, South Korea and Mexico. Doug Liman's action comedy has grossed $36.8m internationally.
Sofia Coppola's The Beguiled stands at $12.6m and will debut in Hong Kong this weekend. Meanwhile, Girls Trip has grossed $17.4m as it heads into Taiwan. Victoria And Abdul starring Judi Dench is set to debut in 10 territories led by the UK and Australia this weekend. Director Stephen Frears' latest centres on an unlikely friendship between a young Indian clerk played by Ali Fazal and Queen Victoria in the twilight of her life.
Disney and Pixar's Cars 3 stands at $198.5m as it debuts in Italy this weekend. Walt Disney Studios Motion Pictures International's Pirates Of The Caribbean: Dead Men Tell No Tales has amassed $621.4m with all territories open. Johnny Depp's most recent Pirates film falls short of the international run of its predecessor On Stranger Tides, which finished on $804.6m.
Paramount Pictures International's animated sequel Tadeo Jones 2, which delivered the best opening of a Spanish movie since December 2015, stands at $13.8m. David Alonso and Enrique Gato's animation has no new openings this weekend. Michael Bay's latest Transformers instalment, Transformers: The Last Knight, has reached $475.3m.