Steven Spielberg's adaptation records third consecutive week at number one, while Alexander Payne achieves best-ever UK opening with The Descendants.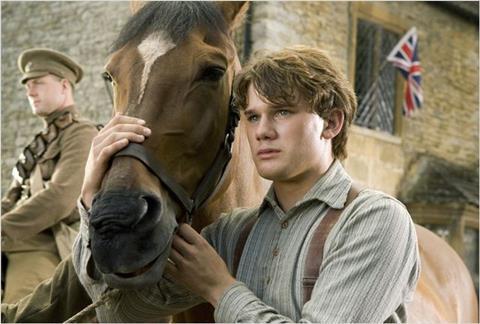 Disney's War Horse continued to leave newcomers trailing in its wake as it notched up a third consecutive week at the top of the UK box office, recording a third straight weekend gross of over $3.1m (£2m) in the process. It now stands at an excellent $21.0m (£13.4m) and is fields ahead of the other Best Picture Oscar nominees, with Hugo's current haul of $8.2m (£5.2m) the best of the rest.
Fellow Best Picture nominee The Descendants was this week's highest new entry, grossing a strong $2.8m (£1.8m) from its 403 locations, notching up a higher average than War Horse at $6,995 (£4,461). The result is director Alexander Payne's best opening at the UK box office, a record that previously belonged to the $1.2m (£757,325) taken by About Schmidt in 2003 from significantly fewer locations (220).
Following its number one debut in the US, Joe Carnahan's latest The Grey had a solid UK debut as well with its $1.7m (£1.1m) seeing it land in third. Entertainment's Liam Neeson vs. wolves action-thriller compares favourably with Taken, which debuted with $1.8m (£1.2m) from slightly more locations (396 compared to The Grey's 345), going on to take $10.0m (£6.4m) in the UK. Strong word-of-mouth will be key to The Grey treading a similar path.
Trailing closely behind in fourth was another new entry in the form of eOne Films' A Monster In Paris. The 3D animation grossed a highly respectable $1.6m (£1.0m) from its 433 locations.
With a week-on-week drop of just 9% after an increase in locations to 190, Michel Hazanavicius' The Artist climbed three places in its fifth week to round off this week's top five. Entertainment will be more than pleased with its current $7m (£4.5m) haul but with added buzz in the coming weeks as a result of its BAFTA and Oscar nominations, there's still plenty of life left in it yet.
Opening outside the top ten in 14th but recording this week's highest average was Eros' Agneepath. The remake of the 1990 film of the same name set a decent benchmark for the rest of this year's Bollywood films to follow as it managed $543,211 (£346,460) from just 52 locations at a great average of $10,446 (£6,663).
Less impressive were the debuts of Paramount's Like Crazy and Universal's Intruders as they were both beaten by Sara International's Polish Roulette (Sztos 2) which managed $250,185 (£159,568) from only 40 locations to chart 17th. In comparison, the 2011 Sundance Grand Jury prize winner Like Crazy grossed $147,352 (£93,981) from 104 locations and Juan Carlos Fresnadillo's horror took $120,464 (£76,832) from 99 to scrape into the top 20 at 19th and 20th respectively.
This week sees saturation releases for Warner Bros.' 3D sequel Journey 2: The Mysterious Island, Sony's comedy Jack And Jill, Fox's sci-fi Chronicle (previewing from Feb 1) and eOne Films' high concept thriller Man On A Ledge. StudioCanal's Carnage and Paramount's Young Adult both receive wide releases. Fox's Martha Marcy May Marlene receives a limited release.