Legendary and Universal Pictures offered the latest proof if any were needed on Wednesday of why industry experts believe the territory will become the biggest box office market on the planet by 2017.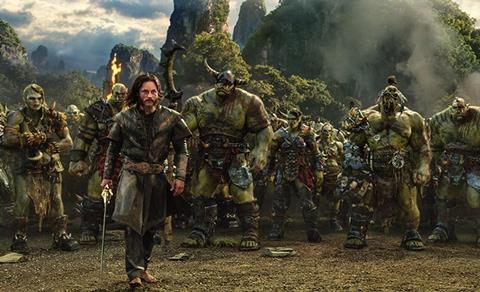 China's day one box office of an estimated $46m (RMB 302m) delivered the biggest opening day ever for a non-holiday release (heading into a holiday this week) in a market that continues to grow at a dizzying pace with dozens of new theatres opening each day. Mainland China currently has around 39,000 screens.
The previous China opening day record was $28.3m (RMB 185.86m) set by Avengers: Age Of Ultron last year.
Results were reported based on data at 10pm Beijing time on Tuesday. The result propels the fantasy adventure's international running total to approximately $121m heading into this week's release in North America.
The storming launch will also reassure Legendary and Universal top brass, who face what is expected to be a lacklustre North American opening.
It is well known in Hollywood that international box office can muster more than the oft-repeated 65% of worldwide grosses and spare executives' blushes when a film performs below par in North America.
For the right title, China alone can do the heavy lifting. Wanda owns Legendary after paying in the region of $3.5bn for the content creator at the start of the year. Tencent Holdings owns a portion of Warcraft.
Midnight screenings accounted for $7.6m (RMB 49.78) for the second biggest result behind Universal's Furious 7, which generated $7.9m (RMB 52.47) last year.
In another new benchmark, the Imax portion of the overall day one box office accounted for $5.33m (RMB 35m) from 290 theatres. Previously the best Imax launch was Furious 7's $4.7m (RMB 32m).
Warcraft also broke records for Imax midnight show on $1.38m (RMB 9.03m) and presale of $8.2m (RMB 53.8m).
In another record, the film is playing in 67.5% of all theatres across mainland China, beating the previous mark of 62.8% set by Furious 7.