Inception remained firmly planted in top spot on the international chart in its fourth week.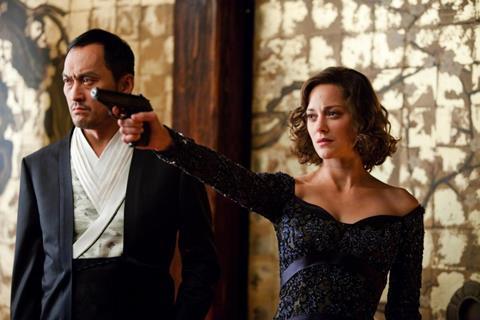 Warner Bros' thriller took almost double the three-day box office of its nearest rival, Toy Story 3, on its way to a $47.7m international haul over the Aug 06 – 08 weekend. Inception played on 7,287 screens for a print average of $6,546 in 59 territories. Promisingly for Christopher Nolan's thriller, profit only dipped 13 % from last week's performance.
Inception debuted at $4.6m in Spain and $2m in Brazil and displayed strong holdovers in UK ($5.5m), France ($4.2m), South Korea ($4m) and Australia ($3.8m).
Despite losing this week's international battle with Inception there is no doubt as to which of the top 2 films is winning this summer's box office war. Toy Story 3's cumulative return of $498m is close to double that of Inception's. Disney's summer tentpole is still playing in 40 territories and is yet to open across Scandinavia. The Pixar animation is performing unerringly in Japan, where it took $4.9m in its fifth week for a $77.8m total, setting it apart from Toho local favourites Karrigurashi No Arriety ($58.6m to date) and Bayside Shakedown 3, ($67m).
Toy Story has now recorded the 22nd-best overseas performance of all time, recently surpassing DreamWorks' Shrek 2 ($478m) and Warner Bros.' The Dark Knight ($468m). The family-comedy now has Fox's Independence Day ($511m) and Buena Vista's Finding Nemo ($528m) in its sights.
Step Up 3D opened in seventh position on the international chart, taking $11.7m from 1366 screens in 10 territories. Summit/UIP's musical romance opens in France on Aug 18 and Germany on Aug 26. Step Up 3D remains a domestic favourite with over 70% of its worldwide gross coming from the US.
Remarkably, in its 12th week, Paramount's Shrek Forever After is still in the international top ten, having grossed $10.8m from 4652 screens in a sturdy 43 territories last weekend.
There were top 20 debuts from CJ Entertainment's The Man From Nowhere which made $4.7m in South Korea and Universe's City Under Siege which took $4.6m in Hong Kong.
JBJ Film's Czech crime thriller Krajineck scored the week's highest screen average ($15,280) and posted the biggest opening of a Czech film ever, at $825,000. Kajinek is a crime-thriller inspired by the story of Jiří Kajínek, considered to be the first hitman in post-communistCzech Republic. The title role is played by Russian actor and former Cannes Best Actor winner Konstantin Lavronenko. 119,000 viewers saw the film over the weekend in Czech Republic.