Dir: Jeppe Ronde. Denmark. 2015. 103mins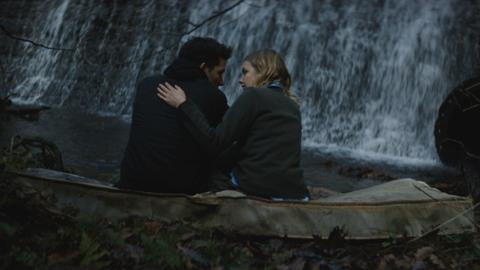 As has been well-reported internationally - including in director Jeppe Ronde's native Denmark - the Welsh town of Bridgend has suffered a mysterious and tragic blight of teenage suicides, with over 79 young people taking their own lives since 2007. And yet, still, nobody knows why. Ronde's response to the bewildering story was to move to Wales and spend six years at work on his ambitious, over-reaching feature debut Bridgend.
Ronde, who clearly identifies with the teenage perspective, has delivered some gorgeous sequences.
Flawed but striking, Bridgend is a loose drama which attempts to take the perspective of the close-knit teen gangs who roam the town through the device of a newcomer Sara (Game of Thrones' Hannah Murray) who is drawn into their circle. One by one, they take their own lives. The question driving through Ronde's gothic visuals and riding technobeat (via French producer Mondkopf) is whether she too will succumb to the plague. Bonfires burn, choirs chant and Dylan Thomas is quoted (And Death Shall Have No Dominion) as Bridgend relentlessly circles its central question.
Ronde's debut, made in Wales using Scandinavian HODs (with the exception of UK casting director Des Hamilton) is intense and cultish. Nicholas Winding Refn and Gaspar Noe are clear influences. After a debut in Rotterdam and a competition slot at Gothenburg, Bridgend is guaranteed festival play but breakout theatrical exposure could be a challenge. Of interest is the reaction in Wales, where Bridgend's art-drenched visual aesthetic could come across as exploitative of real-life tragedy (naked corpses bobbing in the river, for example). A lengthy, overweening finale is more exhausting than provocative.
Bridgend drives into town via Hannah's father (Steven Waddington), a policeman and native of the area who is sent back to investigate the suicides with his young daughter in tow. The film takes a casual approach to narrative, however: the adults all behave erratically (much as they might seem to teenagers), while the children are locked in a perpetual cycle of anger, alcohol and depression, storming off into the forest and fighting amongst themselves. While teen angst can be relied upon for constant drama, it's can also be difficult to live with.
Throughout, Ronde's visuals are intense and exhilarating. Hannah's horse races through the dripping forest; images are captured through stained glass windows; Magnos Nodrenhof Jonck's camera throws more shadow than El Greco; clouds obscure a clear perspective. Hannah Murray, also known in the UK for her role in Skins, is an attractive actress but is occasionally stretched past her comfort level. Another newcomer, Josh O'Connor, is the suitably intense and troubled son of the local vicar, but the young cast has few anchors to play off.
The character of Hannah's father is thin; loving one minute, abusive the next – taking his teenage daughter to a town where teenagers are killing themselves and quickly disappearing to have sex in the local police station. He loves Hannah, he locks her in her room, he hits her, and he belatedly tries to save her. While this is clearly not a documentary, certain aspects of Ronde's visual aesthetic are also troublingly off-key. The local teenage louts take their T-shirts off to reveal gym –honed bodies; a character defecates himself before having sex on a filthy mattress, a grim and grubby prospect in reality but not through Bridgend's stylized lens.
Ronde, who clearly identifies with the teenage perspective, has delivered some gorgeous sequences, nonetheless. Formerly a documentarian, his debut could be seen as a delicious experiment, tantalising audiences as to what he might do next. Or it could be dubbed chaotic and indulgent, an awkward misfire. The intriguing thing about Bridgend is that you're never quite sure - which is possibly his point.
Production companies: Blenkov & Schonnemann APS
International sales: Michel Schonnemann, Michel@blenkovschonnemann.dk
Producers: Michel Schonnemann, Malene Blenkov
Screenplay: Jeppe Ronde, Torben Bech, Peter Asmussen
Cinematography: Magnos Nodrenhof Jonck
Editor: Olivier Bugge Coutte
Production designer: Tom Pearce
Music: Mondkopf
Main cast: Hannah Murray, Steven Waddington, Josh O'Connor, Adrian Rawlins