Dir: Marion Vernoux. France. 2013. 93mins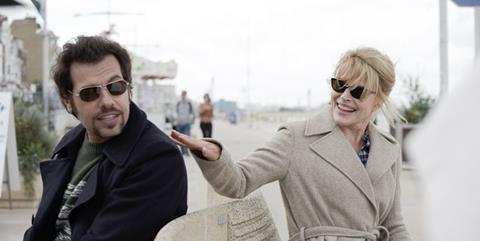 A perfect fit for what used to be the trademark of French cinema - lightly romantic, painlessly sinful, love affairs - Marion Vernoux' Bright Days Ahead (Les Beaux Jours) banks mostly on the charms of Fanny Ardant, who courageously assumes her age in the role of a retired dentist having an autumnal fling with a man who is twenty-something years younger.
Ardant, who carries the film on her shoulders, starts in a tragic gloom, blossoming with every single new stage of the affair.
Ardant's well-preserved looks, wrinkles and all, makes this relationship plausible if not predictable, suggesting this is the best kind of medicine a woman in her sixties should be prescribed. The script is at pains to avoid any deeper exploration of either characters or story preventing any risk of complications or pangs of conscience. This is just a pleasant way to restore faith for the third age of a future just around the corner if they follow the example of the film's heroine.
Caroline (Ardant), a dentist who has had enough of temperamental clients and their foibles, decides it's time to retire and enjoy the freedom and leisure she deserves at her age, leaving her husband Philippe (Patrick Chesnais) in charge of their clinic. But it doesn't take much for her to discover that all the spare time she now has on her hands is far more difficult to fill up than she had ever figured before.
One of her daughters offers her a membership card to a seniors club called Les Beaux Jours (therefore the original French title), but all she can find there are courses that are neither interesting nor serious, young tutors who treat their elderly students like retarded children, and, worst of all, constant reminders of her age and the status it involves, surrounded as she is by pensioners who seem mostly adept to relive old, and not necessarily good times.
Caroline, however, is lucky with her computer teacher Julien (Laurent Lafitte), a hunk with an engaging smile who first gets her to treat his teeth for free, then takes her to lunch where she gets slightly tipsy and once in her car, he tentatively feels her up. It's not as if Caroline is promiscuous, though we learn later she has had her share of extra-marital affairs, but she is sort of flattered by the attention she is being paid by a man who is not much older than her two daughters.
This is the beginning of a romance that both of them treat a bit circumspectly, since they realise it can't be more than a passing moment of madness. In her enthusiasm to discover that life is not quite over Caroline flings caution to the wind, but everybody around her - from her husband through to all her new friends at Les beaux Jours - is so terribly civilized, nice and ingratiating, that after all nothing really dramatic takes place, and the inevitable ending is managed with simple and noble grace, and ultimately, no real harm is done.
A bit more substance and interest in the characters would have given the script more depth and would make it less dependent on old and tried clichés, as endearing as they are to the audiences. Ardant, who carries the film on her shoulders, starts in a tragic gloom, blossoming with every single new stage of the affair, including its end, but Lafitte never gets the chance to grow much. As for Vernoux, she seems to have great fun leading them through their paces, until she comes close to the end, which she finds more difficult to manage.
Production companies: Les Films du Kiosque, 27.11 Productions
International sales: Le Pacte, www.le-pacte.com
Producers: Francois Kraus, Denis Pineau-Valencienne, Juliette Favreul –Renaud
Screenplay: Marion Vernoux, Fanny Chesnel, based on Chesnel's novel A Young Woman With White Hair
Cinematography: Nicolas Guerin
Editor: Benoit Quinon
Production designer: Yann Dury
Main cast: Fanny Ardant, Laurent Laffite, Patrick Chesnais, Jean-François Stévenin, Fanny Cottençon, Catherine Lachens, Alain Cauchi, Marie Rivière, Marc Chapiteau, Feodore Atkine