Dir: Daniel Burman. Argentina-Uruguay-Spain.  2010. 105 mins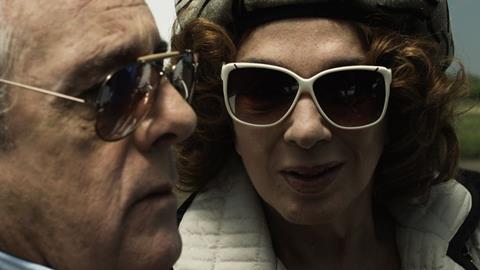 Once a herald of the New Argentine cinema, Daniel Burman is now firmly established in the middle of the road, dealing here again with his favorite milieu, the assimilated Jewish bourgeoisie in his homeland.
Burman's film turns around in circles irritatingly repeating itself and often resorting to tired clichés.
Never as charmingly sympathetic as it would like to be, with the ethnic background almost undetectable but for a couple of throwaway hints, the result tends to annoy rather than challenge but the comfortable ending is sure to pacify even the more recalcitrant observer.The film screened in the main competition of the Karlovy Vary Film Festival.
Though devoid of a real plot to hang on to, the picture may still find its place in the particular niche Burman has forged for himself on the international market, occasionally helped here by Graciela Borges' incandescently overstated performance.
Siblings Susana and Marcos, both well past their fifties, both single, and immature, in their own way, can't live together but neither can they stay apart for long. He is a pushover - a meek, artistically inclined man, who has devoted his entire life caring for his ailing, slightly demented mother. By the end of the film, his undeclared homosexual tendencies are explained through classic mother fixation and a father who slept around too often.
She is well-preserved, always in fancy garb, a bossy mythomaniac who systematically ignores any facts disproving her delusions. She pretends to be a real estate agent, though she never sells a thing, and after the mother's death, she attempts to take over Marcos' life, while putting him down every chance she has – an old trick to emphasize her own self importance.
Shot in Buenos Aires and in Uruguay (where she unsuccessfully tries to clip his wings) Burman's film – once stating its theme and introducing the characters – turns around in circles irritatingly repeating itself and often resorting to such tired clichés as revenge in dreams or the hackneyed ending of two characters silently facing the sea.
Most of the film naturally rests on the shoulders of the two leads, both experienced veterans in films and TV. Borges is as flamboyantly obnoxious as the part requires while Gasella restrains himself to a mousy, underplayed performance, but both are lost with the sort of happy ending they are supposed to put across.
Production Companies: BD Cine SRL
Producer: Diego Dubcovsky
International Sales: BD Cine, www.dbcine.net
Screenplay: Daniel Burman, Sergio Dubcovsky, based on Dubcovsky's novel Villa Laura
Cinematography: Hugo Colace
Production designers: Margarita Tambornino, Paulina Lopez Mayer
Editor: Pablo Barbieri
Music: Nico Cota
Main Cast: Graciella Borges, Antonio Gasalla, Elena Lucena, Osmar Nunez, Rita Cortese