Korean director O Muel is back in Busan with the world premiere of Eyelids in the Korean Cinema Today – Vision section.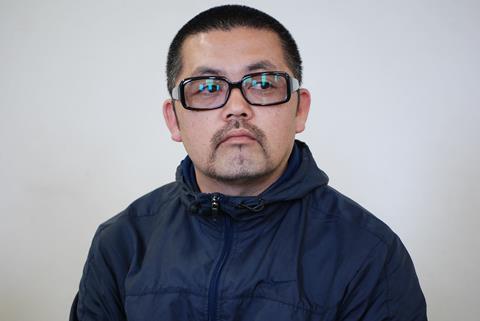 Featuring an old man living an ascetic life alone on an island where he gets phone calls after which he prepares rice cakes for visitors who are departing on journeys to the next world, the film is a sort of requiem for those who have died undeservedly.
O's film about the April 1948 Jeju Uprising, Jiseul, also world premiered in Busan in 2012 where it picked up four awards including the Directors' Guild of Korea Best Director award and the CGV Movie Collage Award. It went on to win the World Cinema Grand Jury prize at Sundance.
His next film after that and before Eyelids was Golden Chariot, which world premiered at Karlovy Vary and opened the Jecheon International Music Film Festival.
What made u want to make Eyelids?
It's a hard film to explain. After three days of watching the news coverage of the Sewol ferry [disaster in which hundreds were counted dead or missing], I just felt so frustrated and powerless. I think all the citizens of the Republic of Korea felt frustrated and powerless together. I felt so low and unprepared. I took that feeling and wrote a script in three days, and immediately thought about where to shoot it. I didn't have the heart to go to Jindo [where the disaster rescue, then salvage mission, was unfolding]. So I went the opposite direction to Geojedo Island. I found an uninhabited island and shot the film while camping there.
So would you say the film is about the Sewol?
It isn't shown directly in the film, it's indirect. I wasn't particularly trying to make something putting forth the Sewol. I was approaching it from the side of salvation for those who have died at sea.
You're known for your films and cultural activities on Jeju Island – as with Jiseul or the annual Flower For A Head street festival and an artistic collective. Why did you choose Geojedo this time?
Just because I've been making films in Jeju, it doesn't mean I should have to shoot in Jeju. There are stories I want to tell there, and it's where I live, and the history of Jeju Island is something I had to deal with and make into films.
But for Eyelids, the film's setting itself needed its own space in which it could exist and that's why I went there. It needed a space unrelated to Jeju Island. The film's space is the world that exists in this moment and that world of other moments.
Your project based on Jeju women sea divers, Haenyeo, won an Asian Cinema Fund (ACF) Script Development Fund last year. How's that going?
I came here in the middle of shooting so I'll go back down to Jeju tomorrow. I've shot half of the total of two months. The plan is to shoot until the end of October and wrap up [post] next year.
How do you see Busan's role in the Korean film industry?
Speaking of film festivals in general, on the one hand, they are good for people like me because they are a good opportunity and you can feel the competitiveness of a festival. But on the other hand, it's not always a positive thing for independent filmmakers. If you aren't chosen by the programmers, you might not have any chance to show your films. The fact that there are no opportunities without film festivals is why independent filmmakers strive so hard to get into Busan. The Busan film festival's presence is so great that all roads must go through it.
You film Jiseul won the CGV Movie Collage Award, which comes with distribution. Did that help?
It must have helped, right? The Movie Collage is an affiliate of CJ, which seems to have expanded a lot. There are a lot of pros and cons. I have a rather negative point of view. When you get an award at a festival from an affiliate created by a conglomerate you get to see a lot of malaise that seeps into independent filmmaking.
It's a good thing that they release your film, but on the other hand, in a lot of situations, you can see how the ecosystem of the Korean film industry is not stable.
Of course, with Jiseul, they were more aggressive. That was according to market logic. They put it in a lot of theatres, and then other independent films couldn't screen. There aren't many independent film theatres to begin with. It felt like poor people slugging it out with each other. Big films slug it out with each other and then small ones, too, they're slugging it out with each other. That's the reality of the Korean film market.
We need a stable system. But we still rely on that way of things. The state should think of independent films worthy and create a system for them, but it only relies on conglomerate groups, so this sort of problem cannot help but arise.
It's Busan's 20th anniversary. What do you think of the film festival's growth?
Seeing them keep going steadily and sounding even in the midst of outside pressure, in a way they are playing the role of the eldest child [or film festival] in Korea. In that sense, some people may talk about how there are problems in its growth, but you see the real mettle of a festival in crisis. I think they got past the crisis wisely. It can't always be smooth going, so in that sense, I think Busan is doing well.
If a film festival is swayed by politics, a vessel that can contain various artists is put in danger. So I'm proud that Busan is able to nurture artists and let them share their worlds these days.