Dirs: Paolo and Vittorio Taviani. Italy. 2012. 76mins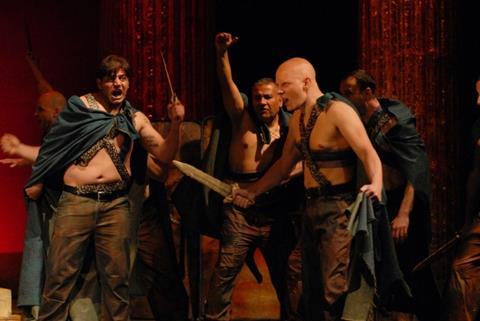 Now into their eighties, the Taviani brothers show with this remarkable, fresh and moving drama-documentary they have lost none of that mix of observational rigour and sympathy for the underdog that marked early films like Padre Padrone, their 1977 Palme d'Or winner. Caesar Must Die (Cesare Deve Morire) is a powerful prison drama about drama in prison: specifically, about a staging of Shakespeare's Julius Caesar with a cast of prisoners from the high-security wing of Rome's Rebibbia jail.
Its hold on the audience comes from the pared-back, unshowy, understated way that it lets two strong stories – one by Shakespeare, and one about prison life – unfold with a minimum of interference.
It would have been easy to make the film as an inspirational tale of lifers finding comfort and creative release in acting. But what gives Caesar Must Die real heft and resonance is the way the directors use the Shakespearian text, the prison setting, and the rehearsal process to blur the boundaries between drama and reality and to turn the Bard's political tragedy into a film that makes resonant points about brotherhood, longing, regret and the pain of incarceration. In fact the Tavianis make the point that for a lifer, creative awakening can be a burden: as one of the film's jailbird actors says, to camera, towards the end, "Since I discovered art, this cell has become a prison".
International audiences will lose some of the nuances of a film in which each prisoner speaks Shakespeare's lines (freely adapted in places to make them less fusty and literary) in his own dialect; or the darkly ironic double sense that comes out in the oft-repeated phrase subtitled here as 'honourable man' (many of Rebibbia's high-security prisoners are inside for Mafia-related crimes – they are, in other words, 'uomini d'onore', or 'men of honour'). But these nuances will not prevent a film that was well received at its Berlinale competition press screening from reaching out to arthouse audiences worldwide.
The film opens, in colour, with the culminating scene of Shakespeare's tragedy, the death of Brutus; gradually, the camera's tight focus pulls back to reveal that we are in a small theatre, with an audience. A caption informs us that this is the high-security wing of Rebibbia prison, and we see the actors being locked back in their cells. Then we backtrack six months, and switch to black and white – a purely aesthetic decision which pays off, turning the prison interiors and grounds where the rest of the film will be shot into a place of limbo, a kind of mythic space. The soundtrack, which alternates saxophone lilts with big Hollywood-style orchestral highlighting, works to the same end.
The Julius Caesar project was apparently initiated by the Tavianis, but in the film the directors keep themselves out of the picture: onscreen, we only see Fabio Cavalli, the non-inmate director of the stage play. In a strangely compelling scene, that mixes dramatic intensity with flashes of humour, we watch a succession of prisoners auditioning by giving their names and other details in different registers determined by two separate dramatic scenarios; the scant information we glean from this is supplemented by terse captions that tell us what these men are inside for and how long they're serving. Some are camorristi, some are drug dealers, a couple are murderers; their sentences range from 14 years to life.
After the actors have been assigned their roles it's into the play proper – presented through fragments of scenes played out with a minimum of costumes (a white sheet for Caesar, a black t-shirt for Mark Anthony) inside the prison and out in the exercise yard. The essence of Shakespeare's play is presented with impressive economy, but there's another layer to the scenes, as the line between learned lines and real ones, between life inside and rehearsal, begins to blur. Just occasionally this game feels a little scripted, but then again the occasional stilted line or performance carries its own pathos. We're constantly reminding ourselves that these men may be playing at being Ancient Romans, but they're not playing at being locked up.
Salvatore Striano, who plays Brutus, is the cast's De Niro, a born actor who burrows deep into his role (it's no surprise to learn that he really is now working as an actor – this is the Tavianis' one sleight of hand, as Striano was actually released from Rebibbia in 2006, returning only to work on the film). But Giovanni Arcuri's Caesar and Cosimo Rega's Cassius also acquit themselves admirably. Other prisoners outside the main cast, and even three prison guards, are co-opted for certain scenes, some of them part of Shakespeare's drama, some of them part of the film's extra-textual drama about prison life. But that makes Caesar Must Die sound knowing and post-modern. Whereas in fact the film is quite the opposite: its hold on the audience comes from the pared-back, unshowy, understated way that it lets two strong stories – one by Shakespeare, and one about prison life – unfold with a minimum of interference.
Production company: Kaos Cinematografica
International sales: RaiTrade, www.raitrade.it
Producer: Grazia Volpi
Executive producer: Donatella Palermo
Screenplay: Paolo and Vittorio Taviani, with the collaboration of Fabio Cavalli
Cinematography: Simone Zampagni
Editor: Roberto Perpignani
Music: Giuliano Taviani, Carmelo Travia
Main cast: Salvatore Striano, Giovanni Arcuri, Cosimo Rega, Antonio Frasca, Juan Dario Bonetti, Vittorio Parrella, Rosario Majorana, Vincenzo Gallo