The North American premiere of Amazon Studios' Cannes-bound opening night film from Woody Allen will kick off the festival on May 19.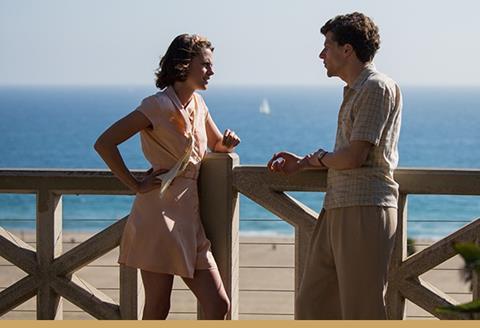 Jesse Eisenberg, Kristen Stewart star in Café Society, Allen's period piece about a man who heads to Hollywood in the 1930s in search of fame and fortune and finds love in the café society.
Steve Carell, Parker Posey, Blake Lively, Corey Stoll, Paul Schneider, Anna Camp, and Judy Davis round out the key cast. Café Society will open the Cannes Film Festival on May 11.
In his new role as festival director and chief curator, Carl Spence said: "Woody Allen delivers a delightful, vibrant, and entertaining tale that continues to expand his repertory of acting talent.

"Combining the power of SIFF, which boasts the largest audience of any film festival in the country, with an emerging Seattle-based film distribution powerhouse that firmly believes in the theatrical experience, along with one of our most acclaimed directors, is a perfect match.

"We are proud to collaborate with Amazon Studios with seven titles in our line-up. They have confidently emerged as relevant curatorial partners for the filmmaking community with a wealth of experience and love of cinema to bring a broad and diverse range of high-quality films to the American public."
Other Amazon Studios titles at SIFF 2016 include Author: The JT LeRoy Story, Complete Unknown, The Dressmaker, Gleason, Love & Friendship, and Wiener-Dog.
This year's festival is aided in part by a FilmWatch grant from the Academy Of Motion Picture Arts And Sciences. SIFF will receive $25,000 to continue its African Pictures programme, now entering in its fourth year.
The complete 42nd Seattle International Film Festival line-up will be announced on May 4. The festival runs through June 12 at venues in Seattle and surrounding cities.