Dir/scr: John Michael McDonagh. Ireland-UK. 2013. 101mins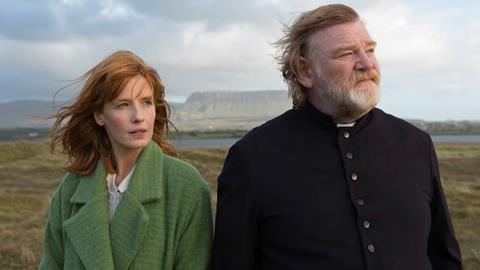 A loyal Irish Catholic priest spends what he believes is the last week of his life pondering whether he's made any difference at all to his community in Calvary, a rich character drama that's equally eloquent and despairing. Building on the promise of his feature debut, the comedy-thriller The Guard, writer-director John Michael McDonagh travels into more philosophical terrain, ruminating on the limits of faith and basic human decency to bring meaning to our often empty and random existence. A fine lead performance from Guard star Brendan Gleeson grounds Calvary in a weary resignation that feels lived-in and deeply considered.
Calvary seems to be arguing for most of its running time that we are here on this planet alone, left to our own devices to make the best of messy, unimportant lives.
Screening in the Sundance Film Festival's Premieres section, Calvary might prove a difficult sell for a couple reasons: It's a serious look at religious faith, and it doesn't reside in an easily marketable genre. Still, this film would seem a solid art-house offering, especially with reviews highlight Gleeson's performance. And even the nonreligious will appreciate the film's existential uncertainty, its bleak musings about living in a world without any sense of justice or reason.
As the film opens, Father James (Gleeson) is hearing confessions when an unseen parishioner tells him that he was molested by a priest, who is now dead, when he was just a boy. As retribution, the parishioner says that he will kill Father James in one week, an act he hopes will prove shocking to the community since Father James is respected for his good deeds and patient, loving demeanour.
In another kind of movie, Father James would then set about to determine the identity of the parishioner, but McDonagh isn't so much concerned with that mystery as he is in watching Father James use this startling announcement as a prompt to explore his legacy as a priest. Frankly, Calvary barely addresses the possibility of James's murder after the opening, instead letting it hover over the proceedings as an open question. But for Father James, who tells almost no one about what's happened, there seems to be an acceptance that his death is imminent, and so his every subsequent encounter with his community is informed by a sense that his time is short in helping these struggling souls.
Although chiefly a drama, Calvary retains from The Guard McDonagh's skill with pithy, funny dialogue. There aren't so much comedic sequences in this film as there are comically flawed individuals, and one of the movie's sad-funny running jokes is that these people don't really see themselves as lost souls. Most memorably, an abusive, neglectful husband (Chris O'Dowd) doesn't much mind the fact that his wife is having an affair with a local man (Isaach De Bankolé) because, as he explains it, now he has more time for himself.
Wherever James looks, his parishioners are self-absorbed, self-righteous or just plain clueless. There's a gentle comedy to these scenes, but Calvary's sombre tone intentionally undercuts the laughs: For James, there's nothing funny about his failure to elevate his fellow man.
As in The Guard, McDonagh in Calvary adds complexity to his central character as we spend more time with him. The arrival of a suicidal daughter, Fiona (Kelly Reilly), sheds light on the man James was before he decided late in life to join the Church. And though he's a respected and valued priest, James is not without significant faults, particularly his struggles with alcoholism.
Gleeson brings his usual gruffness to the role, but in Father James he's found a character whose tough exterior belies his warm, steady manner. Without stating it explicitly, Calvary hints that James had hoped that the priesthood would repair damaged parts of himself — an optimistic notion that, as he prepares for the end, seems increasingly foolhardy. Clearly, this is not a movie in which people's faith in a higher power or greater good is restored. Quite the contrary, Calvary seems to be arguing for most of its running time that we are here on this planet alone, left to our own devices to make the best of messy, unimportant lives.
Occasionally cutting to non sequitur aerial shots of Ireland's beautiful coastlines, McDonagh risks a ponderous tone to underline the seriousness of his spiritual concerns. (And because the film is largely plot-less, the scenes of James talking to different parishioners can become repetitive or rambling.) But buttressed by Patrick Cassidy's supple, thoughtful score, Calvary does acquire a larger-than-life air in which the problems of one provincial town's aging priest do become a universal lament for our eternal quest for meaning.
Calvary suffers some because of its oversized ensemble, with some characters not having enough screen time to stand out. But Reilly is good as the priest's daughter whose own troubles are partly connected to his. As the film reaches its conclusion — and the question of James's killer (or whether he'll carry out his threat) still unknown — McDonagh doesn't try to provide sunlight amidst the grey skies. But remarkably, Calvary does manage to find a slender consolation at the end that suggests how imperfect people like Fiona can still bring some grace into the world. It's not much, but in McDonagh's universe a little hope goes a long way.
Production companies: Bord Scannán na hÉireann, the Irish Film Board, BFI, LipSync Productions, Reprisal Films, Octagon Films
International sales: Protagonist Pictures, www.protagonistpictures.com
US sales: David Flynn/United Talent Agency, FlynnD@unitedtalent.com
Producers: Chris Clark, Flora Fernandez Marengo, James Flynn
Executive producers: Robert Walak, Ronan Flynn
Cinematography: Larry Smith
Editor: Chris Gill
Production designer: Mark Geraghty
Music: Patrick Cassidy
Main cast: Brendan Gleeson, Chris O'Dowd, Kelly Reilly, Aidan Gillen, Dylan Moran, Isaach De Bankolé, M. Emmet Walsh, Marie-Josée Croze, Domhnall Gleeson, David Wilmot, Pat Shortt, Gary Lydon, Killian Scott, Orla O'Rourke, Owen Sharpe, David McSavage