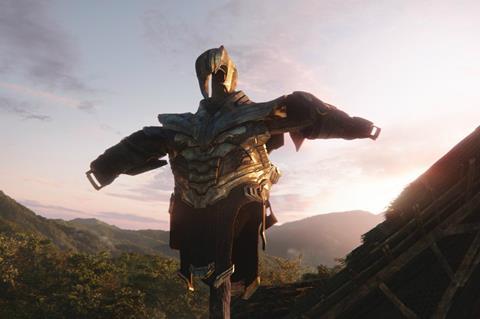 Avengers: Endgame looks likely to deliver the biggest global box office debut in history this week and will cross $900m, industry observers says, as buzz on a possible $1bn global bow grows.

Disney brass revealed the Marvel Studios tentpole's roll-out schedule on Monday (22), as expectations for the concluding part in the Thanos saga intensified. When Avengers: Infinity War delivered a $640.5m worldwide launch almost a year ago to the day and went on to gross more than $2bn worldwide, eyes turned to the sequel.
Once Endgame got the go-ahead last month to open in China on April 24 (previews start on Tuesday night) and details of record advance ticket sales began to emerge at CinemaCon in Las Vegas earlier this month, observers were emboldened to step up their (private) predictions.
Avengers: Infinity War delivered a $640.5m debut in April 2018, however that was without China, which followed in May with $210.4m in its first three days. Had Infinity War opened in China day-and-date with everywhere else, the combined total would have reached $851m.
This time around, the superhero mash-up opens in China day-and-date with most of the rest of the world (it debuts in Russia on April 29), and there is a five-day runway in China leading up to Sunday, even though that day has been designated a work day by local authorities to make up for a May 1-4 holiday.
Factor in inflation (admittedly not a giant leap in one year, but it translates to roughly an additional $10m) and the fact that China has continued to deliver ever higher opening weekends while markets like Indonesia have grown significantly in stature, and it is clear how the three-hour film could soar past $900m. An additional $100m is a stretch, say experts who spoke to Screen on background, but maybe not a stretch too far: box office on superhero films tends to be front-loaded and there are expected to be multiple repeat viewings over the days to come.
Endgame will open in more than 4,600 venues in North America – a record – when previews start on Thursday. To whip up anticipation even further, 12 theatres in major North American markets are staging the completist's dream: a 22-film Marvel Cinematic Universe marathon starting on Tuesday evening that culminates with Endgame screenings at 5pm on Thursday. The film shot entirely with IMAX cameras and will screen in 1,400 global IMAX venues.
Avengers: Endgame opens on Wednesday (24) in: France, Germany, Italy, Australia, China, South Korea, Austria, Belgium, Denmark, Finland, Greece, Iceland, Lebanon, Netherlands, Norway, Sweden, Switzerland, Hong Kong, Indonesia, Malaysia, New Zealand, Philippines, Singapore, Taiwan and Thailand.
Thursday (25) debuts: the UK, Brazil, Croatia, Czech Rep, Hungary, Israel, Poland, Portugal, Slovakia, Slovenia, Turkey, Ukraine, Argentina, Panama, Uruguay, Paraguay, Peru, Trinidad, Bolivia, Chile and Colombia.
Friday (26) debuts: Spain, Japan, Mexico, South Africa, India, Vietnam, Venezuela and Ecuador.
The MCU films have grossed a combined $18.6bn, averaging $885m per film. The Avengers films alone have produced a combined $5bn, averaging $1.66bn per film.