Leading Chinese executives including producer and former Cannes jury member Shi Nansun to participate in discussions.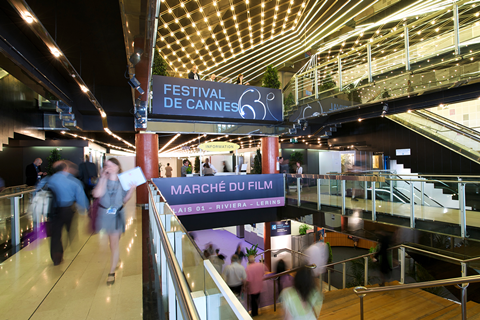 Cannes' Marché du Film (May 13-22) has confirmed the programme and speakers for the inaugural Marché du Film China Summit, which will begin on May 16 and continue May 18-19.
The summit has been established to help film industry professionals learn more about the Chinese marketplace and enable Chinese professionals to connect with industry peers, promoting international business connections.
The series of conferences and events, reserved for Marché Badge holders, includes panel discussions focusing on key topics identified as most relevant to the current Chinese market, including theatrical and VOD distribution as well as a discussion on international productions.
A section of the Summit is to be co-hosted by CNC (Centre national du cinéma et de l'image animée), which will hold two discussions during the three day event. Screen International and The Chinese Film Market are among the supporting media partners. It will conclude with the annual China Night Party.
Marche du Film executive director Jérôme Paillard said: "With the increasing global interest in China's film industry, combined with the increasing presence of Chinese executives at the Marché du Film, this exclusive three-day series of conferences and events will help promote business opportunities and international partnerships amongst professionals.
"It will cover all aspects of partnerships with China, from international co-productions and French-Chinese collaborations to theatrical and VOD distribution."
Panel discussions
The Summit will kick off on May 16 with a discussion on 'the attractiveness of French and Chinese territories', moderated by Unifrance president Jean-Paul Salomé with panellists including producer and Unifrance China delegate Isabelle Glachant; Film France CEO Valérie Lépine-Karnik; and Film France COO Franck Priot.
The second session that day will focus on strategies of exhibition and distribution in France and China and examples of Sino-French co-productions. Panellists include:
Xavier Castano, Loull Productions
Cary Cheng, Head of International Production & Development, Wanda
Michel Ferry, Cinéma des Carmes
Olivier Grandjean, Head of exhibition, Pathé
Gary Mak, CEO of Broadway Cinematheque
Zhang Rengang, CEO of Tianjin North Film Group
Whenthe Summit returns on May 18, the first session will be a Chinese film market overview with panellists including:
Jeffrey CHAN, COO and Board member of Bona Film Group
James LI, General Manager of Wuzhou Film Distribution Co., ltd
LIN Ning, Founder of Beijing Weying Technology Co,Ltd,( WeChat Movie).
CHEN Sijie, CEO, SMG Pictures
On May 19, Screen International's Asia Editor Liz Shackleton will moderate a session looking at video on demand opportunities in China. Panellists will include:
Marc GANIS, President, CEO and Co-Founder of Jiaflix Enterprises
David U. Lee, Founder and CEO of Leeding Media
LI Yansong VP of iQIYI, President of iQIYI Motion Pictures
Allen ZHU Huilong, SVP of Youku Tudou Inc. & CEO of Heyi Film
The final session will focus on international production with China and will include panellists:
Wendy REEDS, EVP, International Sales of Lionsgate International
SHI Nansun Chairman, Distribution Workshop
Allen WANG Jun, Senior Partner of Yingke Law Firm
ZHOU Yuan, EVP of Linmon Pictures
All the conferences will provide bilingual English-Mandarin simultaneous interpretation.
New talent
The Summit will this year include the third edition of the New Chinese Film Talents Fund Forum, jointly established in 2013 by Champs Lis lnternational and the Marché du Film.
The Forum encourages and supports promising young Chinese filmmakers in their understanding of the global cinema marketplace, of the commercial requirements of the film industry and of their approach of the international production business.
Eight projects, selected by a committee of international experts, will be pitched on May 18. More information on the projects will be announced soon.