Dir: Ridley Scott. US. 2010. 140mins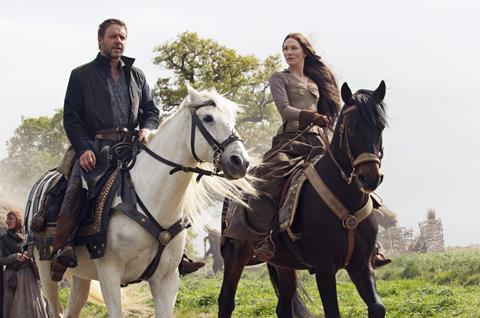 Ridley Scott's "origins" version of the Robin Hood legend is a solid, if ultimately uninspiring, adventure epic which contains more of the flat historical storytelling of Kingdom Of Heaven than the stirring emotion of Gladiator. Nevertheless, the package is a strong one and it is set for a muscular box office run when it opens in 70+ territories this weekend after its splashy opening night gala launch at Cannes.
Scott's film-making fluency is as impressive as ever and the contributions from his usual team are predictably fine.
Like Scott's other period adventures, Robin Hood will outperform domestic in international. Kingdom of Heaven grossed a whopping $164m in international to a puny $47.4m in domestic theatres, while Gladiator was a closer-run thing in 2000 ($270 international, $188m domestic). The Scott/Russell Crowe team-up which started with Gladiator is no guarantee of success - both A Good Year and Body of Lies disappointed - but then this is the first Scott/Crowe action-adventure since Gladiator and the combination of star, director and genre should be enough to open big.

The film is skewed older than other blockbusters in the early summer like Iron Man 2 and Prince of Persia. Certainly Crowe's youthful lustre from Gladiator a decade ago has worn off and his Marion, Cate Blanchett, is hardly Miley Cyrus. A-lister Crowe is coming off a couple of under-performers (Body of Lies, State of Play) and could use a hit.

Like Batman Begins and last year's Star Trek movie, Robin Hood is the story of how the myth begins. At the film's end, Robin Longstride has become Robin Hood and steps into hiding in Sherwood Forest for the first time, leaving the film wide open for multiple sequels. Obviously whether Robin Hood 2 happens is up in the air until the numbers come rolling in, but a franchise is no sure thing.
Scott and his screenwriter Brian Helgeland have come up with a complex historical context in which the place the mythical bandit. King Richard The Lionheart, an imperious and arrogant leader as played by Danny Huston, is returning from the Crusades to England with a demoralised, unpaid army when he is killed at the siege of Chalouse Castle.

Archer Robin Longstride (Crowe) and some other stragglers – Little John (Durand), Will Scarlet (Grimes) and Allan A'Dayle (Alan Doyle) – set off to the coast to get back to England and on their way come across a party of ambushed English noblemen including Sir Robert Loxley carrying the dead king's crown. In his dying breath, Loxley begs Robin to take his sword home to his father in Nottingham.

Assuming Loxley's identity, Robin and company deliver the crown back to Richard's brother and the heir to the throne, the impetuous Prince John (Isaac) and his French bride Isabella (Lea Seydoux). Then he sets out to Nottingham where he meets Loxley's widow Marion (Blanchett) and father Sir Walter (Von Sydow) who persuades him to continue posing as his son. Robin and Marion develop first a begrudging respect, then passionate love for each other.

As Prince John and his duplicitous henchman Godfrey (Strong) rape and pillage the land and eke every last penny out of the people, Robin prepares to join the fight against the crown but an invasion from France presents a more pressing problem.

The invented plot generally works well and Scott eases in the familiar characters – Mark Addy's Friar Tuck, Matthew Macfadyen's Sherriff of Nottingham – effectively, although the emergence of a subplot about Robin's saintlike father and the rising of Marion as a crusading queen (Blanchett reprises her Elizabeth armour) don't work as well. Indeed, the film does bear the strain of trying too hard, not just to be as gritty and realistic as possible but to shoehorn the legend into the history. It is less thrilling for it.

Scott's film-making fluency is as impressive as ever and the contributions from his usual team – DP John Mathieson, production designer Arthur Max, costume designer Janty Yates, editor Pietro Scalia and composer Marc Streitenfeld – are predictably fine.

Crowe rarely cracks a smile as this Robin Longstride aka Robin of Loxley aka Robin Hood but his brooding Gladiator-in-green-tights turn is generally compelling; Blanchett makes for a feisty heroine and Scott peoples his cast with a powerful ensemble of name actors – from the ubiquitous Strong and Huston to on-the-rise Isaac, French newcomer Lea Seydoux and old favourites Von Sydow, Hurt and Atkins as Eleanor Of Aquitaine. They all lend class and heft to the proceedings.
Production companies: Imagine Entertainment, Scott Free Productions, Relativity Media
Worldwide distribution: Universal Pictures/UPI
Executive producers: Charles JD Schlissel, Michael Costigan, Jim Whitaker, Ryan Kavanaugh
Producers: Brian Grazer, Ridley Scott, Russell Crowe
Screenplay: Brian Helgeland, from a story by Helgeland and Ethan Rieff & Cyrus Voris
Cinematography: John Mathieson
Production designer :Arthur Max
Editor: Pietro Scalia
Music: Marc Streitenfeld
Main cast: Russell Crowe, Cate Blanchett, William Hurt, Max Von Sydow, Mark Strong, Mark Addy, Oscar Isaac, Danny Huston, Kevin Durand, Scott Grimes, Matthew Macfasdyen, Eileen Atkins. Simon McBurney