EXCLUSIVE: Founder and CEO Matt McCombs and his sales team at Spotlight Pictures head into Cannes with a roster led by Aaron Eckhart starrer Courage.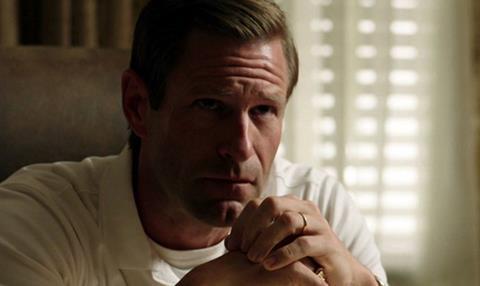 The film gets its market premiere screening today [May 11] and is based on Jim Dent's novel Courage Beyond The Game: The Freddie Steinmark Story.
Angelo Pizzo, a sports specialist whose screenwriting credits include Hoosiers and Rudy, directed from his adapted screenplay.
Eckhart stars as the coach of the University Of Texas American Football team whose star player is diagnosed with bone cancer.
The film opened in the US last November through Clarius Entertainment under the title My All American and Universal handles ancillary rights.
Spotlight is also talking up Bitter Harvest, an epic romance set against the backdrop of the Holodomor – Stalin's persecution of Ukrainians during the 1930s – that stars Max Irons and Samantha Barks.
The film screens today [May 11] and on Tuesday [16] in Cannes and the producers are in talks for a US release targeting more than 200 screens.
Jeremy Profe's journalism thriller The Lennon Report follows the untold true story of the New York City reporter who broke the story about the assassination of John Lennon in 1980. The producers represents US rights.
Rounding out the slate is Teeth director Mitchell Lichtenstein's paranormal gothic thriller Angelica, starring Jena Malone as a newlywed in Victorian London; and thriller Memoria from Vladimir de Fontenay and Nina Ljeti starring James Franco, about a bullied teen who is pushed too far.