2016 looks like a good vintage: Screen's chief critic and reviews editor Fionnuala Halligan dissects this year's Competition lineup…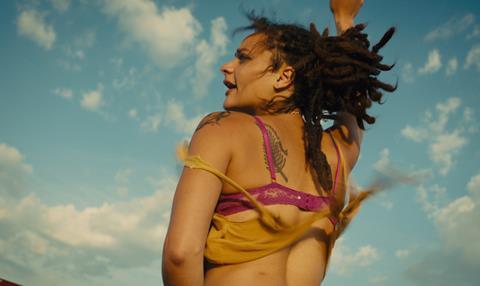 Advance word on the Cannes Competition line-up was muted this year, and smoke signals from Paris indicated that the selection was running very close to the line. Thierry Fremaux talked at the launch press conference about "loyalty" and "risk-taking" in the same breath. While these aren't two words which tend to mix well at Cannes, the festival's 2016 line-up certainly promises to deliver fresh film-making. "We know the risks we are taking," said Fremaux.
There's little doubt that Cannes 2016 looks like a good vintage. Typically of a festival which always surprises, there's no way to tell if this will be a good, bad, or - worst of all - indifferent mix until we taste. One note we won't apparently be savouring in the Competition, however, is a sense of France and its relationship with immigrant communities or the Middle East and North Africa – no films from that region are showing, and all the French titles which have been programmed seem to studiously avoid the topic.
Fremaux attempts, again, a balancing act. Cannes by the numbers shows 20 films competing, one from the US, none from China, four from France, two from the UK, three female directors. Meanwhile it's the seventh time for the Dardenne Brothers to compete, this will be Pedro Almodovar's eighth time here, while, on his 12th outing, Ken Loach might consider a Riviera time-share, "last film" or not. "There's the idea it's always the same people," acknowledged Fremaux.
There are, other, harder-to-predict, elements though: and there's a fresh feeling to Cannes 2016, some highly original film-makers, a sense that anything can happen in this global representation. As Fremaux said, "this is cinema in the spring of 2016".
Star power
Full-on Hollywood star-power has been funnelled down the 'Out of Competition' chute, where Woody Allen's Café Society, Steven Spielberg's The BFG, Jodie Foster's Money Monster (with George Clooney), and Shane Black's The Nice Guys (Ryan Gosling, Russell Crowe) will ply their wares, alongside Na Hong-Jin's Goksung, a highly-anticipated Korean blockbuster about a detective and a shaman (played by Veteran's Hwang Jung-min) which has been in post-production for more than a year.
Instead the Competition features indie-art-film stars such as Shia LaBoeuf (American Honey), Adam Driver (Paterson), Kirsten Stewart (Personal Shopper), Joel Edgerton (Loving), and, sliding up the marquee slightly, Keanu Reeves (The Neon Demon) and director Sean Penn with The Last Face, starring Charlize Theron and Javier Bardem.
With a double blast of Marion Cotillard, and Juliette Binoche, Lea Seydoux, Adele Hanel, Sonia Braga and Isabelle Huppert in strong leading roles, Cannes feeds the media while attempting to also nourish the soul. Looking at the nature of some of the lead roles, it may end up being a strong year for female actors.
Safe, but unpredictable
When you start to examine the projects individually, Cannes starts to look a little wild and unpredictable around its edges, very safe at its core: the inclusion of Alain Giraudie's (Stranger By The Lake) Rester Vertical, about a director (Damien Bonnard) who is adrift in "the heart of France", stacks up beside festival old faithfuls such as Pedro Almodovar returning to his femme roots with Julieta, or Ken Loach's social drama penned by his regular collaborator Paul Laverty. (I, Daniel Blake, stars Dave Johns as the eponymous 59-year-old joiner who needs help from the state after an illness and encounters a single mother in a similar plight – "very Loachian," said Fremaux).
Unpredictable auteurs include Nicolas Winding Refn (Drive) returning after the disliked Only God Forgives in 2013 with what the Danish director has described as "a horror film about vicious beauty". The Neon Demon stars Elle Fanning, Jena Malone, Reeves and Christina Hendricks. Then there's the UK's Andrea Arnold, back to the fray after five years (2011's Wuthering Heights premiered at Venice) with the US-shot American Honey (the first still of which is pictured above), about a runaway (Sasha Lane) who joins up with a band of teenagers who sell magazine subscriptions door-to-door. Her Fish Tank shared the Cannes Jury Prize in 2009 with Park Chan-wook, and he's back this year as well The Handmaiden, set in colonial Korea in the 1930s and based on Sarah Waters' novel Fingersmith (Assassination's Ha Jung-woo stars).
Arthouse giants and agent provocateurs
They line up alongside best-selling giants of the arthouse including Olivier Assayas, with Personal Shopper, his second English-language feature in a row after Clouds Of Sils-Maria and also featuring Kirsten Stewart. This is described as a ghost story set in the fashion world and, after Sils-Maria became such an art-house hit, will be one of the hotter Competition sales prospects (MK2 has international and has already sold widely, IFC has US rights). Jean-Pierre and Luc Dardenne's Unknown Girl features Adele Haenel (who recently won her second Cesar for Love at First Fight) as a GP who refuses to treat a young woman who is later found dead. Jeremie Renier co-stars.
Then there are the first-timers and the agent provocateurs. Maren Ade makes her bow on the Croisette and represents Germany in Competition for the first time since 2008 with Toni Erdmann, a comedy about a father trying to reconnect with his daughter. Her very fine 2009 feature Everyone Else took the Silver Bear in Berlin and she has co-produced all of Miguel Gomes' work, including the Arabian Nights trilogy. Her fellow female director, the actress Nicole Garcia, returns to Competition for the third time with Mal De Pierres (From The Land of the Moon), adapting the novel by Italian author Milena Agus which follows a woman for twenty years after the Second World War. Marion Cotillard and Louis Garrell star.
Aquarius is Brazilian director Kleber Mendonca Filho's second feature, but his first time in Cannes. He bowed with Neighbouring Sands at Rotterdam in 2012; this stars Sonia Braga as Clara, a retired music writer who lives in the titular Aquarius apartment building and indulges in a little time travel.
Spiky auteur Bruno Dumont is back, with Slack Bay (Ma Loute); he may be a Cannes habitue, but Dumont is a challenging film-maker. Few could have guessed that his comedy, L'il Quinquin, would become such a TV hit. Now, though, he's back to darker fare with this story about the disappearance of two tourists in Pas de Calais, reuniting the director with Binoche (after Camille Claudel, 1915) and also starring Valeria Bruni Tedeschi and Fabrice Luchini.
Now fully embraced by Cannes after Mommy won its Jury Prize in 2014 and he served on last year's jury, Canada's Xavier Dolan is still only 27 (and fresh off directing Adele's Hello video). It's Only The End of The World, an adaptation of Jean-Luc Lagarce's play and about a terminally ill writer who returns home after a long absence, fields a cast swollen with stars, from Gaspard Ulliel to Lea Seydoux, Marion Cotillard, Vincent Cassel, and Nathalie Baye.
Added frisson
It's a truth universally acknowledged that Brillante Mendoza trots his features out, but it is unlikely that Cannes would have elevated Ma Rosa to Competition unless it had distinguishing features – and anyone who remembers Serbis unspooling at the Palais will be interested to see what these are. Sean Penn has proved himself to be a fine-filmmaker and also a quote-giver par excellence, so the Palais should fill with the sounds of his film and fury when his The Last Face plays out. It stars Charlize Theron as the director of an international aid organisation in Liberia who embarks on an affair with a doctor, played by Javier Bardem. Penn, Bardem, Theron and producer Bill Pohlad are all Oscar winners, so this is certainly a pedigree production.
Paul Verhoeven adds a frisson with his first full-length feature since Black Book in 2006, promising riches in Elle, the adaptation of a thriller by the same author as Betty Blue (Philippe Dijan). Isabelle Huppert stars as a businesswoman who is attacked late one night but soon moves to turn the tables and take control. Paterson, by Jim Jarmusch (returning after Only Lovers Left Alive in 2013) was described as "very Jarmuschian" by Fremaux and stars Adam Driver as a bus driver with the heart of a poet. In a lovely casting coup, Golshifteh Farahani plays his wife.
2016 is certainly Jeff Nichols's year – sci-fi thriller Midnight Special just played in Berlin this February, and has won over critics and audiences globally ever since. Now he has written and directed Loving, featuring Joel Edgerton and Ruth Negga as Mildred and Richard Loving, the inter-racial couple who were told they could either be jailed for nine years or leave Virginia when they married. They're the couple behind the seminal 1967 civil rights case Loving vs. Virginia, and their story should still have a strong resonance today.
Romanian heavyweights
The US may only have one feature competing, China none, and Russia also nil, but Romania manages two this year. Cristian Mungiu's Bacalaureat (Family Photos) and Sierra-Nevada from Cristi Puiu are very much a double-threat when it comes to prizes. It has been four years since Beyond The Hills, and appetites are certainly whetted for Mungiu's film, a supposedly semi-autobiographical tale of the trials of fatherhood in a small Romanian town. It features, unusually for the director, a male lead, played by Vlad Ivanov.
Sierra-Nevada, meanwhile, marks Cristi Puiu's first time in Competition, although 2005's The Death of Mr Lazarescu won the Un Certain Regard prize. (His last film, 2013's Three Exercises of Interpretation, was little-seen). This is about grief and loss and is apparently inspired by Aurel Rau's poem The Agathirsoi.
With Director's Fortnight and Critic's Week yet to announce, it's too early to say what has been shut out of Cannes, or what was shuffled over to Un Certain Regard and why. What's in though, is what counts now, as the clock starts to tick in earnest towards May 12.