The full line-up of world premieres In Competition at the 69th Cannes Film Festival with details on each title including sales contacts.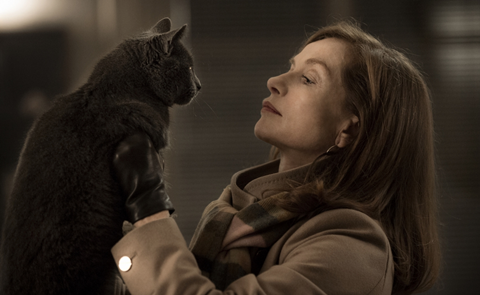 American Honey (UK-US)
Dir Andrea Arnold
UK director Arnold — one of three women film-makers in Competition — returns to Cannes after her double Jury Prize winners, Fish Tank (2009) and Red Road (2006). Buzzy Texas-born newcomer Sasha Lane stars alongside Shia LaBeouf and Riley Keough in the story of a gang of teenagers in the US who sell magazine subscriptions by day and party hard by night. A stickler for authenticity, Arnold clocked up 12,000 miles shooting the film on location in the Midwest. A24 has US rights to American Honey, which is produced by Parts & Labor, Pulse Films and ManDown Pictures, with financing from Maven Pictures, BFI and Film4.
Contact Protagonist Pictures info@protagonistpictures.com
Aquarius (Bra-Fr)
Dir Kleber Mendonca Filho
In his 2012 foreign-language Oscar submission and arthouse darling Neighboring Sounds, Brazilian director Filho explored the impact of a security firm call-out to an apartment building. For his follow-up and Competition debut, the former film critic broadens his horizons somewhat with the story of a 65-year-old widow's war of attrition with developers who want to throw her out of her home. This sparks an intense personal reaction — and the ability to time travel. Sonia Braga, the titular character in 1985 romance Kiss Of The Spider-Woman, stars.
Contact SBS International s.borchjacobsen@sbs-productions.com
Elle (Fr-Ger-Bel)
Dir Paul Verhoeven
Verhoeven, the Dutch film-maker behind genre classics RoboCop and Total Recall, returns with his first full-length feature in 10 years, after 2006's Black Book. The director has appeared in Competition once before, with his 1992 erotic thriller Basic Instinct, starring Sharon Stone. Cannes favourite Isabelle Huppert leads the cast of this thriller, playing the head of a videogame company who, after being attacked by a home invader, sets about tracking down her assailant. The film was produced by Said Ben Said's SBS Productions with Michel Merkt.
Contact SBS International s.borchjacobsen@sbs-productions.com
From The Land Of The Moon (Fr)
Dir Nicole Garcia
The third film from actor-director Garcia to screen in Competition, following 2006's Charlie Says and 2002's The Adversary, stars Marion Cotillard who also appears in Competition in Xavier Dolan's It's Only The End Of The World. From The Land Of The Moon (Mal De Pierres) is an adaptation of Milena Agus' novel, which spans 20 years after the Second World War and details a free-spirited woman in a loveless marriage who falls for another man. Louis Garrel co-stars.
Contact Studiocanal anna.marsh@studiocanal.com
Graduation (Rom-Fr)
Dir Cristian Mungiu
Graduation is Romanian director Mungiu's third film to screen in Competition following 4 Months, 3 Weeks & 2 Days in 2007, which won the Palme d'Or, and Beyond The Hills, which scooped him best screenplay and joint best actress for its leads in 2012. Graduation (Bacalaureat) is a family drama focusing on a small-town doctor and his psychology student daughter, who is assaulted just before an important exam. Mungiu's own Mobra Films produced together with France's Why Not Productions and Wild Bunch.
Contact Wild Bunch obarbier@wildbunch.eu
The Handmaiden (S Kor-Jap)
Dir Park Chan-wook
Park (Sympathy For Lady Vengeance, Stoker) returns to Competition for the first time since 2009's Thirst, which won the Jury Prize (as did the Korean director's festival debut Oldboy six years earlier). The Handmaiden (Agassi) sees the film-maker reteaming with Oldboy producer Syd Lim and is an adaptation of UK novelist Sarah Waters' 2002 Man Booker Prize-shortlisted novel The Fingersmith. It follows a Japanese heiress who falls in love with a female petty thief. CJ Entertainment sold a raft of territories on the lesbian-themed drama at EFM in February, including US rights to Amazon Studios.
Contact CJ Entertainment erickim@cj.net
I, Daniel Blake (UK)
Dir Ken Loach
Cannes regular Loach returns for a record 13th Competition berth with this tale of an injured carpenter and single mother caught in a bureaucracy nightmare within the UK welfare system. The film marks Loach's latest collaboration with screenwriter Paul Laverty, who wrote Loach's 2006 Palme d'Or winner The Wind That Shakes The Barley. Since Kes screened in Critics' Week in 1970, the social-realist UK film-maker has screened 16 films at Cannes and has clinched the Jury Prize three times, most recently in 2012 with The Angels' Share.
Contact Wild Bunch obarbier@wildbunch.eu
It's Only The End Of The World (Can-Fr)
Dir Xavier Dolan
If the title suggests a certain insouciance, it's a far cry from the gravity with which the French-Canadian wunderkind regards his own giddying trajectory. The prodigious talent, still aged just 27, returns with his third Competition entry and his fifth film to premiere on the Croisette (he won the Jury Prize two years ago with Mommy). The family drama stars Marion Cotillard, Léa Seydoux, Gaspard Ulliel and Vincent Cassel. Dolan starts production in July on his English-language debut The Death And Life Of John F Donovan with Jessica Chastain and Kit Harington.
Contact Seville International anickp@filmsseville.com
Julieta (Sp)
Dir Pedro Almodovar
Almodovar's 21st feature as writer-director is also his fifth to play in Competition, and first since 2011's The Skin I Live In. The Spanish auteur won the best director prize for his Cannes debut All About My Mother and best screenplay for 2006's Volver. His latest — which opened in Spain in April to lukewarm box office (brother Agustin blamed the film's soft performance on their association with the Panama Papers scandal, see interview, page 38) — is a female-centric story of loss and grief adapted from three short stories by Canadian writer Alice Munro. The eponymous heroine (played at different ages by Adriana Ugarte and Emma Suarez) is continually on the verge of being overwhelmed by her mysterious past.
Contact FilmNation Entertainment info@wearefilmnation.com
The Last Face (US)
Dir Sean Penn
One of the must-see acquisition titles in official selection for US buyers, the romance about two humanitarians in war-torn Africa reunites Penn with River Run Entertainment head Bill Pohlad for the fourth time in his multi-hyphenate career. Charlize Theron and Javier Bardem star in what promises to be a compassionate tale that wears its heart on its sleeve, if the directorial track record of the activist, two-time best actor Oscar winner and El Chapo drinking buddy is anything to go by. Penn's 2001 The Pledge also played in Competition, while his 1991 directorial debut The Indian Runner appeared in Directors' Fortnight.
US contact CAA info@caa.com; WME Global info@wmeentertainment.com
International contact Lionsgate International sales@lionsgate.com
Loving (US-UK)
Dir Jeff Nichols
Just three months after Midnight Special played in Competition at Berlin, Nichols is set to debut his civil-rights drama based on the true story of an interracial couple — played by Ruth Negga and Joel Edgerton — who were jailed in Virginia in 1958 for breaking state laws by getting married. It marks Nichols' third time at Cannes after Take Shelter, which played in Critics' Week in 2011, and Mud, which competed for the Palme d'Or in 2012. Loving is co-produced by the US's Big Beach Films with Ged Doherty and Colin Firth's UK outfit Raindog Pictures. Focus Features has US rights.
Contact Insiders sales@insiders-films.com
Ma' Rosa (Phil)
Dir Brillante Mendoza
Filipino auteur Mendoza, known for his focus on the margins of society, returns with his fifth film to be shown at Cannes. Ma' Rosa centres on a poor mother-of-four in Manila who sells drugs on the side to make ends meet. It sees Mendoza reunite with Jaclyn Jose, having worked with the veteran actress on Service, which played in Competition in 2008. The director was first on the Croisette in 2007 with Foster Child in Directors' Fortnight and became the first Filipino film-maker to win the best director award with Kinatay in 2009.
Contact Films Distribution info@filmsdistribution.com
The Neon Demon (Fr-US-Den)
Dir Nicolas Winding Refn
Winding Refn took the best director prize when Drive played in Competition five years ago and the Danish director will be hoping for a favourable reaction to his latest dark dramatic thriller after Only God Forgives encountered rough waters at the 2013 festival. Elle Fanning and Jena Malone star as, respectively, a teenage ingenue trying to crack Los Angeles' cutthroat model scene and the make-up artist-slash-mortician who takes her under her wing. Exploring the city's vicious obsession with beauty, the intensely stylised film features another mesmerising score from regular musical collaborator Cliff Martinez and compelling turns from the two leads. Winding Refn produced with his Space Rocket Nation partner Lene Borglum, Wild Bunch's Vincent Maraval and Gaumont CEO Sidonie Dumas.
Contacts Wild Bunch obarbier@wildbunch.eu Gaumont mpereira@gaumont.com
Paterson (US)
Dir Jim Jarmusch
The US indie legend has presented six films in Competition over the last three decades and, possibly as a result of withdrawal symptoms following a three-year hiatus since Only Lovers Left Alive, returns with two for the Croisette. The fictional portion of Jarmusch's 2016 salvo sees Adam Driver play a poetic bus driver (the director is also in Midnight Screenings with Iggy Pop documentary Gimme Danger). The film-maker began his association with the Croisette in 1984, when he won the Camera d'Or for Stranger Than Paradise. Paterson is one of five Amazon Studios titles in Competition.
Contact K5 Media Group info@k5mediagroup.com
Personal Shopper (Fr)
Dir Olivier Assayas
Assayas marks his fourth appearance in Competition — with Clouds Of Sils Maria his most recent bow in 2014 — with this ghost story set in Paris's fashion underworld. The director has reteamed with Kristen Stewart, who won a César for her supporting turn in Clouds Of Sils Maria, this time as the lead. Prolific producer Charles Gillibert, whose recent credits also include Mustang, Eden and Xavier Dolan's Tom At The Farm, has produced Assayas' last two films, and co-produced the two before that, Something In The Air and Summer Hours.
Contact MK2 Films intlsales@mk2.com
The Salesman (Iran-Fr)
Dir Asghar Farhadi
Iranian film-maker Farhadi returns to Cannes with his follow up to 2013's The Past, for which Bérénice Bejo won the best actress award. This new drama is about a couple in a touring production of Death Of A Salesman whose relationship turns violent. Long-time Farhadi collaborators Taraneh Alidoosti, who played the eponymous role in About Elly, and Shahab Hosseini, who appeared in Farhadi's Golden Bear and Oscar-winning A Separation, co-star as the central couple.
Contact Memento Films International sales@memento-films.com
Sieranevada (Rom-Fr)
Dir Cristi Puiu
Puiu's Stuff And Dough played in Directors' Fortnight in 2001, but it was his drama The Death Of Mr Lazarescu that put new Romanian cinema on the world map when it won the Un Certain Regard prize in 2005; Aurora, in which Puiu starred, played in the same section five years later. His latest film is about a neurologist facing a family showdown in Bucharest following the death of his father. Producers are Anca Puiu for Mandragora and Laurence Clerc and Olivier Théry-Lapiney for Alcatraz Films.
Contact Elle Driver adeline@elledriver.eu
Slack Bay (Fr-Ger)
Dir Bruno Dumont
Having unexpectedly reinvented himself as a comic director with TV miniseries P'tit Quinquin (shown in Directors' Fortnight in 2014), Dumont reunites with Juliette Binoche, star of his Camille Claudel 1915, for an offbeat comedy situated again on northern France's Opal Coast. Set in 1910, the story pits locals (played, characteristically for Dumont, by non-professionals) against a snooty family of holidaymakers, notably star names Fabrice Luchini and Valeria Bruni Tedeschi. Dumont has been a prime Cannes provocateur since his second feature Humanity played in Competition in 1999. Slack Bay (Ma Loute) appears likely to be more of an audience pleaser than is usual for the French film-maker.
Contact Memento Films International sales@memento-films.com
Staying Vertical (Fr)
Dir Alain Guiraudie
Guiraudie's Cannes debut Stranger By The Lake took the Queer Palm and the Un Certain Regard directing award in 2013, among a slew of other festival prizes. Staying Vertical is the story of a film-maker, played by Damien Bonnard, searching for a wolf in the south of France. Embarking on an affair with a shepherdess who subsequently abandons him, he is left to care for their newborn child in a wilderness. Sylvie Pialat and Benoit Quainon produced for Les Films du Worso. Financiers included CNC, Canal Plus and Arte France. Les Films du Losange will release in France in August.
Contact Wild Bunch obarbier@wildbunch.eu
Toni Erdmann (Ger-Aust)
Dir Maren Ade
It has been seven years since 39-year-old German director Ade's Berlin Silver Bear winner Everyone Else, an edgy relationship drama that scored distribution in more than 20 countries. Her third feature, Toni Erdmann, is another in-depth character study about a music teacher who tries to correct the over-serious nature of his career-focused daughter with a barrage of jokes. Sandra Hüller (Requiem) plays the daughter, veteran Austrian theatre actor Peter Simonischek the father. Majority produced by Ade's own Komplizen Film, which has worked with Miguel Gomes among others, this is the only new German-language title to feature in the official selection.
Contact The Match Factory info@matchfactory.de
The Unknown Girl (Bel-Fr)
Dirs Jean-Pierre and Luc Dardenne
The Dardenne brothers have been Competition fixtures since Rosetta won the Palme d'Or in 1999. Their 10th fiction feature is also their third to star an established female name: following Cécile de France (The Kid With The Bike) and Marion Cotillard (Two Days, One Night), it is the turn of Adele Haenel, as a doctor whose life is changed by the death of a young girl near her practice. Haenel recently wowed Cannes in Les Combattants (Directors' Fortnight), Suzanne (Critics' Week) and In The Name Of My Daughter (out of competition); this could be her big breakthrough as a lead.
Contact Wild Bunch obarbier@wildbunch.eu