The full line-up of world premieres playing in Un Certain Regard at the 69th Cannes Film Festival with details on each title including sales contacts.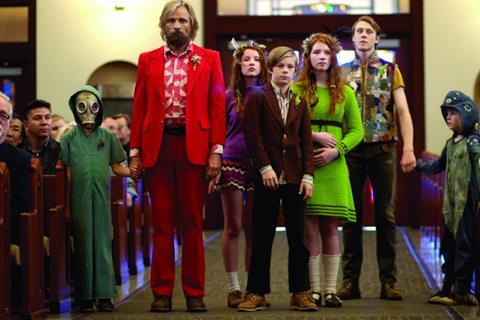 After The Storm (Jap)
Dir Hirokazu Kore-eda
Japanese director Kore-eda is back in Cannes for the second year running (and fourth time in total) following 2015's Our Little Sister. This family drama focuses on a prize-winning author who, after his star has faded, wastes the money he makes as a private detective on gambling and struggles to pay his child support. When a strong storm hits one night, he is afforded the opportunity to bond with his family again. Lead actress Kirin Kiki starred in both Our Little Sister and Naomi Kawase's An at Cannes last year.
Contact Wild Bunch obarbier@wildbunch.eu
Apprentice (Sing-Ger-Fr-HK-Qat)
Dir Boo Junfeng
Singaporean film-maker Boo tackles the subject of capital punishment in his second feature, which follows a 28-year-old correctional officer transferred to a maximum-security prison where he becomes friends with the chief executioner. Produced locally by Akanga Film Asia, Peanut Pictures and Zhao Wei Films, and co-produced by Augenschein Filmproduktion (Germany) and Cinéma Defacto (France), Apprentice marks the second Cannes invitation for Boo, whose feature debut Sandcastle screened in Critics' Week in 2010.
Contact Luxbox fiorella@luxboxfilms.com
Beyond The Mountains And Hills (Isr-Bel-Ger)
Dir Eran Kolirin
Israeli director Kolirin returns to Cannes for the first time since his debut feature The Band's Visit also premiered in Un Certain Regard in 2007. The plot follows an Israeli soldier who is discharged from the army following 27 years of service. As he tries to reacquaint himself with the civilian world, and to establish himself in the business sector, the veteran finds that modern-day Israel is more difficult to adapt to than he anticipated.
Contact The Match Factory info@matchfactory.de
Captain Fantastic (US)
Dir Matt Ross
Actor-turned-director Ross returns with his second feature behind the camera following 28 Hotel Rooms in 2012. Captain Fantastic premiered at Sundance in January and has distribution in several territories, including Universum in Germany and Bleecker Street in the US. Viggo Mortensen stars as a father of six who leaves his reclusive existence in the forests of the Pacific Northwest to enter the wider world after the death of his wife. Cinematographer Stéphane Fontaine is also at Cannes with Paul Verhoeven's Elle.
Contact Sierra/Affinity info@sierra-affinity.com
Clash (Egy-Fr-Ger-UAE)
Dir Mohamed Diab
Set in an overcrowded police riot-truck packed with 25 pro- and anti-Muslim Brotherhood demonstrators, Diab's political thriller explores the political unrest in Egypt following the removal of president Mohamed Morsi in 2013. Clash (Eshtebak) is a co-production between Film Clinic (Egypt), Sampek Productions (France), EMC Pictures (UAE), NiKo Film (Germany) and Fortress Film Clinic (UAE), and is being distributed in Egypt by Al-Masa. Pyramide International will distribute the film in France, and also holds the rights for other territories. Diab's credits include Cairo 678.
Contact Pyramide International avalentin@pyramidefilms.com
The Dancer (Fr)
Dir Stéphanie Di Giusto
Di Giusto's debut feature is based on the true story of Loie Fuller, the US creator of the so-called Serpentine Dance who was the toast of the Folies Bergeres at the turn of the 20th century and an inspiration for artist Henri de Toulouse-Lautrec and the Lumiere brothers. The film revolves around her complicated relationship with protégé and rival Isadora Duncan. French pop star and actress Soko — much praised for her performance in Alice Winocour's Cannes 2012 title Augustine — will co-star as Fuller opposite Lily-Rose Depp as Duncan.
Contact Wild Bunch obarbier@wildbunch.eu
Dogs (Rom-Fr)
Dir Bogdan Mirica
Romania's Mirica makes his feature directing debut with this story of a young man from the big city whose plans to sell a patch of land inherited from his grandfather are complicated when he learns the old man was a local crime lord and his gang will not give it up without a fight. Lead actor Dragos Bucur was in Cristi Puiu's Cannes 2005 Un Certain Regard winner The Death Of Mr Lazarescu and Peter Weir's The Way Back, while the gang leader is played by Vlad Ivanov, who featured in Cristian Mungiu's Palme d'Or winner 4 Months, 3 Weeks & 2 Days and Calin Peter Netzer's Berlin Golden Bear winner Child's Pose.
Contact Bac Films sales@bacfilms.fr
The Happiest Day In The Life Of Olli Maki (Fin-Ger-Swe)
Dir Juho Kuosmanen
After two Cinefondation-selected shorts, Kuosmanen makes his feature debut with this film inspired by the real life of Olli Maki, the first Finn to fight for the world championship in featherweight boxing, who is distracted by his first love on the day of the big fight. Jarkko Lahti, Oona Airola and Eero Milonoff star in the black-and-white film, which shot on 16mm. B-Plan will release in Finland in September, with theatrical releases also secured for Germany, France and Denmark. The Finland-Germany-Sweden co-production is produced by Aamu Film Company, One Two Films, Tre Vanner and Film Vast.
Contact Les Films du Losange b.vincent@filmsdulosange.fr
Harmonium (Jap-Fr)
Dir Koji Fukada
Japanese director Fukada, who has toured much of the festival circuit with films including Hospitalité and Au Revoir l'Eté, screens in Cannes for the first time with his psychological thriller about a man who hires an old acquaintance at his workshop, only for the ex-convict to begin meddling in his family affairs. Starring Tadanobu Asano (Journey To The Shore), the film is co-produced by Nagoya Broadcasting Network and France's Comme des Cinemas (co-producer of Naomi Kawase's An and Kiyoshi Kurosawa's Journey To The Shore).
Contact MK2 Films intsales@mk2.com
Hell Or High Water (US)
Dir David Mackenzie
The story of a divorced father and his ex-con brother who resort to a desperate scheme in order to save their family farm in Texas was written by Taylor Sheridan, who scripted Denis Villeneuve's Cannes 2015 Competition title Sicario. Chris Pine, Ben Foster and Jeff Bridges star. UK director Mackenzie, whose most recent feature was 2014 prison drama Starred Up, debuted Young Adam at Cannes in 2003. Hell And High Water is produced by the US's Film 44 and Sidney Kimmel Entertainment. CBS Films has US rights.
Contact Sierra/Affinity info@sierra-affinity.com
Inversion (Iran)
Dir Behnam Behzadi
Perhaps best known as the co-writer of Bahman Ghobadi's Half Moon (2007), Iranian director Behzadi was an under-the-international-radar director of shorts and TV movies until his first two features, Before The Burial (2008) and Bending The Rules (2013), began to earn him some cineaste traction. Inversion (Varoonegi), a drama about a young unmarried woman who comes under pressure from her older siblings to move to the country with their ailing mother, represents his first major festival berth. It is also another feather in the cap of production company Noori after solid festival players Tales, Wednesday, May 9 and Nahid.
Contact Noori Pictures info@nooripictures.com
The Long Night Of Francisco Sanctis (Arg)
Dirs Francisco Marquez, Andrea Testa
The debut feature from Marquez and Testa explores a milieu that will be all-too familiar to Argentinians of a certain age. Based on Humberto Costantini's dark, faintly absurdist novel, the film centres on a Buenos Aires bookkeeper during the height of his country's reign of political terror who sets off to warn two people who he believes are about to be kidnapped by the secret police.
Contact Films Boutique info@filmsboutique.com
Pericle The Black (It)
Dir Stefano Mordini
Based on Giuseppe Ferrandino's international bestseller of the same name, this contemporary noir about a Neapolitan mob enforcer who becomes a marked man when he botches a mission has finally reached the screen under director Mordini (2012's Acciaio), after having been attached to, among others, Abel Ferrara. Riccardo Scamarcio, who produced with Valeria Golino, plays the lead role. The Dardenne brothers co-produced under their Les Films du Fleuve banner in an adaptation that has mostly moved the novel's action from Naples and Pescara to Brussels.
Contact Rai Com sales@rai-com.com
Personal Affairs (Isr-Pal Terr)
Dir Maha Haj
One of two Israeli titles in this year's Un Certain Regard selection, this Arabic-language drama depicts a family across three generations, one of whom is a film director, living in modern-day Palestine. Director Haj, making her feature debut, is a Palestinian citizen of Israel. Personal Affairs is one of only seven female-directed films in official selection.
Contact Films Boutique info@filmsboutique.com
The Red Turtle (Fr-Jap-Bel)
Dir Michael Dudok De Wit
UK-Dutch animator De Wit makes his feature animation debut after a series of critically acclaimed shorts including the Oscar-winning Father And Daughter. The Red Turtle also marks Studio Ghibli's first international co-production, with De Wit making the film in collaboration with Isao Takahata. The fantastical tale centres on a man marooned on a desert island who tries to escape until he encounters a strange turtle. The screenplay was co-written by Pascale Ferran, who was at Cannes in 2014 with Bird People.
Contact Wild Bunch obarbier@wildbunch.eu
The Stopover (Fr-Gre)
Dirs Delphine and Muriel Coulin
The second feature by the French film-making sisters, who were in Critics' Week 2011 with 17 Girls, is adapted from a novel by Delphine Coulin. It centres on two female soldiers fresh, from a tour of duty in Afghanistan, who are given three days of leave at a five-star resort in Cyprus before returning home. The cast includes French pop star and actress Soko (star of UCR title The Dancer) and Greece's Ariane Labed, who won the best actress award at Venice in 2010 for Attenberg and appears in the upcoming Assassin's Creed.
Contact Films Distribution info@filmsdistribution.com
The Student (Rus)
Dir Kirill Serebrennikov
The new film from theatre and film director Serebrennikov is based on the Gogol-Centre Theatre's play Martyr written by Germany's Marius von Mayenburg. It is about a troubled student's relationship with his teachers and peers. Serebrennikov, also the artistic director of Moscow's Gogol-Centre Theatre, has received exposure on the festival circuit: Playing The Victim won best film at the 2006 Rome Film Festival, while Betrayal competed for Venice's Golden Lion in 2012.
Contact Wide infos@widemanagement.com
The Transfiguration (US)
Dir Michael O'Shea
O'Shea's debut feature is an atmospheric New York-set horror film starring newcomers Eric Ruffin and Chloe Levine. The film was produced by Susan Leber, whose credits include Debra Granik's Sundance winner Down To The Bone and Ti West's debut feature The Roost.
Contact Protagonist Pictures info@protagonistpictures.com