In our final instalment before this year's Cannes Film Festival, we look back at the highs and lows of Screen's 2015 Jury Grid.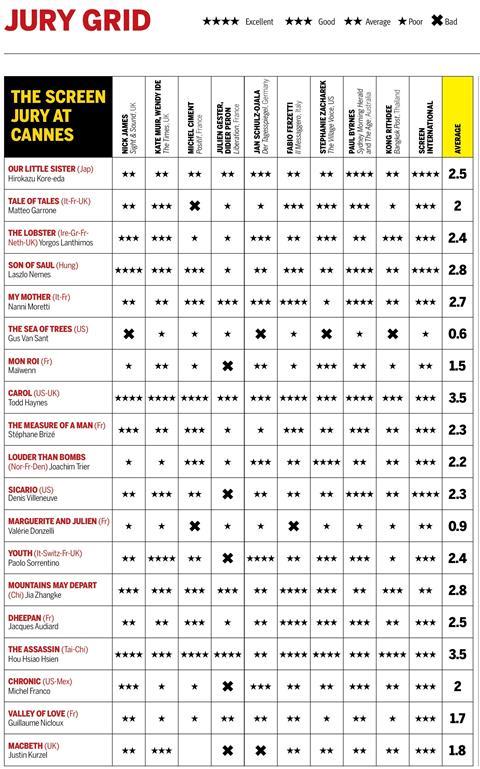 Last year, as ever, Screen's Jury Grid of critics cast their judgements on the films in Competition at Cannes.
It was a year for strong women, on screen at least, as Todd Haynes' winter romance Carol and Hou Hsiao-Hsien's refined martial arts film The Assassin tied for first place on the Jury Grid.
Haynes was awarded the festival's Queer Palm for the adaptation of Patricia Highsmith's 1950's lesbian love story 'The Price of Salt', and The Assassin won best director for Cannes first-timer Hsiao-Hsien. The films both scored 3.5 apiece out of a possible 4, but neither claimed the festival's top prize.
Instead the Palme d'Or went to Jacques Audiard's Paris-set immigrant drama Dheepan, which scored 2.5 on the Jury Grid. Dheepan was Audiard's fourth to appear in Competition at Cannes but his first to win the festival's top honour.
Next up on the Jury Grid was another draw, this time between Laszlo Nemes' ambitious Holocaust drama Son of Saul and Jia Zhangke's melancholy epic Mountains May Depart, both clocking 2.8 out of 4.
Son of Saul, which would go on to win the 2016 Best Foreign Language Film Oscar, took the festival's second prize, the Grand Prix, as well as the FIPRESCI prize, while Zhangke was awarded the Golden Coach for his contribution to independent cinema.
Following closely behind were intimate family drama My Mother, with 2.7, and dystopian black comedy The Lobster, with 2.4, by Greece's Yorgos Lanthimos. My Mother was Nanni Moretti's seventh film to compete for the Palme d'Or, whilst The Lobster, which won the Jury Prize, was Lanthimos' English-language debut and his first appearance at Cannes.
The festival was again criticized for the lack of female directors represented. There were only two in the main competition - Valerie Donzelli with aristocratic romance Marguerite And Julien, which the critics gave a lowly 0.9 and France's Maiwenn with My King, which fared a little better with 1.5.
Only one film impressed the critics even less than Donzelli's, Gus Van Sant's The Sea of Trees, which scored a measly 0.6. The suicide drama set an unwelcome 12-year low for the Jury Grid and racked up four dreaded X's (no scores).
Van Sant has fared significantly better at the Croisette in the past. He has had five films in competition and won prizes for three of them, including 2003's Elephant, which won him both the Palme d'Or and best director.
The critics were less unanimous with their verdicts on Denis Villeneuve's crime-thriller Sicario and Paolo Sorrentino's comedy dramaYouth. Both films earned everything from zero to the full four stars, and ended up mid-grid with 2.3 and 2.4.
While none of the directors are back in Competition this year, several of them have projects in production that could see them return to the Croisette in 2017.