Official Selection for 2015 line-up completed with extra titles for Competition, Un Certain Regard, Special Screening and Midnight Screening strands.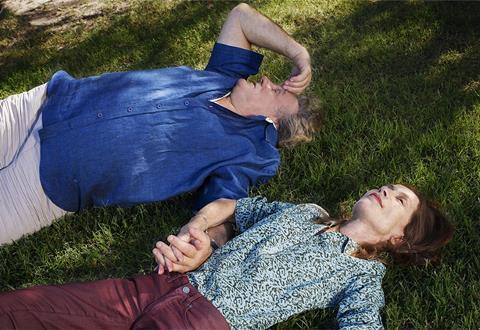 The 68th Cannes Film Festival has completed its Official Selection. Headlining the additions are two more Competition titles, taking the number of films in the running for the Palme d'Or up to 19.
The first is Chronic by Mexican director Michel Franco, starring Tim Roth and Bitsie Tulloch (Grimm). The film marks Franco's English-language debut and centres on a depressed nurse practitioner who assists terminally ill patients and tries to reconnect with the family he abandoned. Wild Bunch handles sales
Franco and Roth decided to work together after meeting at Cannes in 2012, where the film-maker's previous feature After Lucia won Un Certain Regard and Roth served on the jury.
The Mexican filmmaker was also in the running for Cannes' Golden Camera in 2009 with his debut feature, Daniel and Ana.
The second title is The Valley of Love, starring Isabelle Huppert and Gérard Depardieu, from French novelist, director and actor Guillaume Nicloux.
Nicloux won the Best Screenplay Award at Tribeca last year for The Kidnapping of Michel Houellebecq, a comedic interpretation of a rumoured abduction of the titular writer, starring Houellebecq as himself. His previous film, The Nun, played in Competition at Berlin 2013.
In The Valley Of Love, Huppert and Depardieu play Gérard and Elle, two famous actors who used to be a couple and had a son 25 years ago. They reunite after their son's death and receive a letter from him in which he arranges a meeting in Death Valley, in the very heart of the US. Sales are handled by Le Pacte.
Huppert stars in a second Competition title, Joachim Trier's Louder Than Bombs. Cannes veteran Depardieu was on the Croisette last year with Abel Ferrara's controversial Welcome To New York, an immodestly-veiled take on the Dominique Strauss-Kahn scandal.
Midnight/Special Screenings
Gaspar Noé, who has been in Official Selection at Cannes five times since 1991, returns with Love, which the Argentinan filmmaker has described as "a love story seen from a sexual point of view". Noé was previously in the running for the Palme d'Or with Irréversible (2002) and Enter The Void (2009).
French director Robert Guédiguian, who was in Competition in 2002 with Marie-Jo and Her 2 Lovers and in Un Certain Regard in 2011 with The Snows of Kilimanjaro, returns with Don't Tell Me the Boy Was Mad (Une histoire de fou) about a French-Armenian boy who turns to terrorism.
Un Certain Regard
Opening this year's Un Certain Regard will be Naomi Kawase's An, about the friendship between a baker and an old lady who bond over a passion for traditional red bean pastries.
The Japanese filmmaker won Cannes' Golden Camera in 1997 with Suzaku and has been Palme d'Or nominated four times with Shara (2003), The Mourning Forest (2007) (which won the Grand Jury Prize), Hanezu (2011) and Still the Water (2014).
Thailand's Apichatpong Weerasethakul, who won the Palme d'Or in 2010 with Uncle Boonmee Who Can Recall His Past Lives, returns with Cemetery of Splendour, which tells of a lonesome middle-age housewife who tends a soldier with sleeping sickness and falls into a hallucination that triggers strange dreams, phantoms, and romance.
The Philippines' Brillante Mendoza also returns to Cannes with Taklub, the story of survivors of typhoon Yolanda, how they survived, how they picked up almost one year after the storm. The cast is led by Nora Aunor, the star of Mendoza's Thy Womb. The two-time Palme d'Or nominated director previously won best director at Cannes with Kinatay (2009).
Lamb by Yared Zeleke, marks the first time a film from Ethiopia has been chosen for Official Selection. The coming-of-age drama about nine-year-old Ephraim and his constant companion, a sheep named Chuni, marks the feature debut of Zeleke.
Alias Maria by Colombian director José Luis Rugeles revolves around 13-year-old guerrilla fighter Maria who runs away from her commander on discovering she is pregnant to avoid being forced to abort.
Through Maria's eyes, Rugeles paints a picture of the devastating consequences of Colombia's armed conflict: towns ravaged by massacres, peasants trapped in the cross-fire, parents who have lost their children, and kids trying to grow up normally amid the carnage. Urban Distribution International handles sales.
Full list of additions
IN COMPETITION
Chronic by Michel Franco
The Valley of Love by Guillaume Nicloux
UN CERTAIN REGARD
Alias Maria by José Luis Rugeles
Taklub by Brillante Mendoza
Lamb by Yared Zeleke
Cemetery of Splendour by Apichatpong Weerasethakul
AN by Naomi Kawase, will be presented in Opening of Un Certain Regard
SPECIAL SCREENING
Don't Tell Me the Boy Was Mad (Une histoire de fou) by Robert Guédiguian
MIDNIGHT SCREENING
Love by Gaspar Noé