Justine Triet's In Bed With Victoria to open Critics' Week; Chloë Sevigny's Kitty one of three closing films.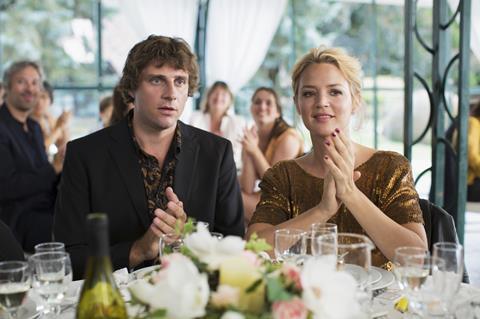 Scroll down for full list
Cannes Critics' Week, devoted to first and second features, has unveiled the line-up for its 55th edition (May 12-20), following the announcement of the festival's Official Selection last week.
The parallel section will open with Justine Triet's comedy-drama In Bed With Victoria, which centres on a beautiful Parisian criminal lawyer in her late 30s who is a self-centred workaholic and sex addict, played by Virginie Efira.
It marks the second feature from French filmmaker Triet, whose Cesar-nominated Age of Panic opened in the ACID section in 2013, and is handled by Indie Sales with French distribution by Le Pacte.
In total, 1,100 features were submitted for consideration.
The seven features chosen to play in competition represent a mix of titles from Turkey, France and Spain to Cambodia, Israel, Lebanon and Singapore.
Album, the feature debut of Turkey's Mehmet Can Mertoğlu, is a black comedy in which a married couple have to deal with the bureaucracy of Anatolia while looking to adopt a baby. The Match Factory handles sales and it will be distributed in France by Le Pacte.
Diamond Island is the second feature of Cambodian-French filmmaker Davy Chou and centres on a man who leaves his village and joins his mysterious older brother at the worksites of the modern Diamond Island, where he is introduced to the exciting world of the country's wealthy. Les Films du Losange is handling sales.
Raw is the feature debut of French director Julia Ducournau, who won a Critics' Week prize for her short Junior in 2011. The film follows a 16-year-old, played by Garance Marillier, who turns to cannibalism. Wild Bunch handles sales.
Mimosas, from Morocco-based Spanish filmmaker Olivier Laxe, returns to Cannes with his second film, set against the backdrop of the Atlas Mountains, having premiered his debut work You Are All Captains in Directors' Fortnight in 2010, winning the FIPRESCI prize.
One Week And A Day is a black comedy from Israeli-US filmmaker Asaph Polonsky, making his feature debut with a story of a grieving father, who finishes the week of mourning for his late son and is urged by his wife to return to their routine but instead gets high with a young neighbour.
Tramontane, the feature debut of Lebanon's Vatche Boulghourjian, centres on a blind man on the trail of his origins in post-war Lebanon. Sales are handled by The Bureau Sales.
A Yellow Bird, the first feature of Singapore's K. Rajagopal, follows the journey of a man fresh out of prison who attempts to reconnect with those he has hurt including his mother, ex-wife and daughter. Alpha Violet handles sales.
Three short films from actresses making their directorial debuts will make up the closing films: Sandrine Kiberlain's Smile; Laetitia Casta's En Moi; and Kitty from US actress Chloë Sevigny.
Marking its 55th edition, Critics' Week is to highlight two filmmakers discovered at the Cannes sidebar: Colombia's Cesar Agusto Acevedo with Los Pasos de agua and Israel's Nadav Lapid with From the Diary of a Wedding Photographer.
As previously announced, Valérie Donzelli will preside over a jury comprising Alice Winocour, Nadav Lapid, David Robert Mitchell and Santiago Mitre.
They will bestow the Nespresso Grand Prize, the France 4 Visionary Award and the Leica Cine Discovery Prize for best short film.
Critics' Week 2016
OPENING FILM
In Bed With Victoria, Justine Triet (France)
CLOSING FILMS (SHORTS)
Smile (Bonne Figure), Sandrine Kiberlain (France)
En Moi, Laetitia Casta (France)
Kitty, Chloë Sevigny (US)
FEATURE FILMS IN COMPETITION
Albüm, Mehmet Can Mertoğlu (Turkey) *
Diamond Island, Davy Chou (Cambodia/France)
Raw (Grave), Julia Ducourneau (France) *
Mimosas, Oliver Laxe (Spain)
One Week And A Day (Shavua Ve Yom), Asaph Polonsky (Israel) *
Tramontane, Vatche Boulghourjian (Lebanon) *
A Yellow Bird, K. Rajagopal (Singapore) *
SPECIAL SCREENINGS
Happy Times Will Come Soon (I Tempi Felici Verranno Presto), Alessandro Comodin (Italy)
Apnée, Jean-Christophe Meurisse (France) *
* first film, eligible for the Camera d'Or
SHORT FILMS IN COMPETITION
Arnie, Rina B. Tsou (Taiwan/Philippines)
Ascensão, Pedro Peralta (Portugal)
Campo De Víboras, Cristèle Alves Meira (Portugal)
Delusion Is Redemption To Those In Distress, Fellipe Fernandes (Brazil)
L'enfance d'un Chef, Antoine De Bary (France)
Limbo, Konstantina Kotzamani (Greece)
Oh What A Wonderful Feeling, François Jaros (Canada)
Prenjak, Wregas Bhanuteja (Indonesia)
Le Soldat Vierge, Erwan Le Duc (France)
Superbia, Luca Tóth (Hungary)
SPECIAL SCREENINGS (SHORTS)
Los Pasos Del Agua, César Augusto Acevedo (Colombia)
From The Diary Of A Wedding Photographer (Myomano Shel Tzalam Hatonot), Nadav Lapid (Israel)