Cinefondation and Short Films juries also announced.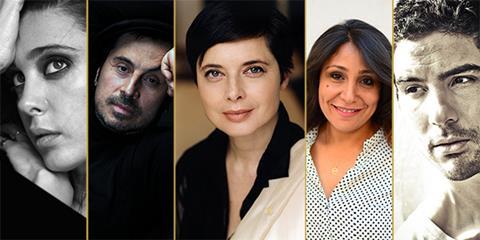 US-Italian actress and film-maker Isabella Rossellini is to preside over the Un Certain Regard jury at the 68th Cannes Film Festival (May 13-24).
The jury members include: the Saudi Arabian director of Wadjda, Haifaa Al-Mansour; Lebanese director-actress Nadine Labaki, who was at Cannes in 2011 with Where Do We Go Now?; Greek film-maker Panos H. Koutras, whose Xenia played in Un Certain Regard last year; and the French star of A Prophet, Tahar Rahim, who stars in Elie Wajeman's Critics' Week opener The Anarchists.
A total of 19 films will go head-to=head in Un Certain Regard, which opens on May 14 with a screening of Naomi Kawase's An.
Running in parallel to the Competition, the Un Certain Regard selection winners will be announced by the jury on May 23.
The film awarded the Un Certain Regard Prize will be shown at the end of Cannes' closing ceremony.
Last year's winner of the Un Certain Regard Prize was Kornel Mundrucźo for White God. The Jury Prize went to Ruben Östlund for Force Majeure.
The films in Un Certain Regard 2015 are:
Fly Away Solo (Masaan), Neeraj Ghaywan
Rams (Hrútar), Grímur Hákonarson
AN, Naomi Kawase
Journey To The Shore (Kishibe No Tabi), KUROSAWA Kiyoshi
I Am A Soldier (Je Suis Un Soldat), Laurent Larivière
The High Sun (Zvizdan), Dalibor Matanic
Trap (Taklub), Brillante Mendoza
The Other Side, Roberto Minervini
One Floor Below (Un Etaj Mai Jos), Radu Muntean
The Shameless (Mu-Roe-Han), Oh Seung-Uk
The Chosen Ones (Las Elegidas), David Pablos
Nahid, Ida Panahandeh
The Treasure (Comoara), Corneliu Porumboiu
Alias Maria, José Luis Rugeles Gracia
The Fourth Direction (Chauthi Koot), Gurvinder Singh
Madonna, Shin Suwon
Cemetary of Splendour (Rak Ti Khon Kaen), Apichatpong Weerasethakul
Maryland, Alice Winocour
Lamb, Yared Zeleke
Cinéfondation-Short Film Jury
This year, the Cinéfondation and Short Films Jury brings together film-maker Joana Hadjithomas (Lebanon), director Rebecca Zlotowski (France), actress Cécile de France (Belgium) and actor Daniel Olbrychski (Poland) under the wings of its president, Timbuktu director Abderrahmane Sissako (Mauritania).
The Jury's task is to award prizes to three of the 18 films made by film school students and shown as part of the Cinéfondation Selection.
The Cinéfondation prizes will be announced by the Jury on May 22, at a ceremony held in the Buñuel Theatre to be followed by a screening of the award winning films.
The Jury will also name the winner of the Short Film Palme d'Or from among the nine films selected for the competition. The Short Film Palme d'Or will be awarded at Cannes' closing ceremony on May 24