Brazilian director discusses his Cannes Competition drama.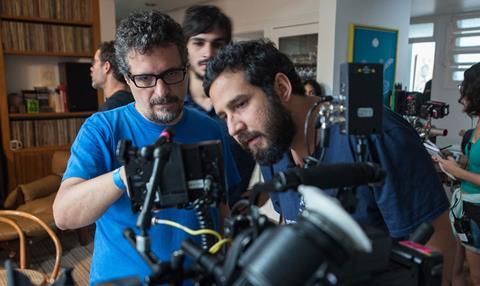 With his debut feature Neighboring Sounds (2012), Brazilian filmmaker Kleber Mendonca Filho exposed the uneasy dynamics of a middle-class street in Recife.
In Aquarius, which is playing in Competition, he returns to his native coastal city of Recife to reveal the manoeuvres of the real-estate market.
The story follows an old widow, played by Sonia Braga (Kiss Of The Spider Woman), who is pressured into selling her apartment by developers. The film was shot in the only building on its street that has yet to be knocked down in the name of urban renewal.
When did this idea first interest you?
It has always been on my mind. I shot the video Paz A Esta Casa in 1994 about a demolished house. One scene in Neighboring Sounds also makes reference to it. The real-estate market doesn't consider the heritage of cities. I couldn't shoot Aquarius in my first choice building because it was partially destroyed in 2013.
In the film, Sonia Braga's character travels through time in a peculiar way.
I'm interested in archeology, archives, documents, old photos and everything that helps monitor the past. But I wouldn't have a DeLorean [the car used for time travel in the Back To The Future franchise] parked in front of my character's building. Because of her situation, she will just be very sensitive to her past, present and future.
Since Kiss Of The Spider Woman in 1985, Sonia Braga has focused on an international career. How did you convince her to film in Brazil?
I don't think Sonia knew who I was when I sent her the script. But she said yes in less than 24 hours, based on the material. When we finally met, she was talking about the script with a detailed description of the scenes, as if she had seen the movie already.
For many years, you were a film critic in Cannes and saw several Palme d'Or contenders receive a chilly reception. Does that make you nervous?
No. I'm curious to see the reaction. The most important thing is to have a good relationship with the film. I wouldn't have accepted to compete if I wasn't sure of what I did. For a movie made by friends in Recife, having this level of exposure will be amazing. Cannes is like Star Wars' intergalactic fair. The whole world is here.