The French film-maker speaks to Screen about her Directors' Fortnight entry, Divines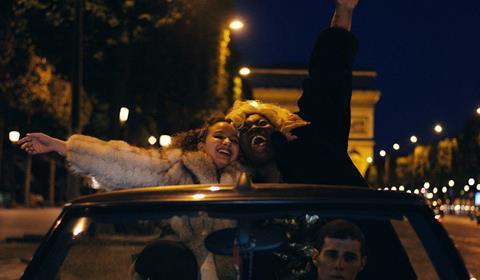 Hailed as this year's Girlhood, French director Houda Benyamina's debut feature Divines had its world premiere in Directors' Fortnight, where it won a special mention for the SACD Prize.
The film is about two best friends, Dounia (Oulaya Amamra) and Maimouna (Deborah Lukumuena), who yearn for power and money in the rough Parisian neighborhood where they live. They start to assist the drug dealer Rebecca (Jisca Kalvanda), but talented young dancer Djigui (Kevin Mischel) also tempts Dounia into a different kind of life.
Easy Tiger's Marc-Benoît Créancier produced the film, which is backed by the CNC, Doha Film Institute, CGET, the Centre and Ile-de-France regions, le Groupe Ouest, the Procirep-Angoa, Dubai Film Connection, Gan Foundation and the Cofinova Sofica. Films Boutique handles sales and Diaphana will distribute in France.
Where did the idea for Divines start?
The idea began during the demonstrations in 2005 [in Paris and other French cities]. There was anger in that moment. I could see my brothers demonstrating in the streets. But nobody was revolting. The intelligentsia didn't get involved. Also, I started to think how money and possessions are the values of today's society.
At the same time I saw a documentary about two girls in prison, dancing in front of police. I realised it could have been me, those girls. I was asocial, I had dropped out of school.
Did your own background help you investigate this story?
I came from a popular area, it's not an affluent one, but I had no knowledge of the drug world or the tough guys. I had to do a lot of research to immerse myself in this world I didn't know. Luckily I met a girl who inspired the character of Rebecca. I had to research areas that I didn't know existed. I also had to research the world of dance, and the world of the police.
In an inner-city tower [block], there are dealers at the bottom of all the stairs, but I had to realise they had a different side to them. Like in our film, there is a guy who is hiding drugs for the dealer, but he's also looking after this elderly man, shaving him. I wanted to humanise these characters, like the way Scorsese does with his tough guys.
Why was dance an important element?
I wanted to see how I could embody the sacred element. Dance is art and it elevates [the film]. So this is not just a realistic film, it also has beauty. We've got a dancer who knows street dance, but he becomes open to other ways of dancing. He's almost an unreal character, he represents a kind of impossible love.
This film doesn't have a happy ending, did you ever think it could have ended in another way?
I always start my scripts at the end. I knew that it was not going to end happily, but always from the ashes something will come out. It is tragic at the end but it also might be luminous at the end. Like with Christ being crucified, that is very tragic, but there is something beautiful about it. I'm also inspired by the Greek tragedies.
How did you find these two amazing young actresses?
It's like I have my Robert De Niro and my Harvey Keitel. I'm not joking. The actress who plays Dounia is my sister. I almost didn't cast her, I thought she was very delicate. She grew up doing ballet, she went to a private Catholic school. I felt she was too vulnerable and I wanted a real warrior girl. So we looked at 3,000 other girls during casting, but she kept insisting. With both her and the actress who plays Maimouna, I had trained them both for seven years in my workshop (1000 Faces).
Why is it interesting for you to show girls, not boys, dealing drugs?
The need for power and recognistion is not just reserved for men. No one ever asks male directors why they only cast male characters. Reality is changing. We can say, "You have to put your clitoris on the table" the same way you say, "You put your balls on the table."
In Greek tragedy, there were great hero women. We should tell stories now that reflect these women. I wanted to play with the clichés that the lover is the man and the hero is the woman. There are so many examples of this in society today.
What will your next project be about?
Freedom. How you can be free in society and in your personal life. It's about a woman's struggle and a bigger love story, a dimension of the great love.