EXCLUSIVE: Producer of Un Certain Regard opener Clash lines up new projects, including Lewis Carroll adaptation In The Land Of Wonder.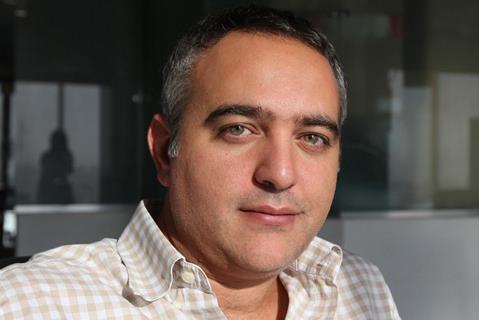 Egyptian producer Mohamed Hefzy [pictured] is developing a Cairo-set version of Lewis Carroll's Alice in Wonderland plunging the main character into the chaos of the city's streets.
The project, In The Land Of Wonder, is the second film by Nadine Khan after her debut feature Chaos, Disorder, which won the jury prize at the Dubai International Film Festival in 2012.
The daughter of respected Egyptian filmmaker Mohamed Khan spent a decade working as a second unit and assistant director for the likes of Yousry Nasrallah and Nabil Ayouch before making her first film.
Hefzy is in Cannes this year with Mohamed Diab's buzzed about Un Certain Regard opener Clash about a group of people locked in a police van for 24 hours after they arrested during violent demonstrations in Cairo at the end of Islamist President Mohamed Morsi's reign in 2013.
He lead-produced the film under his Cairo-based Film Clinic banner with Eric Lagesse's Sampek Production, German Niko Films, Emirati EMC Pictures and Fortress Film Clinic on board as co-producers and Jamal Al Dabbous and Daniel Ziskind, Film Clinic's representative in Europe, taking executive credits.
Hefzy is hoping to work with European partners once again on In The Land Of Wonder.
"I'm looking for a European partner for the special effects on the film which will combine live action with animation," said Hefzy.
Other projects
Other upcoming features on the Film Clinic slate include Sherif El Bendary's Ali, The Goat Ibrahim, about Ali, a man who loves a goat called Nada, and Ibrahim, a depressed sound engineer who hears voices he cannot decipher.
An unlikely friendship springs up between the two men after they meet through a healer who tells them to throw stones into the sea, setting them on a voyage of self-discovery.
Hefzy is looking for a sales agent for the film and also hoping to secure an end summer festival berth for the production.
Film Clinic is also gearing up for the shoot of Amr Salama's Sheikh Jackson, a bittersweet drama about an Islamic fundamentalist cleric with a secret passion for Michael Jackson music, which is due to shoot this autumn.
Salama's credits include the prize-winning AIDS drama Asmaa and coming-of-age comedy Excuse My French, which recently swept the board at Egypt's equivalent of the Oscar.