EXCLUSIVE: Hard-hitting TV drama will recount the crack cocaine epidemic of 1980s LA.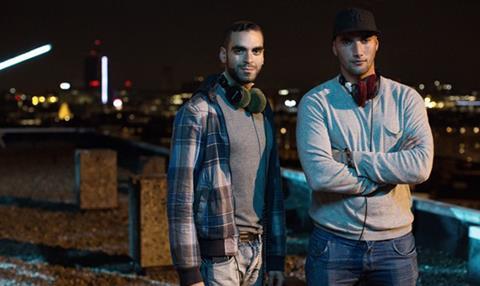 Their last movie caused riots in Belgian cinemas. Now, hip young Belgian auteurs Adil El Arbi and Bilall Fallah are to direct a new, hard-hitting TV drama about the crack cocaine epidemic in LA in the early 1980s. The new drama, Snowfall, has been co-written by John Singleton (Boyz n The Hood).
It has been confirmed in Cannes that El Arbi and Fallah (directors of gang movie Black, which was partially set in the notorious Molenbeek area of Brussels) are to work together on the pilot of Snowfall for the FX network.
Set in Los Angeles in 1981, the Snowfall pilot will show how the crack cocaine epidemic first took hold.
The drama follows Franklin Saint, a young street entrepreneur on a quest for power; Gustavo Zapata, a Mexican wrestler turned gangster in search of his American dream; and CIA agent Teddy McDonald.
In a statement, the directors - who are currently in LA - said: "Snowfall is one of the best scripts we've read lately. It has all the elements that we find interesting, such as the LA problem areas, the 80s, the crack epidemic. It looks like a mix between The Wire and Boogie Nights or Spike Lee meets Scorsese. The FX network has redefined television by presenting shows like The Shield and recently Fargo. It is an honour to have their support and full confidence.​"
Snowfall is written by Dave Andron, Singleton and Eric Amadio. The pilot is due to shoot in LA in mid July. Damson Idris is set to play 'Franklin Saint'. Dave Andron will run the show and Tommy Schlamme, Michael London, Eric Amadio, John Singleton and Trevor Engelson will executive produce.
The directors' previous film Black, a modern Romeo & Juliet story set against the Brussels gang world, had its world première at Toronto last year where it won the Discovery Award, and led to both directors being signed up by Management 360 and CAA. Black is also selected for this year's Edinburgh International Film Festival. The film's lead actress, Martha Canga Antonio, was amongst this year's Shooting Stars in Berlin. BE For Films is handling international sales.
Earlier this year, Fox announced that it had signed the two Belgian filmmakers to direct the crime thriller The Big Fix about a game-fixing scandal set in the international soccer world. The producer of this feature is Peter Chernin (who also produced Michaël R. Roskam's The Drop). Both directors remain attached to this project which is currently in a script development stage.
In their home country of Belgium, the duo recently received artistic development funding from the Flanders Audiovisual Fund (VAF) for Patser, a new feature film project they co-wrote together with Bram Renders.