Juries revealed for Un Certain Regard, Short Films & Cinéfondation and Caméra d'or.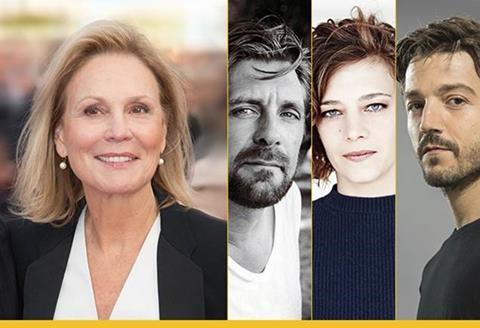 Swiss actress Marthe Keller is to preside over the Un Certain Regard jury at the upcoming Cannes Film Festival (May 11-22). Keller is still perhaps best known for her role opposite Dustin Hoffman in Marathon Man (1976) and will next be seen in Joachim Lafosse's After Love, which will play in Directors' Fortnight at Cannes.
The jury, which will consider 18 films in competition, includes: Mexican filmmaker Diego Luno, who stars in the upcoming Star Wars spin-off Rogue One; Ruben Ostlund, the Swedish director of Un Certain Regard jury prize winner Force Majeure (2014); and French actress Céline Sallette, perhaps best known for roles in Rust And Bone (2012) and TV series The Returned.
The winners will be announced on May 21.
Un Certain Regard
Inversion, Behnam Behzadi (Iran)
Apprentice, Boo Junfeng (Singapore)
The Stopover, Delphine Coulin & Muriel Coulin (France)
The Dancer, Stéphanie Di Giusto (France)
Clash, Mohamed Diab (Egypt) opening film
The Red Turtle, Michael Dudok De Wit (Netherlands)
Harmonium, Fukada Kôji (Japan)
Personal Affairs, Maha Haj (Israel)
Beyond The Mountains And Hills, Eran Kolirin (Israel)
After The Storm, Hirokazu Kore-Eda (Japan)
The Happiest Day In The Life Of Olli Maki, Juho Kuosmanen (Finland)
Hell Or High Water, David Mackenzie (UK)
Francisco Sanctis's Long Night, Francisco Márquez & Andrea Testa (Argentina)
Dogs, Bogdan Mirica (Romania)
Pericle Il Nero, Stefano Mordini (Italy)
The Transfiguration, Michael O'Shea (US)
Captain Fantastic, Matt Ross (US)
The Student, Kirill Serebrennikov (Russia)
Short Films, Cinéfondation jury
Cannes also announced that the jury for its Short Films and Cinéfondation strands, which will award prizes to three of the 18 student films selected, will comprise:
President: Naomi Kawase, director and writer (Japan)
Marie-Josée Croze, actress (Canada, France)
Jean-Marie Larrieu, director and screenwriter (France)
Radu Muntean, director and screenwriter (Romania)
Santiago Loza, director, playwright and writer (Argentina)
The Cinéfondation Prizes will be announced by the Jury on May 20, followed by a screening of the winning films. The Jury will also name the Short Film Palme d'or winner among the 10 Competition films selected, which will be awarded at the closing ceremony on May 22.
Caméra d'or jury
In addition, the jury that will award the Caméra d'or - which considers first films from the Official Selection, Critics' Week and Directors' Fortnight - will compise:
President: Catherine Corsini (Director, Société des Réalisateurs de Films - SRF)


Jean-Christophe Berjon (Syndicat Français de la Critique de Cinéma - SFCC)


Alexander Rodnyansky (invited guest - Producer, Russia)


Isabelle Frilley (Fédération des Industries du Cinéma, de l'Audiovisuel et du Multimédia - FICAM)


Jean-Marie Dreujou (Association Française des directeurs de la photographie Cinématographique - AFC)