Dir/scr: Ryota Nakano. Japan. 2012. 74mins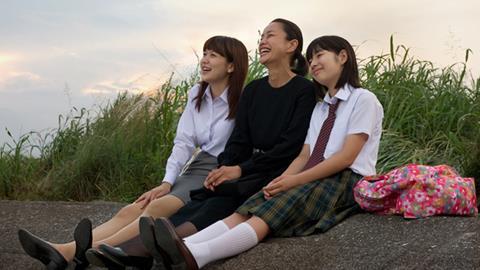 A charming little film, ideal for family programming, Ryota Nakano's first feature film should do well for itself, despite a slight overdose of cheerfulness spread all over it. As strange as it may sound, this is an almost a life-affirming film whose subject is death. Like earlier Nakano shorts, it deals with family matters, the main event in it is the journey of two sisters to the funeral of a father they hardly remember, since he had abandoned them 14 years earlier, but the sunny disposition ruling over the proceedings belies the plot's mournful circumstances.
Nakano's timing is always spot-on and his casting couldn't have been better.
Sawa (Makiko Watanabe) is a lively, energetic woman who is still sore at her former husband who had dropped her in favor of another woman. When her brother-in-law calls to tell her hubby is dying of lung cancer, she immediately tells her two daughters, Hazuki (Erisa Yanagi), who is 20 and working as a bargirl and Koharu (Nanoka Matsubara), 17 and still in high school, which they have to go immediately to his bedside.
Not because she wishes to re-acquaint them with their biological parent, nor because her heart breaks at the thought of his fate, but because she wants to take a picture of him before he dies, so she could laugh in his face. The girls are not happy but nevertheless agree to go. Before boarding the train, however, they make sure to change their attire for the more colorful outfits fitting their high spirits.
But before they can reach their destination the father is already dead and the reception committee waiting for them at the train station to show them the way is a seven year-old boy, their cute little half-brother (Kaito Kobayashi) whose existence they never suspected. By the time they reach dad's home, the preparations for the funeral are in full swing.
Far from unleashing a satirical tirade on the idiosyncrasies of Japanese society (the late Juzo Itami did a great job of it in The Funeral), Nakano goes for a much gentler type of humor, springing up all sorts of funny little surprises along the way, such as Koharu's infatuation tuna fish that will reach unpredictable dimensions, or the manner in which the two sisters manage to take a picture of the deceased for their mother, despite coming in too late to see him alive. Once or twice the film threatens to become serious, but Nakano's tone is never grave and he never dwells upon it a very long time.
Glorious weather and lovely landscapes provide the right backdrop for this tale. Nakano's timing is always spot-on and his casting couldn't have been better. Erisa Yanagi's matter-of-fact, self-assuming, Haruzi and Nanoka Matsubara's dreamy, softer, Koharu are a perfect prankish duo, while Makiko Watanabe, as the kind of mother every girl would love to have (even the sisters agree, towards the end of the film, that she's really cool) may not spend too much time on screen, but her presence nevertheless dominates the picture.
Production company: Pictures Network
International Sales: Fortissimo Films, www.fortissimo.nl
Producer: Noriyasu Hirokata
Cinematography: Shingo Hirano
Editor: Ryota Nakano
Production designer: Yasuo Kurosu
Music: Yakashi Watanabe
Main cast: Makiko Watanabe, Erisa Yanagi, Nanoka Matsubara, Kenichi Takito, Satoshi Nikaido, Kaito Kobayashi, Yuki Imamura, Akiko Hoshino