Dir: Hector Babenco. Brazil. 2003. 146mins.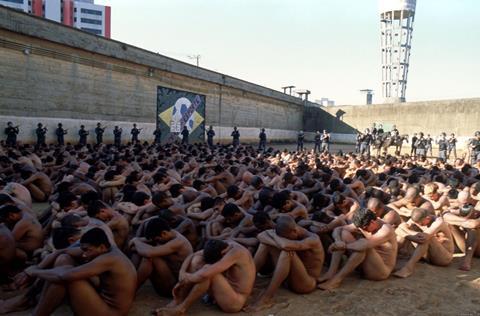 Nearly two decades after he won a Best Director Oscar nomination for 1984's Kiss Of The Spider Woman, which was also set in a South American prison, director Hector Babenco has gone back to jail. Carandiru is located entirely in the institution of the same name, the continent's largest and most notorious penitentiary until it was demolished in December last year.
Babenco manages to overcome the downbeat nature of his subject matter, lacing it with humour, melodrama and romance
What Fernando Mereilles' City Of God was to Rio de Janeiro, Babenco's Carandiru is to Sao Paulo: a watershed film about local crime and urban violence that has again re-invigorated Brazilian cinema. After three weeks, Carandiru, which opened on 250 screens in Brazil on April 11, had registered two million admissions, compared to the 18 weeks it took City Of God to reach 3.1m admissions.
Selected to play in competition at Cannes later this month, it boasts a powerful dynamic which should see it attract a solid international audience: Sony Pictures Classics already has US rights. However, it is darker and less sexy than City, and may be hard pushed to repeat the latter's level of success (it took $3.8m in the US and $3.7m in the UK) outside Brazil.
Carandiru is based on the non-fiction best-seller Estacao Carandiru by medic Drauzio Varella, about the 12 years he spent working in jail as an Aids doctor. It is not a conventional prison film; unsurprising given that Carandiru was not a conventional prison. Lodged in the heart of Sao Paulo - Latin America's biggest city and the third largest in the world - the overcrowded, decrepit concrete blocks contained about 7,000 prisoners who, in the absence of sufficient wardens, ruled through their own laws, creating an apocalyptic future society that reflected Sao Paulo's social problems. Famous singers gave concerts in the prison, wives visited cells for conjugal visits and drugs and weapons were freely available.
Babenco arranges the film as a series of vignettes about different prisoners, with no plot in the traditional sense. Instead episodes - a football match, a man visited by both his wives, a transvestite marriage - are linked through the inmates' contact with Drauzio (Luiz Carlos Vasconcelos) in the jail clinic. It culminates in a set-piece based on one of the worst tragedies in prison history, the massacre of 111 prisoners in 1992.
After his poorly-received autobiographical feature Foolish Heart in 2000, Carandiru marks a return for Babenco to the urban, social themes of his earlier work including Lucio Flavio (about a death squad) and Pixote (about street children). He makes no attempt at impartiality, adopting the same stance as his source material and showing life from the prisoners' viewpoint, an existence that sees them renting their own cells, running a prison within the prison and surgically operating on each other while smoking crack. A code of conduct mixes tolerance and cruelty, looking after their own while meting out horrific stabbings to those who cross the line.
Yet Babenco manages to overcome the downbeat nature of his subject matter, lacing it with humour, melodrama and romance. The result is political without ever becoming preachy, artistic without being precious and possesses more sensitivity than City Of God.
The cast is filled out with a roster of local talent, with Rodrigo Santoro (Behind The Sun, the upcoming Charlie's Angels: Full Throttle), Brazil's current star, a particular standout as transvestite prisoner Lady Di. But Vasconcelos, as Varella, is too muted and offers little reflection on what he observes.
Technical elements are less stylised than City Of God, although the manner in which Carandiru mixes and matches several stories and characters is reminiscent. Cinematographer Walter Carvalho (Central Station) fills the look of the prison with dark, deep colours that just avoid making it look too glossy.
Prod co:HB Filmes
Co-prods:Globo Filmes
Braz dist:Columbia TriStar Brazil
US dist: Sony Pictures ClassicsInt'l sales:Columbia TriStar Brazil
Prods:Babenco
Scr:Victor Navas, Fernando Bonassi, Babenco, based on the book Estacao Carandiru by Drauzio Varella
Cinematography:Walter Carvalho
Ed:Mauro Alice
Prod des:Clovis Bueno
Music:Andre Abujamra
Main cast:Luiz Carlos Vasconcelos, Milton Goncalves, Lazaro Ramos, Caio Blat, Wagner Moura, Rodrigo Santoro