Dir: John Lasseter. US. 2011. 106mins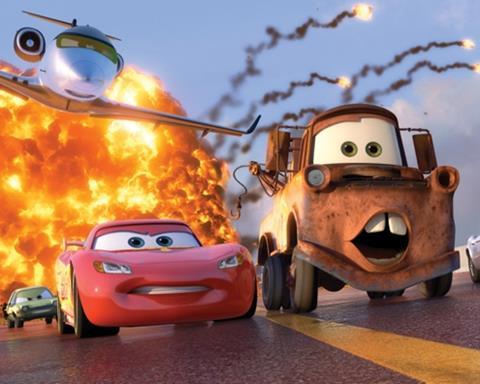 An animated automotive espionage adventure (say that quickly five times) that improves upon the leaden moralising of its predecessor, if not in strikingly original ways, Cars 2 delivers base-level entertainment on a familiarly laid racetrack. While unfolding against a sumptuous visual backdrop, the movie doesn't have the same adventurousness of spirit that marks Pixar's best efforts.
Visually, there's plenty about which to get excited.
Cars was Pixar founder John Lasseter's baby, and that 2006 release (a $460 million worldwide summer grosser and robust overseas performer) is the last film he directed until this one. IMAX and 3-D presentations should boost theatrical earnings for Disney, and the movie's international locales certainly won't hurt its earnings potential abroad.
The story this time centers much more around tow truck Mater (Larry the Cable Guy), who excitedly welcomes star racecar Lightning McQueen (Owen Wilson) back to his dusty hometown of Radiator Springs after the completion of racing season. Lightning is planning on taking some time off, but gets goaded into competing in the first-ever World Grand Prix, joining up with all sorts of different classifications of racing cars.
Industrialist Miles Axlerod (Eddie Izzard) is using the Grand Prix to debut his new clean-burning Allinol fuel, but a band of misfit cars — a bunch of unpopular and discontinued models that have banded together, and are led by a mysterious figure — are out to sabotage the race, derailing participants and thus throwing the world back into a gasoline-only frenzy in which they would be presumably be in higher demand.
British secret agents Finn McMissile (Michael Caine) and his rookie field spy partner, Holley Shiftwell (Emily Mortimer), are on the case, but Mater comes into possession of a photograph that may hold important clues. When they believe him to be an American spy posing in deep cover, Mater gets sucked into all the excitement and danger.
The focus on Mater seems to admit, on a certain level, that Wilson's McQueen is a shaggy, amiable figure but perhaps one not built for franchise sparring. (Cars 2 can't decide whether to fully commit to a more personal rivalry with a preening Formula One racer, voiced by John Turturro.)
If Toy Story 3 scored points for narrative difficulty, for assaying the pains of change and what it means for the fundamental nature of a relationship to be forever altered (especially rare in a sequel), there's no comparable complexity to Cars 2. This is basically a riff on The Man Who Knew Too Little, and an ensemble character dramedy, with the additional sprinkled lesson of being true to oneself. It's not a spy spoof, per se, because it is true to its established characters, but Cars 2 does lean heavily on genre convention and reference, and it's not what Pixar does best.
Given all the care and work-shopping effort, there's seemingly a certain low-water entertainment mark below which no Pixar movie will dip, but the story particulars and villainous motivations kind of break down like a bunch of wet cardboard if one pauses too long to consider them.
For those that care, too, there are still all sorts of inconsistencies or puzzlements about this franchise's backdrop, and its rules or rationales. Cars are self-actualized, carry no passengers, and engage in activities like painting and dancing, but trains and planes exist to ferry about automobiles. The entire movie unfolds, meanwhile, in a world devoid of humans but still peppered with their culturally specific landmarks, like Big Ben and the Arc de Triomphe.
Visually, there's plenty about which to get excited. High-angle perspective during racing sequences gives viewers a nice depth of field, and the locations are all lovingly rendered. The sound design is also superb, not merely in the racing scenes and the manner in which throttled engines reverberate against different buildings but also in several cavernous warehouse/ballroom sequences.
While peppered with the sort of rich background detail characteristic of all of Pixar's efforts, the movie's 3-D presentation is fairly inessential, and adds little to the experience.
An utterly delightful new seven-minute short featuring Woody, Buzz and the Toy Story gang uniting to put on an impromptu vacation for Ken and Barbie precedes the feature presentation.
Production company: Pixar Animation Studios
US distribution: Walt Disney Studios
Producer: Denise Ream
Co-director: Brad Lewis
Screenplay: Ben Queen, based on a story by John Lasseter, Brad Lewis and Dan Fogelman
Director of photography, lighting: Sharon Calahan
Director of photography, camera: Jeremy Lasky
Production designer: Harley Jessup
Art director: Jay Shuster
Music: Michael Giacchino
Supervising technical director: Apurva Shah
Supervising animators: Shawn Krause, Dave Mullins
Website: http://Disney.go.com/cars/cars2
Main voice cast: Owen Wilson, Larry the Cable Guy, Michael Caine, Emily Mortimer, Eddie Izzard, John Turturro, Brent Musburger, Thomas Kretschmann, Joe Mantegna, Bonnie Hunt, Darrell Waltrip, Franco Nero, David Hobbs, Tony Shalhoub, Jeff Garlin, Michel Michelis, Jason Isaacs, Jenifer Lewis, Sig Hansen, Vanessa Redgrave, Cheech Marin, Jeff Gordon, Paul Dooley, Katherine Helmond, Bruce Campbell, John Ratzenberger