Dir: Matt Piedmont. US. 2011. 84mins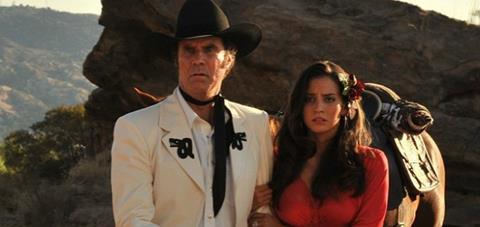 Will Ferrell's film career has been built on successfully spoofing different genres or time periods, whether it's the sports movie for Talladega Nights, the fashion sense and cultural attitudes of the 1970s in Anchorman, or the buddy-cop film in The Other Guys. But none of his previous comedies has been as indebted to its inspirations as Casa De Mi Padre, a straight-faced send-up of telenovelas that will be most hilarious to those who recognise what's being mocked. Despite a few flashes of inspired brilliance, though, this goofy curio just isn't consistently funny, opting instead to coast on the novelty of its premise.
Ferrell is appropriately low-key for a film that steadfastly keeps its tongue in its cheek.
Opening Friday on only a few hundred screens, Casa De Mi Padre (which gets its official unveiling Tuesday at SXSW) will obviously be boosted by Ferrell's involvement, although Lionsgate's decision to forgo a wide release indicates that this is a smaller, odder project than his typical starring vehicles. Primarily in Spanish and heavy with references to telenovelas and spaghetti westerns, the film will easily woo cult crowds and fans of offbeat, hipster comedy. All others will shrug and let Casa pass right by them.
The film takes place in the arid Mexican countryside, where humble rancher Armando (Ferrell) is preparing to welcome his successful businessman brother Raul (Diego Luna) home with his gorgeous fiancée, Sonia (Genesis Rodriguez). But Armando's jealousy toward his brother – not to mention a growing passion for Sonia – soon turns more dangerous with a feared local drug kingpin (Gael Garcia Bernal) becomes involved in the family's affairs.
Unlike many of Ferrell's comedies, Casa De Mi Padre was not directed or co-written by his producing partner, Adam McKay. (However, both men did produce the new film.) Helmed by first-time feature director Matt Piedmont, Casa De Mi Padre draws most of its humour from faithfully copying the look and feel of the pop culture detritus it's parodying.
Most prominent is its aping of the cheap budgets and soapy melodrama of telenovelas, but the film also wanders into Quentin Tarantino territory by blurring the line between grindhouse, spaghetti western and other pulp genres. Casa De Mi Padre calls attention to its targets' absurdities through exaggeration – such as with intentional continuity errors and threadbare production values – and expects its audience to understand what precisely is being mocked.
But while these affectionate ribbings offer some amusement, this slight comedy (which runs 84 minutes, including additional jokes in the end credits) can't help but feel like a great idea for a short film that's been padded to feature length. As agreeably nutty as it is to see Ferrell speaking his Spanish dialogue with utter sincerity befitting the overt seriousness of a telenovela, Casa De Mi Padre runs into problems by rarely building on its central joke, resulting in a film that comes across as tedious and repetitious during its duller stretches.
With that said, though, Casa De Mi Padre does feature some great bits of comedic business near its conclusion that almost make up for the slow start. It would be unfair to reveal any of the best jokes, but let it be said that the more Ferrell and his creative team dabble in surreal non-sequiturs, the funnier things get. But because none of the central characters are particularly clever in their own right, the movie ends up more ironic than uproarious, dressed up in the right amount of stylishness but lacking enough meaningful laughs underneath.
Ferrell is appropriately low-key for a film that steadfastly keeps its tongue in its cheek, although the sight of him pretending to be Mexican alongside a Hispanic cast starts to lose its comic spark rather quickly. Of Ferrell's co-stars, Bernal and Luna (who tend to do dramatic work) seem to be enjoying the opportunity to go for jokes, particularly Bernal as the egotistical villain. But it's perhaps a sign of Casa De Mi Padre's hit-or-miss execution that most of the human actors pale in comparison to an animatronic mountain lion with unexpected wisdom for Armando. The lion's funnier than a lot of them, too.
Production companies: NALA Films, Pantelion Films, Televisa Films, Lionsgate, Gary Sanchez Productions
Domestic distribution: Pantelion Films, www.pantelionfilms.com
Producers: Will Ferrell, Adam McKay, Emilio Diez Barroso, Darlene Caamano Loquet, Andrew Steele
Executive producers: Kevin Messick, Scott Lumpkin, Jessica Elbaum, Billy Rovzar, Fernando Rovzar, Alex Garcia
Screenplay: Andrew Steele
Cinematography: Ramsey Nickell
Production designer: Kevin Kavanaugh
Editor: David Trachtenberg
Music: Andrew Feltenstein, John Nau
Website: www.casademipadremovie.com
Main cast: Will Ferrell, Gael Garcia Bernal, Diego Luna, Genesis Rodriguez, Pedro Armendáriz Jr., Nick Offerman, Efren Ramirez, Adrian Martinez