Dir: Michael Sturminger. France-Austria-Germany. 2014. 118mins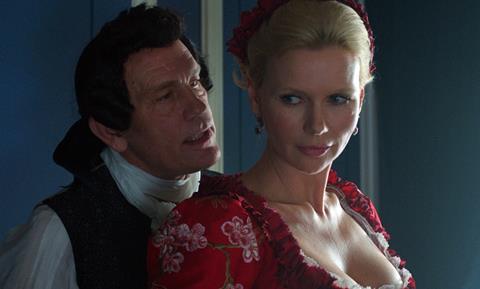 From Fellini's Casanova to Malkovich's Casanova Variations, whenever the Venetian libertine sets foot onscreen, extravagance and indulgence are sure to follow. Following a lecherous heritage from Bela Lugosi to 2013's equally-arty The Story of My Death, Malkovich's collaboration with director/writer Michael Sturminger pairs Casanova's diaries with Mozart's operas and is a suitably weird, if not entirely wonderful, addition to the Casanova canon.
Malkovich himself looks suitably weary as he sports a series of unflattering wigs - although John Malkovich playing world-worn is hardly a cinematic first.
This is an adaptation, of sorts, of Sturminger and Malkovich's theatre work, The Giacomo Variations, which toured internationally to critical bemusement. Certainly, Casanova himself would be proud of the lack of restraint shown onscreen.The film premiered in Official Selection at the San Sebastian Film Festival.
A free interpretation of Casanova's last days looking back on his life through his diaries, the Variations is an all-inclusive, kitchen-sink-like production –including a handsomely-mounted stage opera, period recreations, flashbacks and -forwards, and faux fly-on-the-wall documentary footage, all dotted liberally with excerpts from The Marriage of Figaro, Don Giovanni and Cosi Fan Tutti, some of it sung by Malkovich himself, the rest by international opera stars (baritone Florian Boesch doubles for Casanova).
But for whom is the 118-minute Casanova Variations intended? It sallies forth like a teasing night of event cinema, with cameras trained on the fake audience as they watch a production, which, in turn, has cameras trained on it. Add in the flashbacks, the knowing, sardonic, reality bites, some jogging handheld camera, and you wonder what all the busyness is disguising. Much like the preening Casanova himself, this is a film which begs to be admired for its audacity. And while it's undoubtedly noisy and playful, Casanova Variations has a rattle where its heart should be.
Malkovich plays himself and Casanova, supposedly at the end of his life, and there are sly off-stage references to his previous success as an 18th century romantic schemer in Dangerous Liaisons. Of course it's all very self-referential, a la Being John Malkovich, with his British "producer" Jessica (Tracy Ann Oberman) on hand to tell him during the intermission that the show is unfilmable and she'll "be happy when it's fucking over" (which naturally met with an appreciative audience response at the film's San Sebastian premiere).
Casanova Variations riffs on Casanova's diaries, written towards the end of his life, and works off the conceit that a mysterious, sexy, woman (Veronica Ferres), has visited the ailing seducer with the intention of stealing his memoirs, prompting him to return to life and trot through the past in an fairly incomprehensible flurry of librettos, duels, and condoms.
Production lines are pure and Classical, the stage adorned with disembodied bodices, giant skirts and petticoats which lift to reveal beds, as well as a series of disconnected mirrors. The theatre sequences were shot at the Lisbon Opera House, both front-of-house and backstage. Music is credited to Mozart, as if Wolfgang Amadeus had a choice in the matter, with Da Ponte's librettos, and the cast of international opera stars are undeniably seductive in their passion and talent.
Malkovich himself looks suitably weary as he sports a series of unflattering wigs - although John Malkovich playing world-worn is hardly a cinematic first. His accent plays hard to get, even flirting inexplicably with Britishness. His commitment, though, is thorough, and perhaps that's all that matters in the end. As an audience member says early on: "It's an opera, who cares what it's all about?" Malkovich sings, languidly, and declares a few times that: "Actors require variations, they can never do the same thing twice." He may identify with Casanova, or perhaps he wants to flirt with that identification, and while this film a vanity project, that's not necessarily a bad thing. What is fatal, however, is dullness, and Casanova Variations comes perilously close to committing that cardinal sin.
Production companies: Alfama Films, Amour Fou, X-Filme Creative Pool, Ulrich Seidl Filmproduktion
International sales: Alfama Films, alfamafilms@orange.net
Producers: Paulo Branco, Alexander Dumreicher-Ivanceanu, Bady Minck
Screenplay: Michael Sturminger, based on The Story of my Life by Giacomo Casanova
Cinematography: Andre Szankowsli
Editor: Evi Romen
Main cast: John Malkovich, Veronica Ferres, Florian Boesch, Miah Persson, Victoria Guerra, Maria Joao Bastos, Barbara Hannigan, Fanny Ardant