Dir: Brad Peyton. US. 2010. 85mins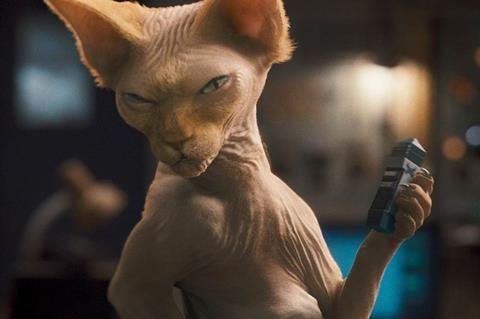 Lightly amusing but doggone derivative, Cats & Dogs: The Revenge Of Kitty Galore represents an all-too-familiar strategy for kids' films, bombarding the audience with jokes, action and effects to produce an overstuffed experience that rarely enchants. Younger viewers will probably enjoy this 3D live-action tale of furry spies banding together to defeat an evil feline genius, but this sequel to the 2001 original doesn't have the narrative ingenuity to sink its claws into you.
Kitty Galore's silliness has its charms but the movie's overall lack of ambition keeps the story from being memorable.
Kitty Galore will face a crowded US marketplace that features several family-film holdovers, the most potent of which remains Despicable Me. Theatrical longevity may depend on audience awareness of the original film, tykes' seemingly inexhaustible love for talking animals, and moviegoers' continued infatuation with 3D offerings.
Reckless young police dog Diggs (voiced by James Marsden) has just been banished to the kennels when he's freed by an elite canine spy agency called DOG. With the help of his reluctant older partner Butch (Nick Nolte), Diggs must defeat Kitty Galore (Bette Midler), a rogue cat agent who's bent on world domination.
Bringing back some of the characters (but not necessarily their voice actors) from the first Cats & Dogs, Kitty Galore doesn't worry about being a traditional sequel, instead simply recycling the original film's high-concept conceit of parodying James Bond-style thrills with talking animals. In addition to the nods to spy movies, first-time feature director Brad Peyton crams Kitty Galore with lowbrow references to buddy-cop films and The Silence Of The Lambs, while Ron J. Friedman and Steve Bencich's screenplay is heavy with groan-worthy gags that recall the good-hearted humour of Jim Henson's Muppet movies.
In limited doses, Kitty Galore's silliness has its charms – especially when voice actors Katt Williams and Sean Hayes lend some bite to their supporting roles – but the movie's overall lack of ambition keeps the story from being memorable. A combination of animal actors, visual effects, and animatronics help bring Kitty Galore's cute critters to life, but as with the film's use of 3D, the technique quickly loses its appeal once the film settles into being a genial mediocrity.
Production companies: Village Roadshow Pictures, Mad Chance, Polymorphic Pictures
Worldwide distribution: Warner Bros. Pictures, Village Roadshow Pictures (select territories)
Executive producers: Brent O'Connor, Bruce Berman
Producers: Andrew Lazar, Polly Johnsen
Screenplay: Ron J. Friedman, Steve Bencich, based on characters created by John Requa & Glenn Ficarra
Cinematography: Steven Poster
Production designer: Rusty Smith
Editor: Julie Rogers
Music: Christopher Lennertz
Main cast: (voices) Christina Applegate, Michael Clarke Duncan, Neil Patrick Harris. Sean Hayes, James Marsden, Bette Midler, Nick Nolte, Joe Pantoliano, Katt Williams. (live-action) Chris O'Donnell