Dir: Lee Toland Krieger. US. 2011. 90mins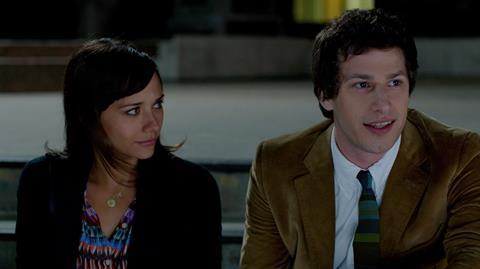 Taking a page from recent romantic comedies like No Strings Attached and Friends With Benefits that look at unconventional modern relationships, Celeste And Jesse Forever starts off with a juicy premise but ends up coasting on the strength of its two likeable leads. A comedy-drama about a divorcing couple who have managed to remain best friends, the movie suffers from some sitcom-y situations, but the rapport between stars Rashida Jones and Andy Samberg help outweigh the story's predictability.
Director Lee Toland Krieger does a decent job of walking a fine line between the bittersweet and the funny.
In the Premieres section at Sundance, Celeste And Jesse Forever seems well-positioned for the indie date-night market. Despite the lack of major marquee names, Jones, Samberg and co-stars Emma Roberts and Elijah Wood would seem to be sufficient to attract audiences, especially domestically.
As the title suggests, Celeste And Jesse Forever tells the story of Celeste (Jones) and Jesse (Samberg). Close friends since grade school, they married for six years before recently separating. But even though they're moving forward with divorce proceedings, they continue to be inseparable, a sign of their commitment to a friendship they don't want to lose – even if they'll soon no longer be husband and wife. But when Jesse gets reacquainted with a former fling (Rebecca Dayan), it begins to create tension between him and Celeste, who perhaps isn't as over Jesse as she thought.
Like No Strings Attached and Friends With Benefits, Celeste And Jesse Forever tries to rewrite the romantic-comedy conventions by looking at a relationship that falls outside the usual Hollywood parameters. And much of the film's pleasure comes from the humorous dichotomy between Celeste and Jesse's enduring friendship and their pals' inability to believe that such an arrangement can last.
Working from a script by Jones and co-star Will McCormack, director Lee Toland Krieger (Sundance 2009's The Vicious Kind) does a decent job of walking a fine line between the bittersweet and the funny. By no means raucous like Bridesmaids or the Hangover films, Celeste And Jesse Forever is consistently amusing without ever being truly uproarious. Consequently, the film is mostly sweet and pleasant, its investigations into matters of the heart engaging, if not particularly poignant.
In truth, Celeste And Jesse Forever is more about Celeste's journey, and Jones succeeds in making her empathetic even when the character is acting petty or jealous. Samberg – best known from his work on Saturday Night Live – doesn't show a lot of depth, but to be fair, Jesse is not a particularly compelling figure: soft-spoken, an arrested adolescent, somewhat unmotivated.
The supporting cast is a game bunch, although too many of them are tied to one-note characters, such as Elijah Wood's gay co-worker and Chris Messina's nice-guy love interest. But it's the interplay between Jones and Samberg that carry the day. Even though the storyline grows conventional, these two's inherent sweetness gives the movie its heart – even if their characters may not end up together.
Production companies: Envision Media Arts, Team Todd
International sales: United Talent Agency, www.unitedtalent.com
Producers: Jennifer Todd, Suzanne Todd, Lee Nelson
Screenplay: Rashida Jones, Will McCormack
Cinematography: David Lanzenberg
Production designer: Ian Phillips
Editor: Yana Gorskaya
Music: Sunny Levine, Zach Cowie
Main cast: Rashida Jones, Andy Samberg, Ari Graynor, Eric Christian Olsen, Elijah Wood, Will McCormack, Chris Messina, Rebecca Dayan, Emma Roberts