Dir/scr: Max Winkler. US. 2010. 89mins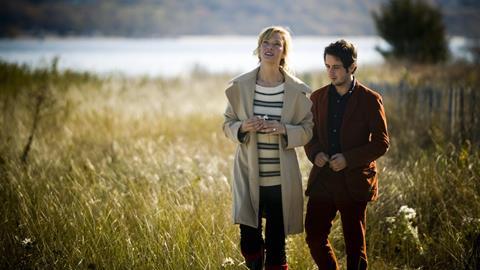 Although unquestionably indebted to its influences – specifically Wes Anderson, with perhaps a touch of Noah Baumbach thrown in for seasoning – writer-director Max Winkler's feature comedy debut has more than enough heart to overcome its familiar ingredients. The story of a precocious young man trying to stop the object of his affection, a woman in her late thirties, from going through with her wedding, Ceremony will undoubtedly be labelled (or, more likely, dismissed) as another Rushmore, but sturdy, sympathetic performances from Michael Angarano and Uma Thurman help Winkler explore fresh emotional terrain.
Ceremony has a modest, quirky indie sensibility.
Making its world premiere at Toronto, Ceremony has a modest, quirky indie sensibility that feels better suited to the Sundance crowd. Considering that one of the film's executive producers is Up In The Air director Jason Reitman, the film would seem to be a comfortable fit for upscale art-house theatres, with Thurman's involvement lending the movie added marquee value.
Twenty-three year-old aspiring New York children's book author Sam Davis (Angarano) talks his best friend Marshall (Reece Thompson) into going away with him on a beach getaway, only fully revealing his plan once they arrive at their destination: He aims to stop the wedding of Zoe (Thurman), the woman he loves, and her fiancé Whit (Lee Pace), which will be happening that same weekend.
From Harold And Maude to Rushmore, cinema has had its share of May-December romances in which a sensitive, hyper-articulate younger man falls hopelessly in love with an older woman. Adding to Ceremony's sense of déjà vu, Sam is very much cut from the same cloth as many of Anderson's characters, exhibiting an affected way of speaking and behaving that is meant to hide the horrible insecurities eating away at him.
Nonetheless, once the film settles into a rhythm, Ceremony begins to exert its own charms that help differentiate it from the deadpan awkwardness of Anderson's films and the emotional messiness of Baumbach's. Just as critical, Winkler has hit upon a novel angle for his May-December storyline, revealing that not only were Sam and Zoe once lovers but that she still harbours feelings for him, despite acknowledging that he's just a child. And while this twist could have been played for cheap gags, Winkler and his stars approach it with an honesty and matter-of-factness that make for an unexpected but intriguing romantic triangle.
Having just turned 40, Thurman remains an absolute beauty, but paired up with the exceptionally baby-faced Angarano, their characters' age difference is apparent. But this fact doesn't become a punch line; instead, Ceremony uses that age gap to show two people at very different times in their lives, which, the film argues, is perhaps more important than how old they are in determining their chances to find happiness together.
By treating the potentially preposterous love story with sincerity, Winkler and his leads risked embarrassing themselves, but Thurman in particular is stellar as a woman who has no business being attracted to Sam but simply cannot deny her feelings. And Angarano, who has starred in everything from the absurdist comedy Gentlemen Broncos to the martial-arts film The Forbidden Kingdom, finally finds a role to show off his talent. Sam might be a slightly older version of Rushmore's Max Fischer, but Angarano makes the character's faux-suave demeanour and bottomless self-denial breathe.
Typical of a first feature, Ceremony has more than its share of indulgences, particularly in the way Winkler allows the characters to express their feelings in impassioned monologues to each other. But in a sign that he may be someone to watch, he gets good performances not just from his leads but also from his supporting cast. Thompson doesn't overplay Marshall's nerdy, milquetoast manner, hinting at the bubbling resentment the young man feels toward his condescending best friend. And as Whit, the arrogant, acclaimed documentarian that Zoe will be marrying, Pace has fun with the character's snide pomposity, but even here the film insists that he remain a relatable (albeit funny) human being rather than a simple caricature. Consequently, Ceremony's resolution of its romantic triangle, though maybe too smug, achieves a genuinely bittersweet quality that honours this seemingly familiar comedy's surprisingly complex individuals.
Production companies: Nala Films, Polymorphic Pictures
Domestic sales: CAA, www.caa.com, and UTA, www.unitedtalent.com
International sales: FilmNation Entertainment, www.wearefilmnation.com
Producers: Emilio Diez Barroso, Darlene Caamano Loquet, Polly Johnsen, Matt Spicer
Executive producers: Jason Reitman, Daniel Dubiecki, Joshua Zeman, Corrie Rothbart, Billy Rovzar, Fernando Rovzar, Jeff Keswin, Alejandro Garcia
Cinematography: William Rexer II
Production designer: Inbal Weinberg
Editor: Joe Landauer
Music: Eric D. Johnson
Main cast: Michael Angarano, Uma Thurman, Reece Thompson, Lee Pace, Jake Johnson