Fresh off a prize win at Cannes for Spring Fever, controversial film-maker Lou Ye tells Liz Shackleton why any portrait of Chinese people in cinema also involves politics.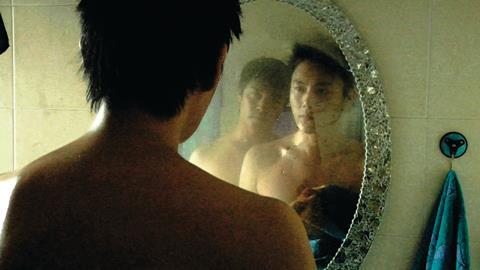 Heading into Cannes this year, it seemed likely that Lou Ye's Competition title, Spring Fever, would raise the ire of the Chinese authorities. Filmed in secret by a director who is still forbidden to make films in China under a five-year ban following his Cannes 2006 Competition entry Summer Palace, the film deals with the taboo subject of homosexuality and features several explicit sex scenes between men.

But in comparison to the furore around Summer Palace, the reaction from China was decidedly muted. That was partly because Spring Fever had been set up as a Hong Kong-France co-production, between Dream Factory HK and Paris-based Rosem Films, which technically does not need the approval of the censors so allows them to save face. It may also be the case that China sees less value in making a fuss over unauthorised films during these increasingly globalised and financially troubled times.

While it is impossible to predict what the Chinese authorities' final judgment will be ― in the case of Summer Palace the ban came several months after the film premiered ― the Cannes jury reacted positively to Spring Fever and awarded it the screenplay prize. Although Lou's regular collaborator, Beijing Film Academy professor Mei Feng, took the screenplay credit, Lou had worked extensively with him on the script.

Speaking in Cannes the day after the film's official screening, Lou does not want to talk about the censorship issues nor speculate about the authorities' reaction. He just wants to talk about the film. He also insists he does not aim to make overtly political films or to push the boundaries of what is acceptable in China. But neither does he want to be constrained by the strait-jacket of the country's stifling censorship laws.

"When you reveal something about Chinese society, about any society, you have to tackle a lot of issues all together," says Lou. "You might be telling a story about love, about normal people, but our lives are all affected by politics so they're difficult to ignore."

The 44-year-old director says he felt much freer in writing Spring Fever than with Summer Palace ― a student love story set against the backdrop of the Tiananmen Square massacre ― which he initially tried to put through the official censorship process. As he knew he would not be able to submit the script of Spring Fever to the authorities, he could make the film in exactly the way he wanted.

The end result is a love story which, like Summer Palace, travels deep into the characters' world and deals with some of the darker expressions of love, such as jealousy and obsession. Giving the story a bittersweet twist is the fact the female characters are jilted for men and not other women.

"It doesn't really matter whether the characters are straight or gay," says Lou. "But we see so many heterosexual love stories and I just wanted to write something different. Something that is more balanced and less stereotypical. Love is difficult to define and the relationships between the characters in this film are difficult to define."

If you take away the sex and censorship issues from Lou's work ― no easy task given the media's interest in both ― you find a film-maker who has a talent for depicting modern-day China and women on the edge. Some of Spring Fever's most disturbing scenes are the jealous reactions of the female characters ― although they remain peripheral throughout ― and Summer Palace effectively portrays a young woman entering university and falling obsessively in love. He attributes his insights to working closely with his wife, Ma Yingli, who co-wrote Summer Palace and is a film-maker in her own right. Her first feature, Days Of Miandi, was released in 1996.

Lou also captures nuances of Chinese society that are stifled in official films. Spring Fever was filmed clandestinely in Nanjing (thanks to the ban) but the setting is not really important ― it could be any one of the hundreds of China's so-called 'second-tier' cities. All the characters appear to be drifting or searching for their identities, and even if they have settled into conventional norms, such as marriage or a job, they do not seem convinced that this is what they really want. And while Lou says he does not want to distract from the characters, everything is exquisitely shot against bleak skies, driving rain and drab interiors.

Some critics condemn such realism as pandering to a view of China the West wants to see ― after all, we do not expect opulence and bright sunshine from a Chinese art film even though the country has plenty of both. But the fact remains that Chinese cities can be drab and many of their inhabitants are drifting. One reaction to the film in Cannes from viewers who are familiar with China is that it is a comment on the country's lack of moral guidelines now that consumerism has replaced ideology.

When asked about this, Lou pauses before identifying a bigger problem. "There is a lack of guidance in China, but it's not because of the administration, it's because we've lost our history," he says. "We don't need the administration to tell us how to live our lives ― but you need to be in touch with your past before you can live in the present."

Over the past few decades, China has been engulfed by the process of tearing up its history and building a more comfortable but blander future. The country is changing so fast that films set in the late 1980s, such as Summer Palace, seem to depict a totally different era. But Lou says China is just a speeded-up microcosm of what is happening in the rest of the world.

"People everywhere have to come to terms with the fact they can't live the same lifestyle that their parents did," Lou says. "Before, people were trying to ­preserve one way of life, and now they're trying another way of living, or at least struggling to find their own way of living. We can't get 1968 back again ― we can't even get 1989 back again. That's not necessarily a bad thing, it's just reality."

For his next project, Lou is leaving his home country to tell the story of a Chinese woman living in Paris. Set to shoot in spring 2010, the film is an adaptation of Chinese writer Liu Jie's novel The Bitch and will be co-produced by Lou's Dream Factory and Kristina Larsen's Les Films du Lendemain.

As it is a French project that is not shooting in China, he will enjoy even more freedom than he did during the making of Spring Fever.

However he does not intend to follow the route taken by so many dissident Chinese artists and end up living and working solely in Paris. He is also developing another project with Sylvain Bursztejn's Rosem Films, the French producer behind both Summer Palace and Spring Fever, which he hopes to shoot in Asia next year.
Lou Ye
Born in Shanghai, 1965.
Attends the Shanghai Art School then graduates from Beijing Film Academy,
1989.
First feature, Weekend Lover, wins the Rainer Werner Fassbinder prize for best director at the Mannheim-Heidelberg festival, 1996.
Produces a five-episode TV film collection, Super City.
Second feature, Suzhou River, wins awards including the VPRO Tiger Award at Rotterdam in 2000, and is selected by Time magazine as one of the best movies of the year.
Makes his Cannes debut in 2003 with ambitious period film Purple Butterfly, which plays in Competition.
Summer Palace plays in Cannes 2006 Competition without permission from the Chinese authorities, which results in a five-year film-making ban for Lou and producer Nai An.
Spring Fever wins the best screenplay award at Cannes this year.