Dir. Lou Ye. Hong Kong/France. 2009. 115mins.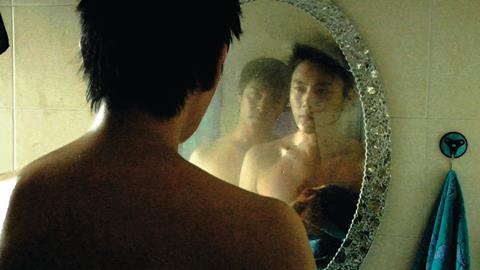 Using the flower as a metaphor is risky business for an artist, given its overexposure and abuse. Borrowing from stories from the 1920s from gifted Chinese author Yu Dafu, director Lou Ye, aided by Zeng Jian's astonishing camerawork, manages to hit a poignant note with floral imagery in Spring Fever.
Close-ups of flowers not only open and close the film, they also pop up intermittently, mirroring shifts in both the story line and the state of mind of its gay protagonist. This integration of visuals and narrative, however, is the exception rather than the rule in this ambitious and - by mainland Chinese standards - daring project. The screenplay is so convoluted and contains so many loose ends that the intense style (fragmented editing, jerky, handheld camera) only highlights the movie's occasional lapses into incoherence. Add to that relatively explicit sex scenes between males, and the result is small chance of finding an audience in most markets, including Lou Ye's native China (where he is technically banned from filmmaking on account of the overt politics of Summer Palace). Gay festivals and possibly a few sophisticated urban markets should express interest.
The passionate relationship between a closeted, married intellectual, Wang Ping (Wu Wei), and the film's central figure, travel agent by day, transvestite by night Jiang Cheng (Qin Hao) - a more stereotypical movie homosexual - is more daring by Chinese standards than it would be in most western countries, where it comes off as quaint and hackneyed. Lou Ye references Francois Truffaut's classic ménage-a-trois Jules and Jim as an inspiration, but the film owes much more to Hong Kong auteur Wong Kar-wai's Happy Together.
The gay Chinese men in the latter are manual laborers in Argentina, where they are not subjected to the same social constraints as provincial Nanjing residents Wang and Jiang. One of the fellows in Happy Together falls for a younger, naïve heterosexual co-worker; in Spring Fever, Jiang dumps the conflicted Wang, then goes after straight Luo Haitao (Chen Sicheng), whom Wang's jealous and vindictive wife has hired to follow and film them in flagrante. The inclusion of Luo's girlfriend in the web of relationships complicates matters for the viewer as much as it does for the men. Tossing in a full-time cross-dresser friend of Jiang's who becomes his lover, a relationship that flies in the face of real life, serves as an upbeat ending but feels tacked on. Lou Ye does delve successfully into more universal subjects such as loyalty, betrayal, and obsession, but an overall triteness undermines their impact.
Like the 19th-century German philosopher Schopenhauer, Yu Dafu saw weeds in any field of flowers. In spite of the beauty of the movie's lotuses, Lou Ye conveys the writer's cynicism. On-screen text reads, "The sky is covered by grey clouds, like decomposing bodies;" pounding rain follows the troubled characters throughout the film. Yet the attempt at optimism prevails. When one of the men finally pulls himself together, the director once again quotes Yu Dafu: "Flowers always know the season in which they must bloom."
Production companies
Dream Factory HK
Rosem Films
International sales
Wild Bunch
Tel: (33) 1 53 01 50 20
Producers
Nai An
Sylvain Bursztejn
Screenplay
Mei Feng
Cinematography
Zeng Jian
Editors
Robin Weng
Zeng Jian
Florence Bresson
Production design
Peng Shaoying
Music
Peyman Yazdanian
Main cast
Qin Hao
Chen Sicheng
Tan Zhuo
Wu Wei
Jiang Jiaqi