Dir/scr: Mila Turajlic. Serbia. 2010. 100mins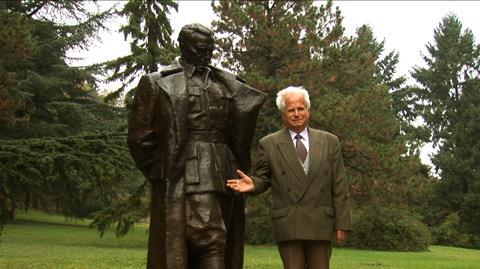 The fascinating and absorbing documentary Cinema Komunisto is a must for film fans and likely to be a popular addition to film festivals who love nothing more than to delve into the history of world cinema. It also offers a fascinating way to look at the history how President Josip Broz Tito helped form and define the post-World War II federal state of Yugoslavia.
Cinema Komunisto quite wonderfully tracks the history of former Yugoslavia through its cinema.
Debut director Mila Turajlic originally set out to try and document the history of Avala Film Studios, currently crumbling away, but found that she started gathering so much material that her remit expanded to delve into the explicit link between cinema and Tito.The film had its world premiere at IDFA in Amsterdam.
Perhaps her star interviewee is Leka Konstantinovic, who was Tito's personal projectionist for 32 years, often showing films through the night (virtually every day) to the film-mad leader, who was especially fond of Westerns.
Tito appreciated the power of cinema and supported the setting up of a busy and productive film industry, supporting filmmakers (and often also reading scripts) with the standard answer of 'no problem' when directors made requests. This meant that soldiers often served their entire duty as extras in war films which made good use of the German tanks and equipment left in the country at the of the war.
After Tito broke with the Soviet Union there was much encouragement to Hollywood filmmakers to come and shoot in Yugoslavia (The Long Ships was an early example, with costumes still in the country's wardrobe departments), while the likes of Orson Weller and Sophia Loren also made films on location there.
Tito was also heavily involved when it came to choosing the actor to play him as a young partisan leader in Stipe Delic's 1973 film Sutjeska, the most expensive film in the history of former Yugoslavia, made for the 30thj anniversary of the Battle of Sutjeska.
Tito approved Richard Burton to play him, with the documentary featuring lovely footage of Tito on the set and posing profile to profile alongside Burton. Apparently he also encouraged Elizabeth Taylor to take a role in the film, but she declined.
Cinema Komunisto quite wonderfully tracks the history of former Yugoslavia through its cinema – and film festivals – though upon Tito's death the local industry essentially crumbled, and now, a decade later, all that is left of the grand plans for bustling national cinema industry is rotting old studio complexes and the memories of filmmakers, actors, technicians and producers who were involved during that busy period.
Production companies: Dribbling Pictures, Intermedia Network, 3K Productions, ERT
Contact: film@cinemakomunisto.com
Producers: Dragan Pesikan, Mila Turajlic, Iva Plemic, Dejan Petrovic
Cinematography: Goran Kovacevic
Editor: Aleksandra Milovanovic
Music: Nemanja Mosurovic
Website: www.cinemakomunisto.com