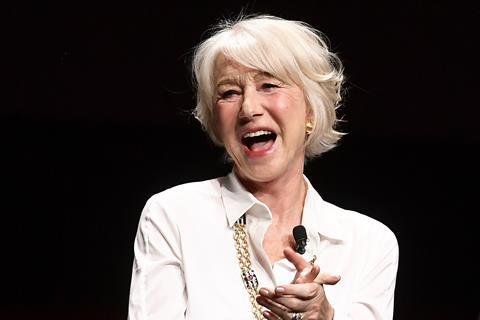 Helen Mirren brought the house down at CinemaCon when she told exhibitors during Warner Bros' presentation, "I love Netflix, but fuck Netflix," on Tuesday evening (April 2).
The veteran UK actress had taken to the stage at the Colosseum in Caesars Palace to talk up Bill Condon's online dating service thriller The Good Liar, in which she stars opposite Ian McKellen.
"There's nothing like sitting in a cinema," Mirren said after delivering her show-stopping remark in her trademark cut-glass English accent. "The lights go down. That incredible moment of relaxation and anticipation because you know you're going to be entertained for two hours."
Mirren and Condon both stressed they could not give away the film's ending and implored attendees not to reveal the twist. It opens on November 15.
Warner Bros chairman of the motion pictures group Toby Emmerich kicked off the session and paid tribute to recently departed Warner Bros Entertainment chairman and CEO Kevin Tsujihara.
Emmerich said Tsujihara "left his mark indelibly on Warner Bros history", noting the studio's record year in 2018, and thanked his former boss "for leading us to become a more diverse and inclusive studio in executive ranks and both behind and in front of the cameras."
Actor and comedian Aisha Tyler hosted a lively, star-studded presentation that included footage from September 6 release It: Chapter Two with an appearance by Jessica Chastain, Bill Hader and James McAvoy as grown-up members of the Losers Club alongside their younger on-screen counterparts from the 2017 original global smash.
Warner Bros' horror slate includes The Curse Of La Llorona due out on April 19, and Annabelle Comes Home scheduled for June 28. The studio showed footage from both, and revealed brief footage from Doctor Sleep, the horror follow-up to Stephen King adaptation The Shining that will open in November. Ewan McGregor, who stars as a grown-up Danny Torrence, sent a video message in greeting.
Director Todd Phillips took to the stage and teed up footage from Joker, his origins story centred on the Batman villain that stars Joaquin Phoenix in the lead and opens on October 4. Phillips said much of the chatter about the film had been inaccurate and described it as a tragedy. Footage was sinister and depicted the character as a sensitive loner living with his mother and enduring a string of humiliating encounters during his failed bid to be a stand-up comic.
A recorded segment on DC Entertainment's upcoming pipeline included footage from 2020 tentpoles Birds Of Prey, Cathy Yan's female-led Suicide Squad spin-off starring Margot Robbie as Harley Quinn, alongside Mary Elisabeth Winstead, Rosie Perez Jurnee Smollett-Bell, and Ewan McGregor, as well as Patty Jenkins' Wonder Woman 1984. The slate includes two for 2021: Matt Reeves' The Batman, and James Gunn's The Suicide Squad. DC's next film Shazam! opens on Friday (5. A sequel to the $1bn-plus global hit Aquaman is in the works.
Melissa McCarthy and Tiffany Haddish bantered on stage and joined first-time director Andrea Berloff to talk up their 1970s-set mob drama The Kitchen (August 9), about wives who inherit a criminal enterprise after their husbands are locked up in prison. Elisabeth Moss also stars in the dark drama. McCarthy also stars for the studio in New Line's action comedy Superintelligence, out on December 20.
There was footage from Edward Norton's feature directorial debut and starring role as a private detective with Tourette's Syndrome in Motherless Brooklyn, which opens on November 1.
Spectacular footage from Godzilla: King Of The Monsters, out on May 31, proved to be another popular item, while Donna Tartt coming-of-age adaptation The Goldfinch starring Ansel Elgort and Nicole Kidman struck a poignant note. Elgort appeared on stage with Finn Wolfhard and several other young cast members. The film opens on September 13.
Gurinder Chadha brought young cast members from Blinded By The Light including Viveik Kalra and Nell Williams to promote the coming-of-age film set in Luton, England, in the late 1980s during the Margaret Thatcher regime. New Line and Warner Bros acquired the film for $15m in Sundance and it screened for CinemaCon attendees on Tuesday night. The story centres on the son of Pakistani immigrants who finds his place in the world through the music of Bruce Springsteen. It opens on August 14.
Ryan Reynolds was present in spirit and addressed attendees in a hologram form of his character Detective Pikachu in the first live-action Pokémon film, Pokémon: Detective Pikachu, set to open on May 10.
A montage of Warner Bros Animation staffers promoted that company's upcoming slate: Tom And Jerry, Scoob!, DC Super Pets, and Space Jam 2 starring LeBron James.
Studio executives at the start of the session referenced the record 2018 box office year when Warner Bros films grossed $5.6bn at the worldwide box office, $3.6bn internationally, and crossed $1bn in North America for a record 18th consecutive year. Emmerich also thanked studio partners Legendary, Village Roadshow, MGM, and BRON Creative.